There have been many Irish Inventions created over the centuries that have had a positive and lasting effect and have helped change the world for the better.
The Irish have always been creative and ingenious people. So, perhaps it should come as no surprise that they are responsible for creating so many important inventions that have helped change the world.
From healthcare to alcohol to deep-sea exploration, these Irish inventions have helped to revolutionise and improve many aspects of life throughout the world. This article will list what we believe to be the top five Irish Inventions that changed the world.
5. Submarine – forever changing deep-sea exploration
John Philip Holland's invention forever changed the world's approach to how deep-sea exploration was conducted. From then on, sea warfare would be different.
In 1881, Holland launched his invention, the Fenian Ram, which was a huge success and helped him win three competitions held by the US Naval Department to design and construct submarines.
The US Navy were so ecstatic with his invention that they bought their first submarine from him. Its name was the Holland VII, and they went on to purchase a further six.
Holland's invention had a massive effect on how people explored the sea and provided armies with a new weapon and tool in warfare.
4. Colour photography – adding life to people's photographs
John Joly was an Irish physicist and inventor who worked at Trinity College. He also invented dozens of innovative and genius products throughout his life.
While John Joly was the inventor of many great things, perhaps his most popular and widely used invention would be that of colour photography.
In 1894, John Joly discovered an effective method of producing colour photos from one specific plate.
He used a plate marked with thin coloured lines and glass in the camera that then sat in the front of the photo. This made the photo-taking process simpler and made colour photography a possibility.
3. Portable defibrillator – an invention which has helped to save countless lives
In 1965, professor Frank Pantridge's invention of the emergency defibrillator helped to change and modernise emergency medicine across the world. The first model of his portable emergency defibrillator was purely operated from car batteries and weighed approximately 70kg (154lbs).
His first prototype was installed in a Belfast ambulance and was a huge success. There is a statue of him and his invention in Lisburn, outside Lisburn Conference Centre, Lagan Valley Island.
Ever since emergency defibrillators have literally become life savers worldwide, today, Professor Frank Pantridge is fondly remembered as the 'father of emergency medicine' and the man who invented a device that has helped save millions of people in the past 50 odd years.
2. Hypodermic syringe – a very important medical device
In second place and the second medical-related invention on our list is the hypodermic syringe which Francis Rynd created.
If you have ever had to have a local anaesthetic or an injection, you are one of the billions of people worldwide who have benefited from Francis Rynd's invention, which he invented in 1844.
The Dublin doctor came up with the idea when treating a patient suffering from face pain for years.
As she wasn't getting any positive results from her morphine pills, Rynd came up with the genius and revolutionary idea of inserting morphine directly under the patient's skin to close her nerves and relieve her pain.
It worked, and the world had been gifted with one of the most important medical tools.
1. Guinness – Ireland's most famous export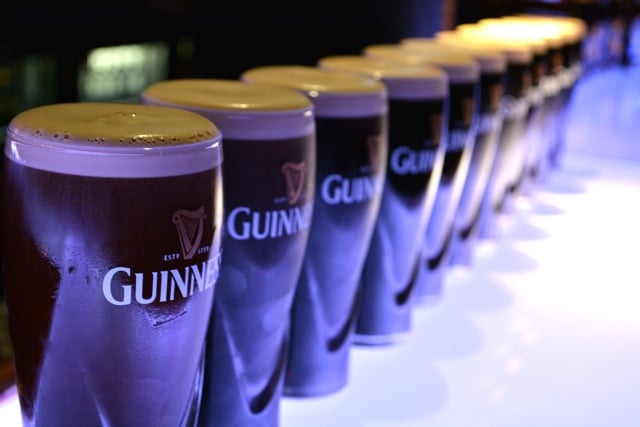 Finally, in first place on our list of what we believe to be the top five Irish Inventions that changed the world is the most famous alcoholic drink in the world and Ireland's most popular and successful export, which is the one and only Guinness.
So, Guinness was created by Arthur Guinness. He first started brewing it in Leixlip, County Kildare, before moving to the famous St. Jame's Gate brewery, which remains one of Ireland's most popular tourist attractions today.
Arthur Guinness was so confident that his invention would succeed that he amazingly took out a 9,000-year contract in 1759!
That concludes our article on the top five Irish Inventions that changed the world. Are there any other great Irish inventions that you think deserve a position on our list?