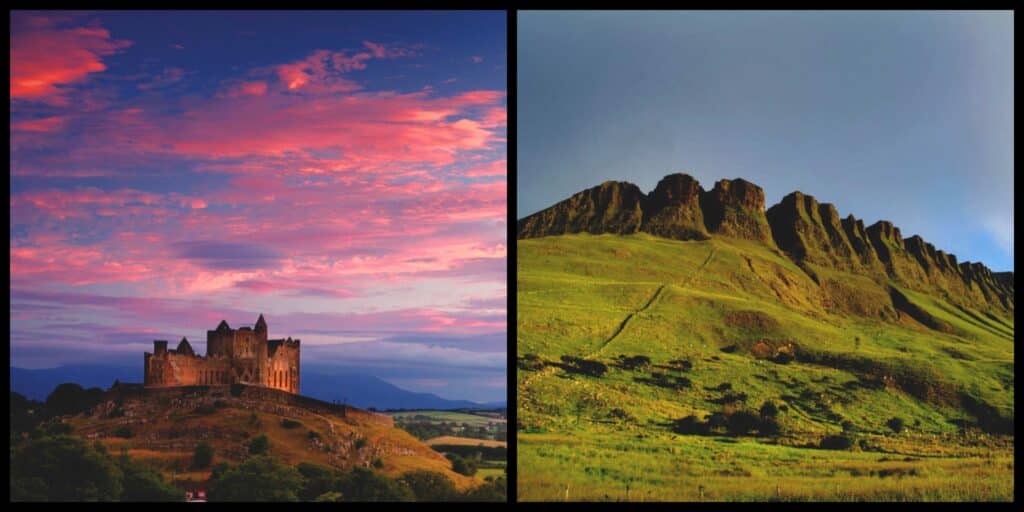 Ireland is a beautiful island that is endowed with a rich heritage, hilly topography with a myriad of rivers and plains, and amiable people. The island is known throughout the world due to a plethora of castles.
The island is home to the world's oldest pub and birthplace of the famous series "Game of Thrones" has several attractive sites to offer all kinds of travellers, especially if you are backpacking Ireland.
Ireland is a beautiful and mystical place to visit and live. Here are a few places that will make your holiday in Ireland memorable.
1 – The Cliffs of Moher
The Cliffs of Moher will definitely steal your heart. They're a must-see, most natural attraction in Ireland.
The Cliffs are beautiful both in the cloud and the sun. If you want to make most of the Cliffs of Moher experience, then stay in the nearby smaller towns. This will ensure you're closer to the cliffs and away from the crowds.
However, the place tends to be overcrowded during the summer. The Cliffs of Moher are busiest between 11 am to 4 pm.
You can, therefore, do your timing well and visit when not crowded. The ideal time to visit is between April and September.
2 – Dublin City
Catch a glimpse of this beautiful city infused with modern vibrancy and old world charm.
The city is divided into south and north sides by the River Liffey.
It's a small but mighty city. It's the home of Guinness Storehouse, medieval churches, Trinity college, and a city of literature.
Most of the world's best musicians and writers were born in Dublin city. They include U2, James Joyce, among many others. More so, you will enjoy delicious cuisines in various restaurants located in the city.
The city's beauty- whether natural or man made – is undeniable.
3 – Killarney National Park
Killarney National Park lays in 10,000 hectares of land covered with a beautiful lake and spectacular mountain scenery.
The park is inhabited by natural species including here of red deer. There are three lakes: Lough Leane, Upper Lake, and Muckross lake, which are all interlinked to make a quarter of the park.
The lakes are interlinked at the Meeting of the Waters which is a popular tourist site. Although these lakes are interlinked, they each have a unique ecosystem.
4 – Dingle Peninsula
The dramatic beauty of the Dingle Peninsula is unmatched, making it one of the best places to visit in Ireland. Surrounded by lofty mountains, sandy beaches, rugged cliffs, and rolling hills, the Dingle Peninsula is a charming tourist site.
The meandering country lanes, cosy-thatched pubs, and endless skies will make you understand why National Geographic once describe it as "the most beautiful place on earth."
There are jewellery shops located on Green Street, which contains everything you would need for decoration.
The Dingle's charm and rich Irish culture make it the best Ireland points of interest.
5 – The Rock of Cashel
The Rock of Cashel is a stunning and archaeological site that attracts visitors throughout the year. It's a collection of medieval buildings and houses museum.
The hall includes exhibitions and an audio-visual show. This ancient royal site houses a castle, High Cross, a gothic cathedral, and a round tower.
If you want to have a great experience, visit between May and October with the best timing being 9 am – 7 pm.
6 – Sligo
Are you an outdoor lover? If yes, then Sligo is the ultimate destination. The compact county is endowed with spectacular landscapes to explore.
You can opt to take a forest walk or challenge yourself by hiking through Ben Bulben. The beaches at Easkey and Strandhill has the best waves for surfing. Sligo is also the best place to enjoy a seaweed bath.
The Bottom Line
From ancient cathedrals, famous castles, rugged mountains, meandering rivers, and plains, to underground caves, Ireland offers a lot of landscapes to explore.
If you are hungry for history and adventure, then Ireland ticks all your boxes!
This article is sponsored. We hope you enjoyed reading it as much as we did.
Legal Disclaimer
We cover articles relating to many activities. Some of our articles showcase gaming and gambling as activities. While we do not take money for bets or own any gambling venues, we feel it is important that our readers know the risks of such venues or sites that we may mention in our articles. Gambling involves risk. Please only gamble with funds that you can comfortably afford to lose. See our legal disclaimer for more info.