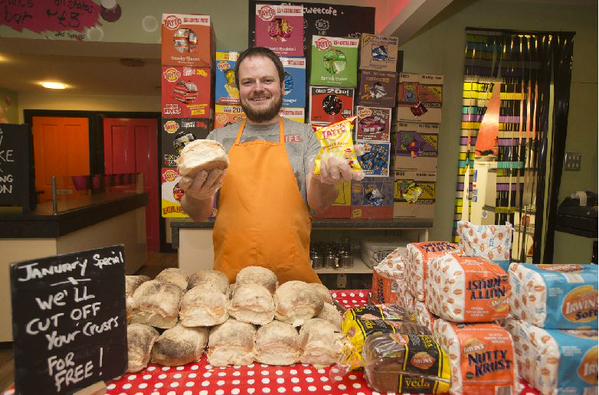 On Monday 12th January 2015, the world was treated to it's first crisp sandwich shop in the heart of Belfast. Crowds gathered from all around the town. The demand was so great that they sold everything out in just two hours!
According to its owners, Simply Crispy in Belfast experienced "overwhelming" demand for cheese and onion baps, with queues snaking out of the door and into the street as lunchtime approached.
The city centre café boasts 35 different flavours of crisp, mostly Tayto crisps but with some Walkers on offer too, as well as a variety of breads and sauces.
Traditional-cut is represented along with novelties like Monster Munch and Frazzles.
The new shop, destined to be a tourist attraction has gained media attention lately after being announced in a number of newspapers. The shop is the brainchild of Andrew McMenamin, who transformed his business That Wee Café in Bedford Street after reading a spoof article on satirical website The Ulster Fry.
A crisp sandwich is a strange yet popular choice for locals in Belfast.