As an island nation, the Emerald Isle is naturally blessed with beautiful beaches and seaside scenery. When compiling a list of the best beaches in Ireland there is no shortage of options.
For those who wish to enjoy the beauties of the seaside, then Ireland is certainly the place to be. As an Island nation, the Emerald Isle is teeming with beautiful beaches to enjoy and visit.
From admiring the views of the Wild Atlantic waves to walking along coastal boardwalks and kayaking and surfing in pristine waters, there is much to do and enjoy at the many beautiful beaches of Ireland. Maybe a loved one is interested in taking up surfing? A surfboard would be one of the best gifts for beach lovers in Ireland because of the weather!
In this article, we will attempt to list what we believe to be the 10 best beaches in Ireland.
10: Inch Beach, Co. Kerry – a surfer's paradise
Inch Beach in County Kerry is a blue flag rated beach which means it is the ideal place to visit for those wishing to enjoy surfing and other watersports.
This stunning beach stretches for four miles and sits on the Dingle Peninsula, with spectacular views of the Dingle Bay and Kerry mountains, making it one of the best beaches in Ireland.
Address: Ardroe, Co. Kerry, Ireland
9: Barleycove Beach, Co. Cork – blessed with stunning sand dunes
Barleycove Beach in County Cork is located near Mizen Head which is the most southerly tip in Ireland and is unique for its sand dunes which were created from a tidal wave caused by an earthquake that occurred in Europe in 1755.
Address: Cannawee, Barleycove, Co. Cork, Ireland
8: Dog's Bay, Co. Galway – ideal for watersports
Dog's Bay is a pristine and beautiful beach in County Galway and is widely regarded as one of Ireland's best and most beautiful beaches. Dog's Bay is also a fan-favourite location for those wishing to partake in water-sports activities.
Address: Ervallagh, Roundstone, Co. Galway, Ireland
7: Inchydoney Beach, Co. Cork – a family-friendly beach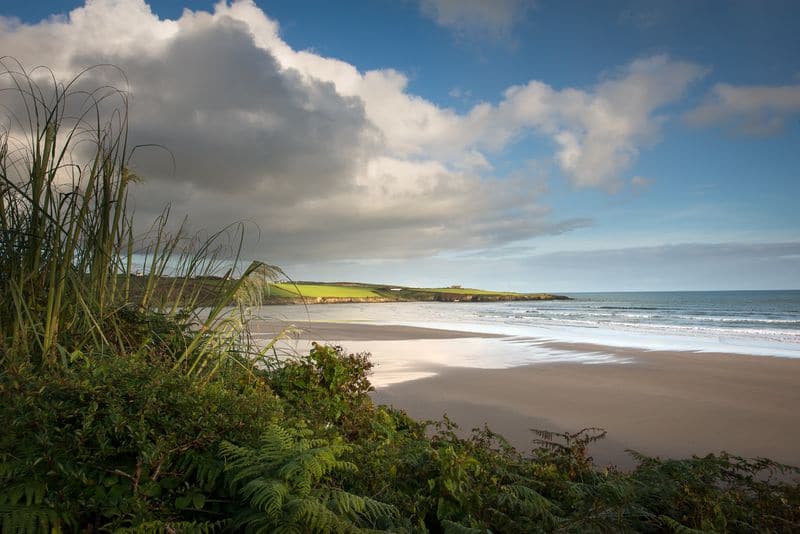 Inchydoney Beach is close to Clonakilty in County Cork and is another popular blue flag beach which is well known for its excellent surfing conditions as well as also being renowned for being one of the most family-friendly beaches in West Cork.
Address: P85 AT27, Inchydoney Island, Inchydoney, Co. Cork, P85 AT27, Ireland
6: Brittas Bay, Co. Wicklow – for wonderful white sands
Visiting Brittas Bay beach in County Wicklow can make you feel like you have stumbled upon a hidden paradise as you will be greeted with the view of vast white sands, which silently stumble into the blue lagoon of the ocean.
Address: Co. Wicklow, Ireland
5: Portsalon Beach, Co. Donegal – beautiful beach in an idyllic setting
It should come as no surprise to Irish beach-fans to see Portsalon Beach in County Donegal make our list of the best beaches in Ireland.
Its stunning setting makes it an idyllic place for people to enjoy and relax in, and it was deemed as the second best beach in the world by the Observer newspaper.
Address: Portsalon, Co. Donegal, Ireland
4: Coumeenole Beach, Co. Kerry – one of the best and most beautiful beaches in Ireland
Coumeenole Beach in County Kerry is situated along the Wild Atlantic Way and is one of the most iconic beaches that can be found along the Dingle peninsula.
While the seas at Coumeenole Beach may be too rough for swimming, it is still a thrill to walk along the beach and astute movie lovers may notice that the beach was a film location for the famous movie Ryan's Daughter.
Address: Coumeenoole North, Co. Kerry, Ireland
3: Keem Bay, Co. Mayo – a picture-perfect place
Keem Bay in Achill Island in County Mayo is a photographer's dream as the beach is located in breathtakingly beautiful surroundings. Logged between high cliffs and the beautiful turquoise colour of the sea, it is truly a joy to behold.
Address: Keel West, Keem, Co. Mayo, Ireland
2: Trá Bán, Co. Kerry – one of Ireland's most remote beaches
Trá Bán or 'White Strand' in Great Blasket in County Kerry is one of the most remote beaches on the Emerald Isle. With a white sandy beach in the forefront and rolling green hills in the background it certainly makes for the perfect peaceful escape.
Address: Great Basket Island, Co. Kerry, Ireland
1: Curracloe, Co. Wexford – the sunny South East's finest beach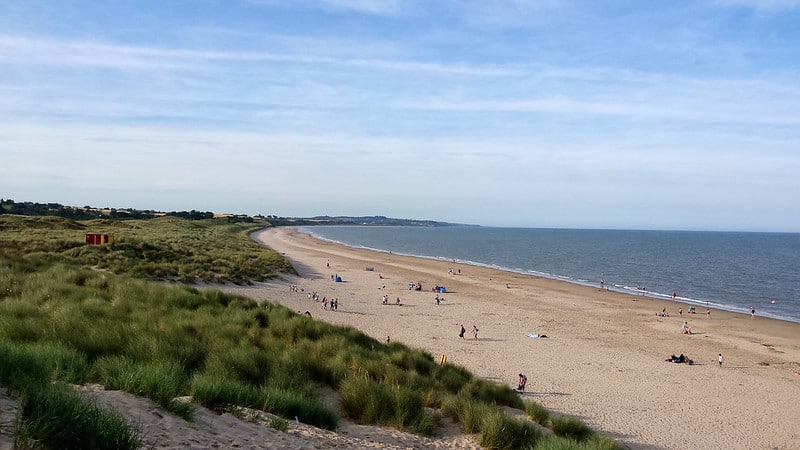 Curracloe Beach in County Wexford tops our list of the best beaches in Ireland. It is, unsurprisingly, an award-winning beach and a national favourite to visit.
The Curracloe beach is also famous for being a movie location for the brilliant war movie 'Saving Private Ryan' which starred Tom Hanks and was directed by Steven Spielberg.
Address: Coolrainey, Curracloe, Co. Wexford, Ireland
That concludes our list of the top ten best beaches in Ireland. If there are any more great beaches that you think deserved to be included on our list, make sure to let us know.