The Brits are relentless when it comes to claiming the Irish as their own, when things go well, that is. As such, let's take a look at ten glaring times they've done this, to the shock and horror of the Irish.
The Oscars 2023 nominations have just been revealed, and the Irish have reached a record number of nominations totalling 14.
The Banshees of Inisherin took a whopping nine nominations, and An Cailín Ciúin made history by becoming the first-ever Irish language film to be nominated for an Oscar.
Other nominations include After Sun starring Paul Mescal, the Northern Irish short film An Irish Goodbye, as well as Richard Baneham for Avatar: The Way of Water.
It's often when big achievements such as these come around that a famous Irish person is mislabelled as British in the media. As such, let's take a look at ten funny times the British claimed the Irish as their own in the media.
10. Paul Mescal – a recurrent theme
When the hit series Normal People, based on the Salley Rooney books, first came out in 2020, it had a chokehold on viewers around the world.
Paul Mescal was nominated for his first Emmy for his performance, and thus, many news outlets, including the BBC, dubbed him a British actor.
Despite already making this mistake in 2020, the BBC messed up once again in recent weeks following the Oscars nominations when a live news segment displayed a message once again pegging him as British. The BBC issued an apology for its mistake.
9. Chris O'Dowd – Irish actor, thank you very much
At the British Independent Film Awards in 2011, Chris O'Dowd is being interviewed about his role in the hit comedy Bridesmaids.
The interviewer says to O'Dowd, "Coming from being a British actor then going and working on Bridesmaids –" to which he interrupts her by saying, "Irish actor". You can watch the awkward exchange above.
8. Saoirse Ronan – more times than we can count
Saoirse has been called "one of our own" by the British more times than we can count. One prime example was in 2019, when one of London's leading magazines, Harpers Bazaar, published a cover featuring Saoirse Ronan.
She was featured in the magazine talking about her role as Mary Queen of Scots. However, the front cover image came along with the title 'The Spirt of Great Britain' to the displeasure of many.
7. Katie Taylor – one of the many times the British claimed the Irish as their own
When Irish professional boxer Kate Taylor unanimously beat Delfine Persoon in 2019, Sky Sports presenter Anna Woolhouse asked Anthony Joshua what he thought of his "fellow team GB Olympian".
Katie Taylor, who hails from Bray, of course, represented Ireland at the Olympics in 2012, where she won a gold medal.
6. Colin Farrell – Samuel L. Jackson came to his defence
This is a funny one where Colin Farrell wasn't even there to defend his Irishness.
English journalist Kate Thornton interviewed Samuel L Jackson about the movie S.W.A.T, which he starred in alongside Colin Farrell. When Thornton called Farrell "one of our own", the conversation went a little something like this.
Jackson: "Isn't he from Ireland?"
Thornton: "Yea, but we can claim him 'cause Ireland is beside us."
Jackson: "You see, that's your problem right there. You British keep claiming people that don't belong to you. We had that problem here in America, too; it was called slavery".
5. Conor McGregor – as Irish as they come
Conor McGregor shot to stardom in the blink of an eye. He is bold and loud about his Irishness, and furthermore 'Foggy Dew' by Sinead O'Connor and the Chieftains is his entrance music.
This, however, didn't stop the BBC from claiming him after his interim-featherweight title win over Chad Mendes in 2015 when they wrote that he was "the first UFC champion from the United Kingdom and Republic of Ireland". Insert crying laughing face here.
4. Cillian Murphy – one of the funniest slip-ups
One of the funniest examples of an Irish person being labelled British to date is when one interviewer repeatedly insisted on Cillian Murphy being British.
Sitting next to English actor Tom Hardy while being interviewed amidst the buss of Inception, the interviewer refers to the two actors as British. When Murphy corrects him, he continues, "Yea, I know, British". You can watch Cillian Murphy continue to tell him he's Irish above.
3. Michael Fassbender – British Actor of the Year…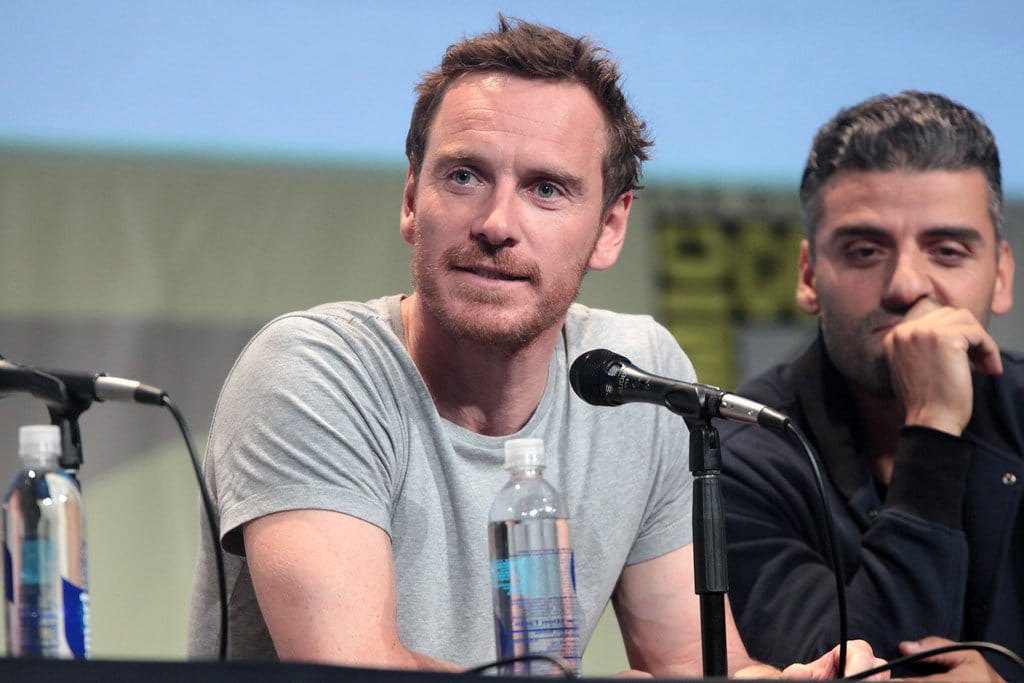 In 2011, Michael Fassbender won the award for British Actor of the Year at the London Film Critic Awards.
Fassbender, who is of Irish and German descent, was once asked about such mistakes, to which he replied, "When I make a shit film no one will wanna claim me". Since then, the category has been changed to best British/Irish Actor of the Year.
2. Shane Lowry – the man grew up in Offaly, for jaysus sake
Shane Lowry, who hails from County Offaly, won his very first major tournament in 2019 in Portrush.
During play, English golfer and commentator Laura Davies said, "It would be lovely, wouldn't it, for the home fans, and for us as well because it's nice to see a British winner of The Open". Come on now…
1. Domhnall Gleeson – we don't think he could look more Irish if he tried
Despite the thick Dublin accent, being the son of Brendan Gleeson, and generally just being Irish, an article appearing in a British Airways in-flight magazine mislabelled Gleeson as a British actor.
The article referred to his performances in Goodbye Christopher Robin and American Made as "a fine example of the British actor's remarkable range".
So, there you have it. Ten times the British claimed the Irish as their own. We'll end this article with a poignant quote from Seamus Heaney that we think is relevant in this case. "Be advised my passport's green. No glass of ours was ever raised to toast the Queen".