The long-awaited third and final (excuse us while we cry over this) season of Derry Girls is due for release next month, and we couldn't be more excited.
Ever since season two finished airing in 2019, fans of the Channel 4 sitcom have been eagerly awaiting news of their favourite Derry gang and their hilarious antics.
With filming paused due to the COVID-19 pandemic throughout 2020, the release date for the next season has been continually pushed back. Thus, building up greater anticipation among fans.
Now, at long last, the Derry Girls season three release date has been revealed – and it is sooner than we expected.
The third and final season – the gang are reuniting for one last time
Since first hitting our screens way back in January 2018, people all over the world – and particularly those in Northern Ireland – have fallen in love with Erin, Orla, Michelle, Clare, and James.
Set in the 90s, the show brings many across Ireland a sense of nostalgia for their riotous formative years. Relatable and heartfelt, the show has proven popular with people far and wide.
Season three was originally due for release in June 2020. However, due to pandemic restrictions, filming was put on hold.
Now, though, at long last, the long-awaited season three release date has been revealed.
When will Derry Girls hit our screens? – sooner than we thought
Following on from the release of the trailer on St Patrick's Day, sources revealed the official release date for Derry Girls season three.
Thankfully, the wait is almost over; we can expect to see our favourite Derry teens (and the wee English boy) return to our screens on 12 April 2022. Well, I know how I'll be spending my Easter weekend!
Writer Lisa McGee and various cast members have stated that this season will be bigger and better than ever. And, judging from the trailer, we have to agree.
Watch the hilarious trailer below:
What to expect from season three – they grow up so fast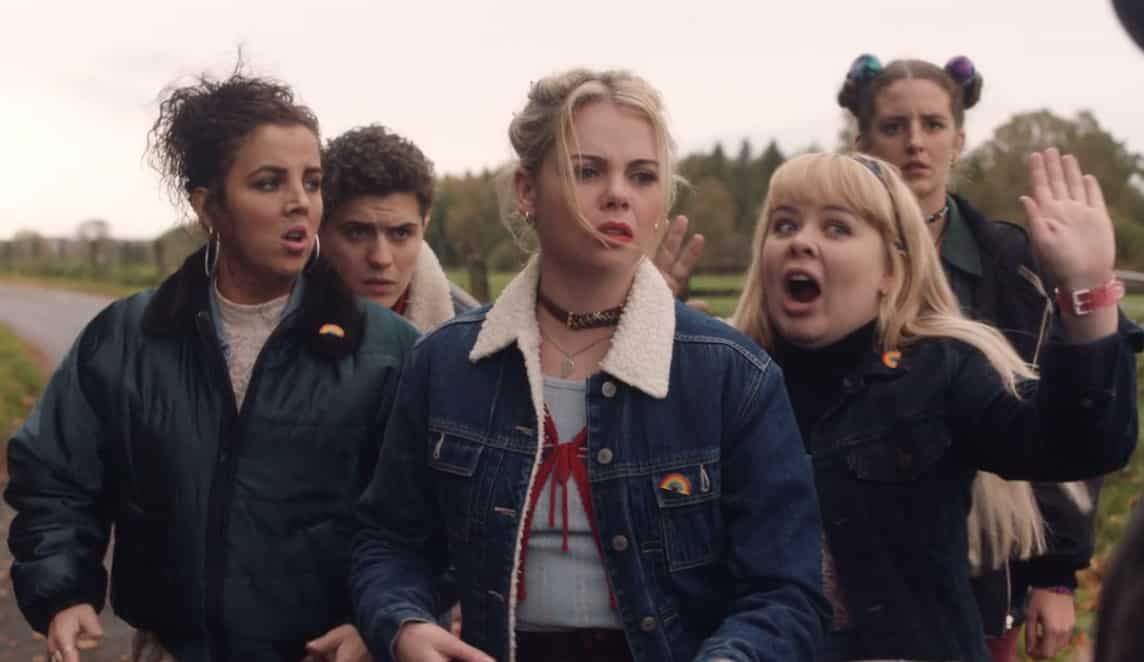 So, now that the Derry Girls season three release date has been revealed, we bet you're wondering what the gang have got in store. Well, here's everything we know so far:
The new season is expected to have six episodes, which will follow the gang as they edge closer to adulthood.
McGee revealed in late 2021 that the show was originally scripted as a three-part series, and thus, season three will be the last.
One thing that fans are clinging to is the burgeoning romance between Erin and James; who remembers the adorable prom scene?
According to Nicola Coughlan, who plays Clare Devlin, we could be seeing more from this budding romance in the new season.
A reduced role for one of our favourite Derry Girls – scheduling issues
Unfortunately, due to scheduling issues, we won't be seeing as much from Clare in season three.
Speaking to Belfast Live, Couglan revealed, "We were meant to film Derry Girls in January 2021. And I was totally free, and they decided to push it again.
"And that caused me insane stress because I was on what in the industry is called 'first call'. So, it means you have to go and do the show you're on first call to, which was Bridgerton."
She continued, "Compromises had to be made. And you know, they had to cut down my role somewhat, which was hard. Really, really hard.
"But I think, you know, the fans of the show are going to be happy."