Father Ted only lasted for three seasons, but it instantly became one of Ireland's best TV shows of all time that would go down in history.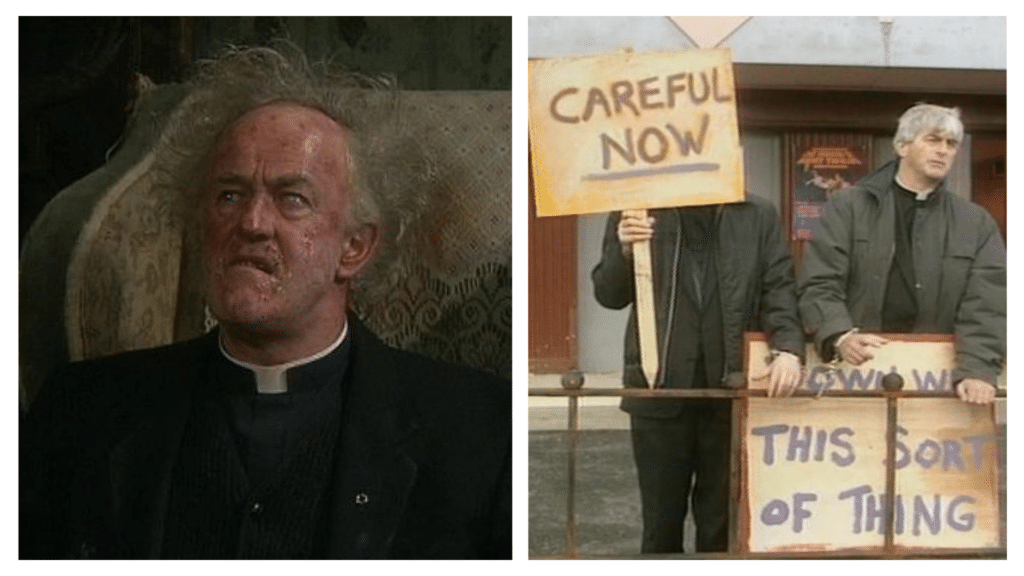 The show might have only lasted 25 episodes across three seasons from 1995 to 1998, but Father Ted left a lasting impression that many shows fail to achieve.
The show's creators, Graham Linehan and Arthur Matthews, decided that the third season would be the last one, as the show and its characters had run as long as it could go.
We can totally understand this. There is little worse than a beloved show being dragged on beyond its worth for pure monetary value. With the show ending 25 years ago, let's take a look – Father Ted Cast: where are they now?
Dermot Morgan – Father Ted Crilly
As most people will already know, Dermot Morgan, aka Father Ted Crilly himself, died just one day after filming for season three ended on 28 February 1998.
Dermot Morgan suffered a heart attack at just 45 years old, stopping his life and career in its tracks.
Speaking on the 25th anniversary of his father's death, his son Rob said, "I kind of love that he'll never get older. I love that I'll never see him stooped over or struggling to come to terms with one's own mortality. I love that he'll always be 45 every time I look at him. That's a really nice thing".
Ardal O'Hanlon – Father Dougal McGuire
Ardal O'Hanlon played the beloved dope Father Dougal in the show. Since it ended, he has appeared in a number of productions.
Across 45 episodes, he starred in the British sitcom My Hero between 2000 and 2006. He played Thermoman, a multiple-powered superhero who comes from the planet Ultron.
Over the years, he has appeared in numerous movies and TV shows, like Doctor Who, Skins, Handsome Devil, Death in Paradise, Derry Girls, and most recently, Rosie Molloy Gives Up Everything alongside Sheridan Smith.
He also recently starred in the revival of Dancing at Lughnasa alongside Derry Girls' Siobhan McSweeney and Tom Vaughan-Lawler.
While he continues to act in theatre productions, movies, and series, he also does regular stand-up comedy shows around the world.
Pauline McLynn – Mrs Doyle
Born in Sligo and raised in Galway, Pauline McLynn is responsible for the hilarity and kookiness of Mrs Doyle in Father Ted.
Believe it or not, Pauline McLynn was only in her early 30s when she played the role of Father Ted's ageing housekeeper. Hats off to the makeup department for that one!
In 2001, Pauline McLynn reappeared in her role as Mrs Doyle for a string of ads for the UK's Inland Revenue. She reminded people to get their taxes in on time with her iconic phrase, "Go on, go on, go on…".
Since Father Ted ended, she has been non-stop with roles in movies and TV shows, including French and Saunders, Jam & Jerusalem, Eastenders, Drop Dead Weird, Deadly Cuts, as well as Rosie Molloy Gives up Everything with Ardal O'Hanlon.
For her next role, she was recently announced among the cast for the West End transfer of Mark Rylance's hit play Dr Semmelweis. This will be her first "proper" West End show.
Frank Kelly – Father Jack Hackett
Ah, Father Jack. "Drink, arse, feck!" immediately springs to mind! Frank Kelly will perhaps always be best remembered for his role as the foul-mouthed and feral Father Jack, but he went on after the show ended to appear in a number of productions.
This includes Glenroe, Evelyn, Lexx, and Emmerdale. After five months working on Emmerdale, he returned to Ireland because he missed his life and family back home.
Kelly was a regular stage actor and toured extensively around the United States and Canada in theatre productions.
His last role before his death in February 2016 was in a short film called 69 and Dead. On 28 February 2016, he suffered a heart attack and died at 76 years old, exactly 18 years to the date that Dermot Morgan passed.
Conclusion − Father Ted Cast: Where are they now?
Those were the four main characters of the show and where they are now. Of course, there were other figures who appeared throughout the three seasons.
Graham Norton, who played Father Noel Furlong in the show, as many of us will know, has gone on to run one of the most successful comedy chat shows in the world for the past 16 years – The Graham Norton Show.
Pat Shortt is most notably remembered for his role as Tom in Father Ted. Over the last 25 years, he has appeared in The Fitz, Killnaskully, Frank of Ireland, The Banshees of Inisherin, and much more.