A serving member of An Gardaí Siochana avoided prosecution today after he was recently charged for driving under the influence of alcohol.
In Castlebar District Court, Judge Thomas Moran dismissed the state's case against Garda Timmy Murphy as was won over by the personal circumstances that led Mr. Murphy to the drink.
The Prosecution's case
The States' case was backed-up by overwhelming scientific and medical evidence but was deemed by Judge Moran to be outweighed by the mitigating factors entered by Garda Murphy's defence solicitor.
The States' case centred on the undeniable facts that Garda Murphy was arrested by Gardaí from the adjoining division on 15 June 2019.
Officers came across him driving in circles around a field beside a Castlebar pub in the early hours. When tested, Garda Murphy was three times over the legal alcohol limit.
In a terrible state
"He was in a terrible state," the arresting Garda Mick O' Sullivan told the court. "Driving around the field in ever-decreasing circles, shouting at the top of his voice 'Jaysus I can't go home, arrest me and throw away the key' he pleaded."
"Shur, we knew straight away he was 'one of our own," Garda O'Sullivan went on. "Like, as you know Judge we're a bit hesitant to 'pull' one of the lads. But Jaysus, he was pleading with us to lock him up. Shur, what could we do?"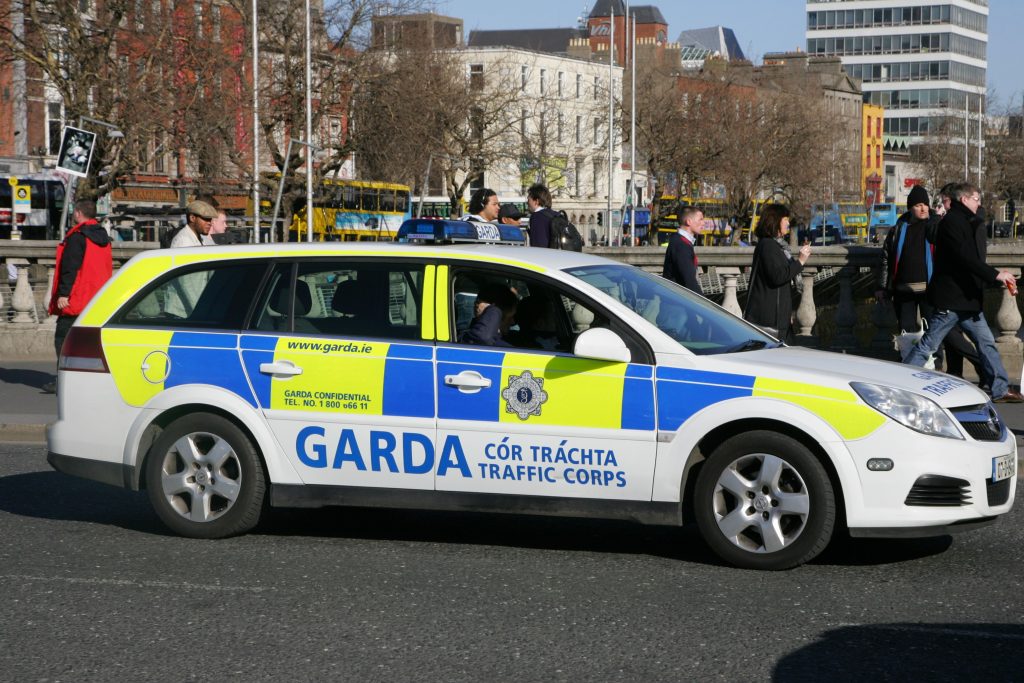 Mitigating circumstances
Niall O'Brien, Defence Solicitor for Garda Murphy, detailed the mitigating circumstances surrounding the case; "It's a terribly sad case Judge. Shur, you know the way it is yourself," he said while approaching the bench.
"Poor auld Garda Murphy has a wife who would drive any man to drink. She's a right auld nagging hag. Shur you know the type, Judge?" he asked, with the judge listening intently.
"There isn't a day goes by that she isn't on to him about something or other, the poor misfortunate. Seriously Judge," he went on."It's nag, nag, nag with that woman.
"Only last week she had him painting the front room, the back room and the main bedroom. He's forever cutting the lawn, her mother's lawn and her fecking sister's lawn. She'd talk the hind leg off an ass — you know the type."
Bravery Awards
"On the night in question, Garda Murphy took advantage of his wife being out playing bingo and headed to meet some of his garda mate for a pint. But when he saw the rest of the lads enjoying themselves I suppose he had 'the few too many'."
"You might be aware Judge that Garda Murphy recently and single-handily took on a gang of armed raiders, rescued five babies from a house fire and jumped into a raging river to save the lives of three nuns. So his bravery is not in question."
"But Judge," the solicitor continued, "that night he couldn't face the nagging of his wife. So he spent hours driving around the field beside the pub, afraid to go home — it's a sad case Judge," he concluded.
Charges dismissed
In dismissing the charges against Garda Murphy the Judge — himself a married man — said he sympathised entirely with the defendant and bound Murphy's wife to the peace for three months.
"The law is telling me one thing but my heart another. There's no way I can prosecute a man treated so badly by his wife. Case dismissed."
Disclaimer
This article is satire. We do satire articles because it is great craic and Irish people love it! Articles in this section are spoof articles which should not be taken as the truth, nor are they are intended to offend.