It's no secret that the Irish are a talented bunch. However, we bet you didn't know about these Guinness World Records that are held by Irish people.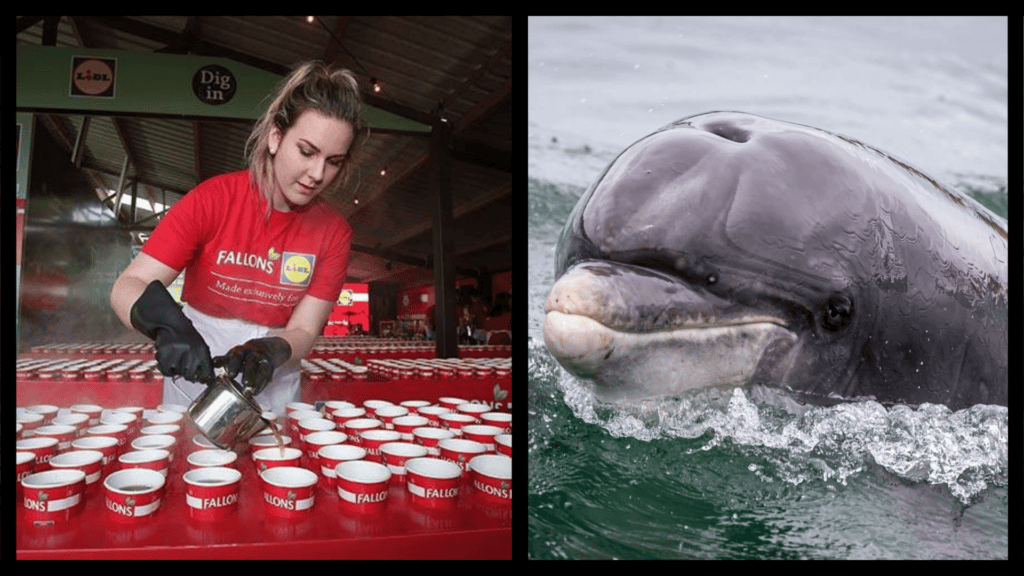 Breaking a Guinness World Record is something many people around the world dream of ticking off their bucket list.
Established in 1955 and originally produced and promoted by Ireland's very own Guinness Brewery in Dublin, Guinness World Records hold a strong connection with the Emerald Isle.
From standard records, such as the tallest person to ever live or the fastest car to exist, to weird and wacky achievements, such as the longest tongue to the furthest distance to squirt milk from an eye socket (yes, really), there is a Guinness World Record for everything.
So, if you're wondering how the Irish have fared in these iconic record books, read on. Here are ten insane Guinness World Records held by Irish people.
10. Most cups of tea made in one hour ‒ Lidl Ireland
Now, we all love our tea here in Ireland. So, it's no surprise that an Irish group holds the record for the most cups of tea made in one hour.
Back in September 2015, a team of 12 from Lidl Ireland teamed up to make an incredible 1,848 cups of tea in one hour. What is even more impressive is that they managed to break the record in 43 minutes.
9. Most sausages produced in one minute ‒ Barry John Crowe
As an agricultural nation, it is unsurprising that one of the most insane Guinness World Records held by Irish people involved sausages.
Butcher Barry John Crowe from County Cavan produced an impressive 78 sausages in just one minute back in 2017.
8. Most successful Eurovision country ‒ seven wins and counting
Eurovision is a massive annual event all across Europe, with countries coming together to compete for the top prize.
But did you know that Ireland has won the competition more times than any other nation? After winning seven times, Ireland claimed the title of the most successful Eurovision country.
7. Best-selling act with no concert appearances ‒ Enya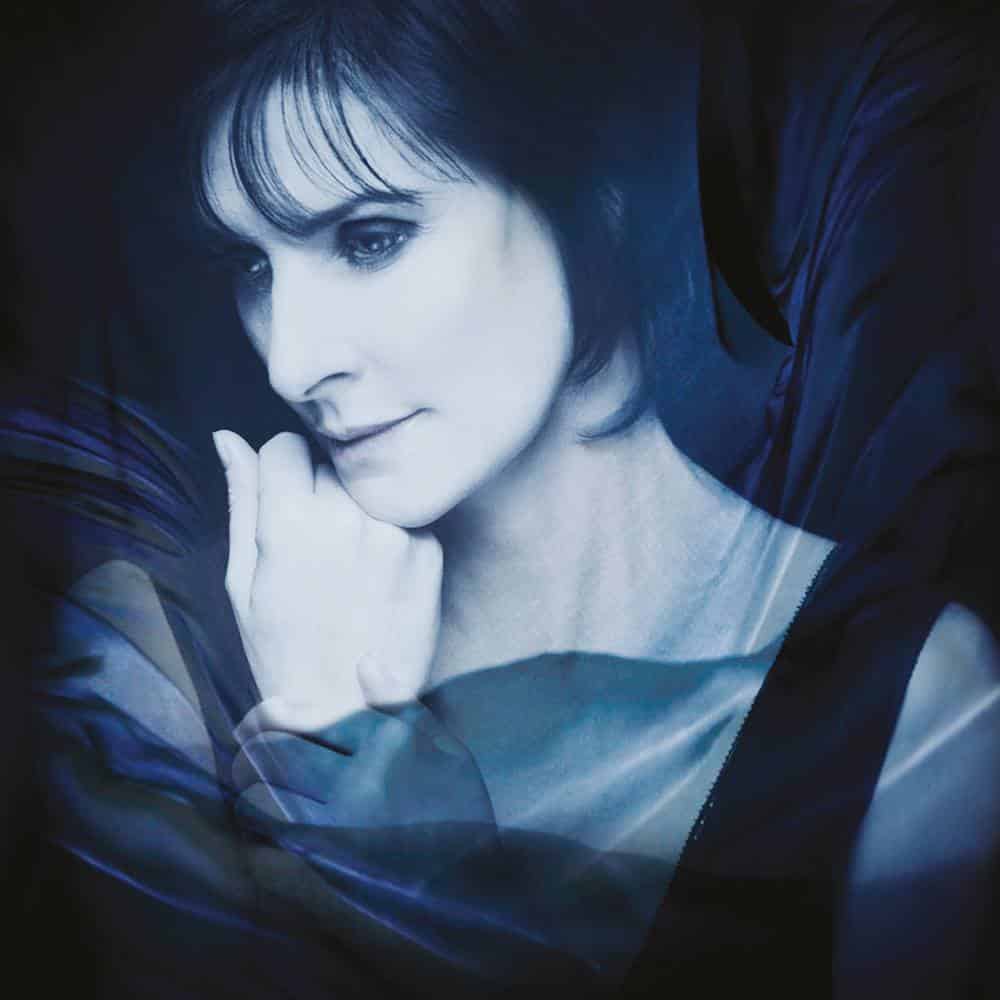 Irish singer-songwriter Enya is renowned for her haunting voice and unique music style. However, did you know that she has sold an impressive 70 million albums since 1988 without ever performing a solo concert?
6. World's largest tea towel ‒ Mayo Roscommon Hospice
If you have a big mess to clean up, we're sure this huge tea towel made by Mayo Roscommon Hospice will do the job.
It really can't get much more Irish than this tea towel that measures 49 ft by 34 ft (15 m by 10.5 m).
5. Largest gathering of people dressed as astronauts ‒ Nerve Centre, Our Place in Space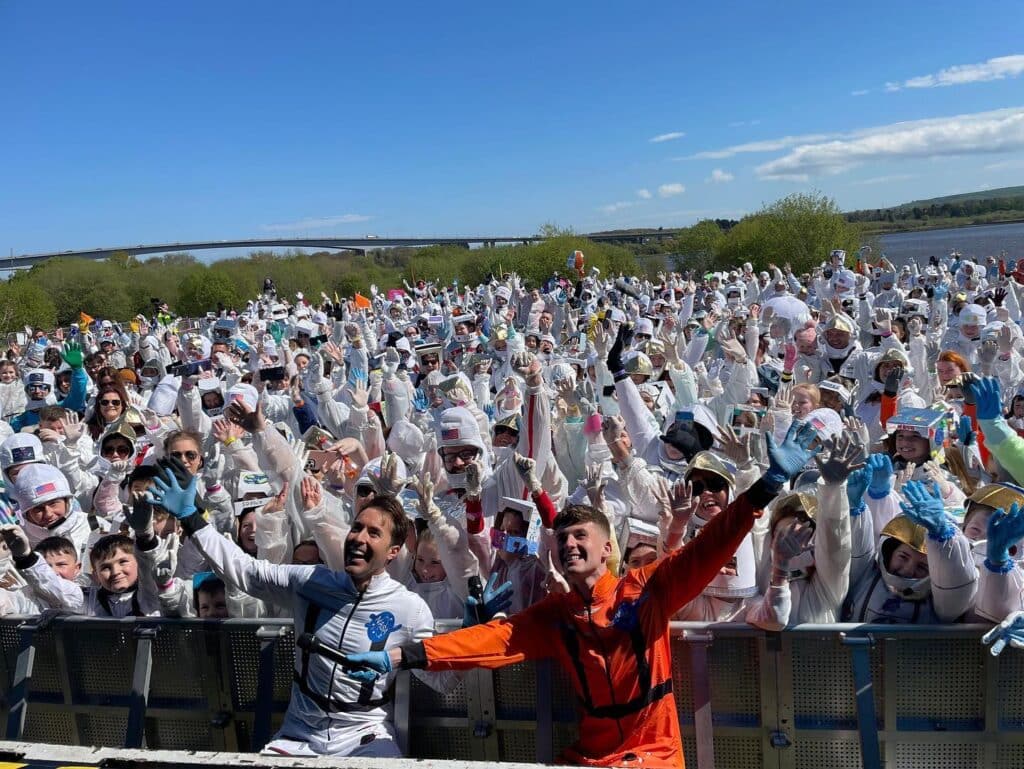 Next on our list of insane Guinness World Records held by Irish people is a relatively recent achievement. Broken in 2021 by people in Derry, Northern Ireland, 716 people gathered in the city donning their very best space attire.
4. World's largest tap dance lesson ‒ Bank of Ireland (UK)
The record for the world's largest tap dancing is held by the Belfast branch of the Bank of Ireland. Back in September 2018, 445 people gathered together to learn how to tap. The world record attempt was part of the city's annual Culture Night celebration.
3. Longest recorded solitary dolphin ‒ our beloved Fungie
Before disappearing in October 2020, Fungie the bottlenose dolphin was one of the main attractions of the County Kerry town of Dingle.
Believe it or not, the friendly dolphin is also a world record holder. In September 2019, Fungie broke the record for the longest-lived solitary dolphin, boasting an incredible 36 years.
2. Largest gathering of people dressed as Saint Patrick ‒ Saint Brigid's National School
Now, when it comes to Ireland, one of the most iconic symbols of our country is our patron saint, Saint Patrick. Therefore, it is only right that the Irish should hold the record for the largest number of people dressed as this iconic figure.
In March 2013, in the run-up to Saint Patrick's Day, 882 pupils and staff from Saint Brigid's National School in Castleknock, Dublin, gathered in their finest Saint Patrick attire.
1. Largest gathering of people dressed as leprechauns ‒ Bandon Town, Cork
Topping our list of insane Guinness World Records held by Irish people is the largest gathering of people dressed as leprechauns.
On Saint Patrick's Day 2012, 1,263 people gathered in the town of Bandon in County Cork dressed as these mythical Irish creatures.