University at Buffalo unveiled a massive 36 ft (11 m) mural of the famous Irish writer in New York.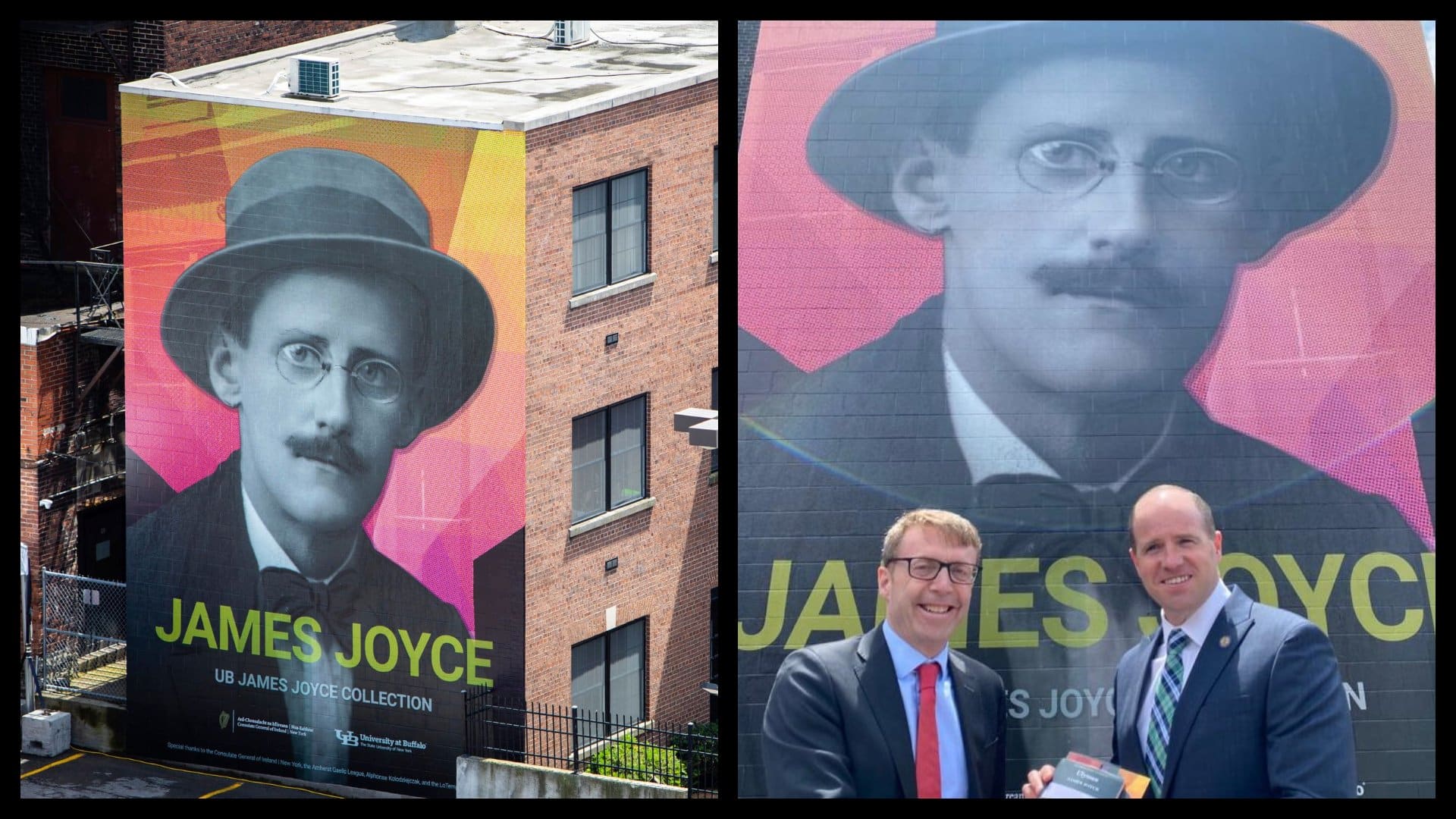 Ahead of Bloomsday 2021, University at Buffalo unveiled a massive 36 ft (11 m) James Joyce mural in New York City.
The mural depicts an iconic black and white portrait of the famous Irish writer set atop a colourful pink and yellow background. Located in downtown Buffalo, New York, the mural is the ultimate tribute to Joyce's life and literature.
Honouring a great Irish writer – a prominent figure in 20th-century literature
The massive James Joyce mural was unveiled in New York yesterday ahead of the annual Bloomsday Festival. The annual festival is inspired by one of Joyce's most famous works Ulysses.
The project was conducted by the University at Buffalo in New York. University at Buffalo is home to the largest James Joyce collection in the world. The mural is part of their wider publicity plan to create an official museum dedicated to the Irish writer.
The Office of the Consulate General of Ireland in New York, which works to promote Irish interests in the U.S.A., part-funded the mural.
Consul General Ciaran Madden was present at the mural's unveiling. He even gifted a copy of Ulysses to Irish-American New York Senator Tim Kennedy.
Bloomsday festivities – a festival inspired by literature
The unveiling of the huge James Joyce mural in New York comes ahead of the annual Bloomsday Festival.
Bloomsday falls on 16 June every year, the day on which Joyce's 1922 novel Ulysses takes place. The festival takes its name from the novel's protagonist Leopold Bloom.
The festival is an annual commemoration and celebration of the life and works of James Joyce. Festivities take place in the writer's hometown of Dublin and various other locations across the world.
Under normal circumstances, Bloomsday festivities would see revellers line the streets, enjoying street festivals, live events, and lectures. However, due to the ongoing COVID-19 pandemic and social distancing restrictions, this year's events will occur primarily online.
The legacy of Irish literature – loved 100 years on
Speaking at a news conference about the unveiling of the huge James Joyce mural in New York, Consul General Madden spoke about the legacy of Joyce today.
Madden said, "We are delighted to partner with UB to erect and unveil this mural. The links between Ireland and Buffalo, and Western New York, more generally, are deep and longstanding. We will always celebrate them."
He continued, "However, the UB James Joyce Collection is something distinct and special.
"With next year's centenary of the publication of James Joyce's Ulysses, we hope that many more people will read Joyce for the first time. And through Joyce, discover this wonderful collection in the heart of Western New York."