Many Irish styles we have tried to forget have existed over the years, but let's take you on a trip down fashion memory lane to see how many you can remember.
There is no doubt that Irish fashion has changed dramatically over the years, but we can all agree that looking back at specific iconic Irish fashion trends makes us laugh or cringe.
However, there were, and still are, many items and outfits which are truly Irish in every sense, and we can guarantee that you have seen one if not all of these top fashion picks over the years if you've been living in Ireland.
So, let's take a look at the top ten most iconic Irish fashion trends that have existed over the years.
10. The trouser/skirt combination – an unusual combination
This uniquely Irish style of clothing was one that sounds rather practical, but in fact, it was an actual fashion disaster we hope never gets repeated.
Luckily the Irish trend never stuck around too long, but when it did, we all had this unique piece in every colour imaginable.
9. Footless tights – life before the return of leggings
Were footless tights ever as significant in any other country than in Ireland? We think not! As soon as this trend appeared, every girl out there ran to the nearest shop looking to grab a pair they wore religiously.
Footless tights slowly evolved into leggings, widely available in Irish shops today.
8. The double shirt – a men's fashion faux pas
Guys, we're looking at you! This was one of the most iconic Irish fashion trends, which many men followed.
It consisted of pairing two shirts, sometimes of different patterns, under each other and then rolling the bottom sleeve over the top. Luckily this cannot be seen often these days.
7. Shiny satin – a trend not to be repeated
Yes, shiny satin clothing was a thing back in the day for both men and women. Remember the days when men would pair a shiny shirt with jeans on a night out or women would wear shimmering dresses?
Just take the Corrs siblings as an example. It seemed like the shinier it was, the more fashionable.
6. Tweed suits – a much-loved choice for Irish men
The tweed suit or tweed waistcoat is a typical Irish outfit and fashion piece for men, and it has been around for decades.
What started as a regular 'Sunday best' outfit for many Irish men has evolved into a chosen style for weddings, work, and weekend events. This would be well in season with the likes of traditional Irish clothing.
5. The headscarf – a truly Irish fashion item for women
Many of us will have seen our grannies, aunties or even our mothers over the years sporting this iconic Irish head scarf, especially when off out to run errands.
It was generally a silk scarf in various patterns, worn around the head and tied under the chin, leaving the face exposed.
4. The paddy cap – the fashionable head warmer
Paddy Caps have been worn by the Irish throughout the ages, and these days you will find many people sporting all kinds of tweed and woollen caps in various patterns.
Not only do the older generation of men refuse to leave the house without one, but this has quickly become a fashion trend for all ages and no doubt found in a culchies wardrobe.
3. The Aran jumper – our most beloved fashion trend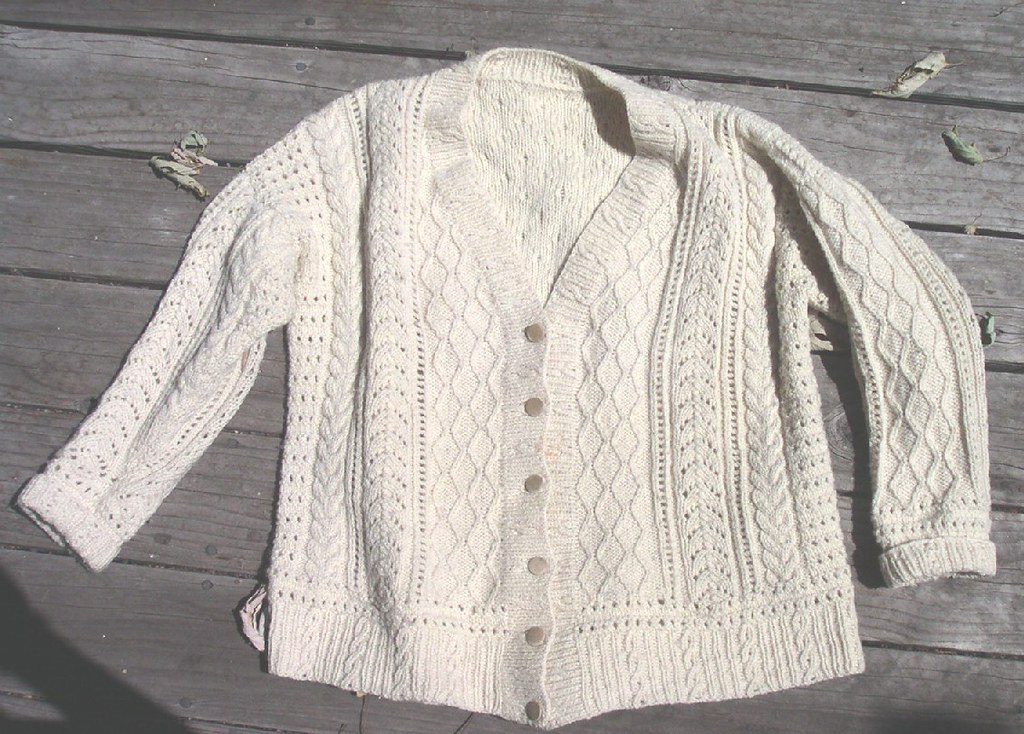 This is one of the most iconic Irish fashion trends, and this item is something we love to wear during the cold months.
Our hand-crafted Irish jumpers, traditionally woven on the Aran Islands, have become somewhat of a popular item that tourists love to get their hands on.
2. The bedazzled denim – a cringeworthy Irish fashion item
Whether denim jackets or jeans covered in jewels and sparkles, we Irish were undoubtedly guilty of this uniquely Irish trend, which was a little cringe-worthy looking back.
This was something that many girls in Ireland loved to wear, but in hindsight, it was probably a little over the top.
1. The button-down tracksuit bottoms – one of the top iconic Irish fashion trends
Throughout the years, most notably in the 90s, we have witnessed all sorts of ridiculous fashion trends, and this was undoubtedly one of them.
Both boys and girls were guilty of sporting these Adidas button-down tracksuit bottoms, and they came back in style years later to be paired with heels. Just no!
So, there it is, the ten most iconic Irish fashion trends, which many of us have most likely spotted over the years. Which ones do you remember?