If you've never heard of an Irish breakfast shot, let us enlighten you with the best recipes and some tasty variations.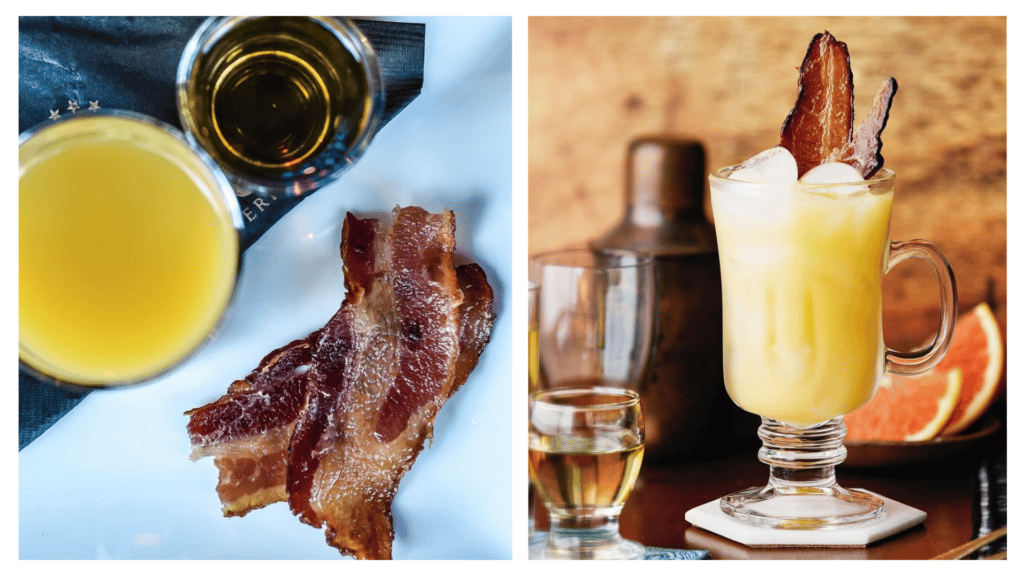 Irish breakfast shots. Was it an invention by the Irish themselves or an American who had a bad hangover one day and thought the hair of the dog would make it all go away?
We're not entirely sure, but apparently, several Irish breakfast shot recipes are similar to that of the Marmalade Cocktail, a breakfast martini invented by one of the most famous bartenders in the world, Englishman Harry Craddock.
This man is the brains behind the world-famous The Savoy Cocktail Book, which features over 750 classic cocktail recipes.
So, whether you're struggling with a bad hangover or want the perfect breakfast shot to impress at your next brunch party, let's take a look at five of the best Irish breakfast shots and everything you need to make them.
The history of the Irish breakfast shot – where did it come from?
So, we researched the life out of this famous morning drink, and for the life of us, we can't find what's so Irish about this Irish breakfast shot.
Of course, the addition of Irish whiskey could be the sole attribute of Irishness, but the origin and who created it remains a mystery.
The words breakfast and shot are not two words you often hear together or often want to hear together unless you're between the ages of 18 and 24 and just woke up from a heavy night on the town.
Many Irish creations have fascinating roots. Take, for example, Irish Coffee. Irish Coffee has an interesting and delightful origin story, which you can read about here.
Unfortunately, beyond what we expressed above, the origin and history of the Irish Breakfast Shot continue to remain widely unknown. Read on to find out all about how to make it.
The Classic Irish Breakfast shot – everything you need to make it
For this Classic Irish Breakfast shot, you'll need the following ingredients:
2 shots of Irish whiskey (Jameson or other)
1 shot butterscotch schnapps
Large splash of orange juice
Crispy piece of bacon to garnish
Method: Combine whiskey and butterscotch schnapps in a shot glass and orange juice in a lowball glass. Take the shot of whiskey and schnapps and chase it with orange juice and a crispy strip of bacon.
If you prefer this drink as a cocktail rather than a shot, you can shake up all the ingredients and pour it into a cocktail glass, most commonly a martini glass, with a slice of bacon as a garnish.
Now, if you've never tried this before, it might sound like a strange combination. However, trust us when we say it's delicious and it's the perfect way to set you up for the day ahead.
Variations of Irish Breakfast Shots – for when you don't have all the ingredients
This particular shot has been given many names, not just the Irish Breakfast Shot. You might also hear it referred to as the pancake shot, the Irish pancake shot, pancake breakfast, and many more.
The sweet butterscotch schnapps compliments the flavour so well, and if you don't have any, you can replace it with butterscotch liqueur instead.
Some people also like to add a tablespoon of maple syrup to the mix for extra sweetness. Plus, you can also add all the ingredients together in a cocktail shaker with ice to make it a cocktail instead of a shot.
Plus, if you don't have Jameson Irish whiskey or any Irish whiskey lying around, you can use scotch or bourbon instead. The reason Irish whiskey is preferred is because it's less sweet, so it perfectly balances with the butterscotch flavours.
The general idea of the Irish breakfast shot is to mimic the taste of pancakes with maple syrup. The orange juice and bacon then tie together your 'breakfast'.
Bailey's Breakfast Shot – also known as the French Toast Shot
Speaking of variations, why not try the Bailey's Irish Cream Breakfast Shot? Here's everything you will need for this delectable shot.
1 shot Bailey's Irish Cream
1 shot Butterscotch Schnapps's
half-shot Vanilla Vodka
1 tsp Vanilla Extract
A healthy dash of ground cinnamon
Caramel syrup to garnish
Method: For this breakfast of champions, you'll need a cocktail shaker and a couple of shot glasses.
This recipe is super simple, super quick, and super delicious.
Firstly, add a handful of ice cubes to your cocktail shaker. Combine all ingredients at once and shake until frothy.
Drizzle a generous amount of caramel syrup into each shot glass and pour in your delicious mixture. Also known as the 'French Toast Shot', this is sure to be a winner at your next brunch party.
Other notable mentions
Take a look at our notable mentions for more delicious-tasting cocktail shots.
Pineapple Upside Down Cake: This sweet treat consists of vanilla vodka, pineapple juice and grenadine and always goes down a treat at a party.
Kamikaze: Consisting of vodka, triple sec, and lime juice, this shot will give you the burst of energy you need to dance the night away.
Baby Guinness: With Kahlua coffee liquor on the bottom and Bailey's Irish Cream on top, a Baby Guinness is a delicious shot for any occasion.
FAQs about Irish breakfast shots
How do you make an Irish Breakfast Shot cocktail?
If you would prefer the Irish breakfast shot as a cocktail, just grab a cocktail shaker, fill it with ice, shake up all of your ingredients, and pour it into a cocktail glass of your choice to enjoy. This way, you'll still need some crispy bacon garnish.
What is a Breakfast Shot made out of?
This so-called Irish shot is made up of a number of liquid ingredients, including an Irish whiskey shot, butterscotch schnapps, orange juice, and a delicious piece of bacon. However, if you don't have Irish whiskey, you could use any type of whiskey.
What does an Irish Breakfast Shot taste like?
The Irish breakfast shot tastes like pancakes and maple syrup to some people! It includes all the classic breakfast items with that fiery hit of whiskey.