Halloween is coming, the goose is getting fat, and if you need some inspiration for a Halloween costume, take a look at our list of these fantastic Irish Halloween costumes below.
Halloween has come around faster than we could say BOO! Witches, cats, and pumpkins have been left behind in 2021. 2022 is the year for daring and unpredictable Halloween costumes.
We have compiled a list of some great Halloween costumes. Whether you're going solo, as a couple, or as a group, we've got all angles covered! Read on for the top ten Irish Halloween costumes to make you stand out this spooky season.
10. Sister Michael – you might want to think about wising up
To commemorate the end of Derry Girls and, in turn, the end of an era, we sincerely hope to see a few Sister Michael's out on the streets his Halloween.
This is one of the best Irish Halloween costumes for 2022 that you can truly put a unique spin on. If you can convince your mates to dress as the wee English fella, Erin, and the rest of the gang, you'd be the highlight of everybody's night!
9. Doctor Fate – channel Pierce Brosnan's DC debut
This one is an absolute hot take, considering the movie isn't even out yet. Pierce Brosnan plays Doctor Fate in the new DC Universe film that comes out this weekend, 21 October, Black Adam.
All you need is a cape, a moustache and beard on fleek, and a pair of white contacts to do the job.
8. The 'Windy Smasher' – a nod to one of the crazy events of 2022
Remember the guy who threw a bin at the band during the Twelfth celebrations? In the video that went viral, a man can be seen running from this home, which has an Irish tricolour hanging from an upstairs window and throwing a bin at the band.
In turn, a bar in Northern Ireland created the 'Windy Smasher' cocktail. We think a black bin bag with a tricolour behind one ear and a Union Jack behind the other would do the trick. You can guarantee no one else will have this uniquely Irish costume.
7. Penelope Featherington – we know the accent behind the costume
Nicola Coughlan made serious waves on our screens this year, and not just with the end of Derry Girls! This will be a great Halloween costume if you have the ginger locks or the perfect wig to give the impression.
Head to a charity shop to find an old-timey ball gown, and you are good to go! If you have a friend to go as Eloise, even better.
6. Marianne and Connell – a brilliant couple costume
Now, unless you get the hair and outfits bang on, this one might go over people's heads. However, if you've got the awkward look of Connell and the chain and GAA shorts to match, and carry a book around like Marianne, you might just have people swooning if you nail Marianne and Connell from Normal People.
5. A banshee – a terrifying Irish Halloween costume
This could be a legitimately scary Halloween costume if it's done right. Since banshees are one of the oldest legends to come from Ireland, and Ireland is the origin of Samhain, we think this is one of the best Irish Halloween costumes for 2022.
The Banshee is often described as having long white hair and dressed in white or grey, so this wouldn't be an expensive costume, either!
4. Crazy Paddy – It's Always Sunny in Philadelphia
If you're an Always Sunny fan, this is a great costume. Dee and Charlie make a YouTube video to try and promote the pub.
Dee dresses in an orange afro, shamrock suspenders, and green shorts as a sort of Leprechaun(?)- type character. Should we be offended? Maybe, but it would make for a great costume.
3. Colin Farrell as Penguin – a supervillain costumes
When Colin Farrell took on the character of Penguin in DC's The Batman, we could hardly recognise him. For this costume, you just need a suit and tie, maybe some fake teeth, and a big fat cigar to pull it off.
2. The Young Offenders – Conor and Jock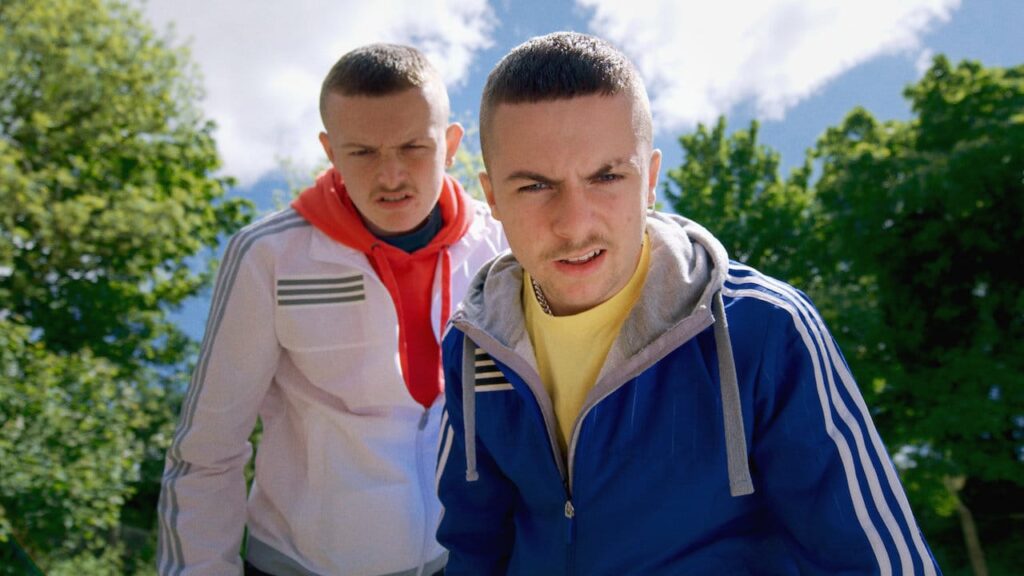 This is a cracker costume if you have someone who would do it with you. All you need is a couple of colourful tracksuits and chains – and the gelled hairstyles to match.
If you've got the height difference to go with it, this could be one of the best Irish Halloween costumes of 2022.
1. Father Ted and the gang – an oldy but a goody
This is a classic Irish Halloween costume that deserves to come around again year after year. Plus, if you could get Dougal, Jack, and Mrs Doyle in on the costume, too, you could make this a really great group costume.
If you fancy a cool pumpkin design this year, check out our article on Irish pumpkin carvings here.