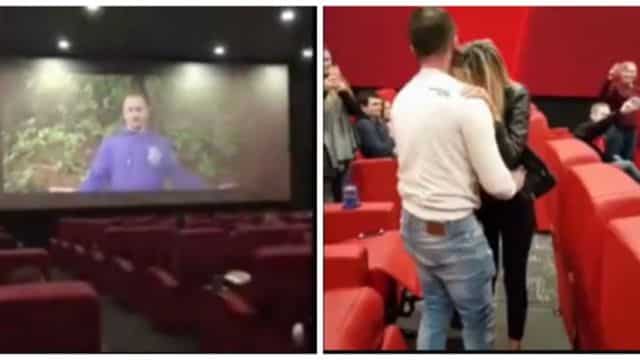 This has to be one of the most bizarre yet romantic proposals you'll ever see.
Irish girl Emma went with her boyfriend Shalla to watch the finale of the Fifty Shades trilogy.
In her mind, it was a normal trip to the cinema with her boyfriend but little did she know that her boyfriend would appear on the big screen asking her to marry him.
Talking from the big screen Shalla tells the packed Arc Cinema in Wexford that he loves his girlfriend so much that he wants to marry her.
The main lights then come on and the whole cinema is focused on Emma and Shalla in the audience. She looks properly shocked.
The audience isn't sure whether she said yes so, of course, some random Irish woman asks did she say yes and Emma tells the audience she sure did, and everyone applauds the happy couple.
The cinema staff were clearly in on it and bring the couple glasses of bubbly to help them celebrate, and its back to movie time.
Say what you want about this engagement, but it is very original and romantic. We wish the couple all the very best for their wedding and future life together!
Watch the video below:
https://www.facebook.com/ArcCinemaWexford/videos/343082622857879/