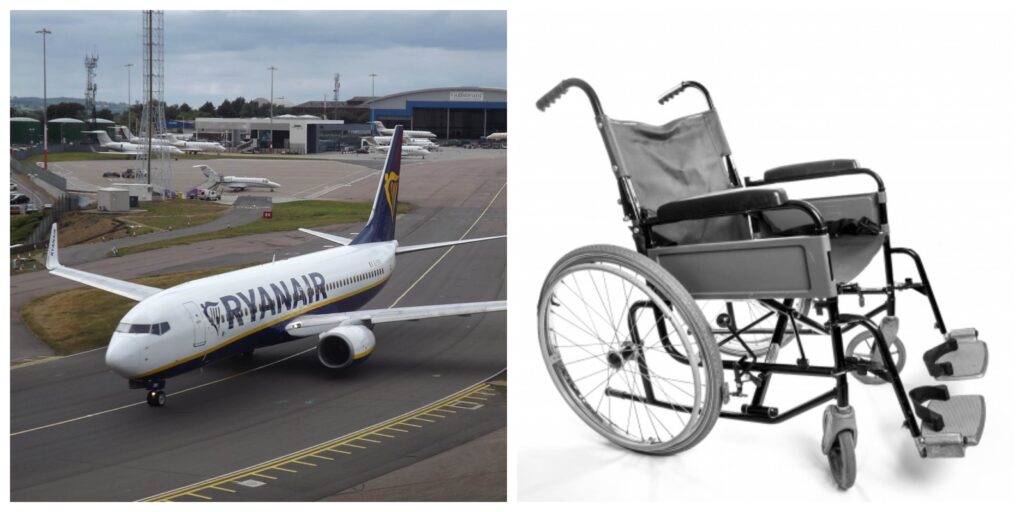 The budget airline Ryanair shocked the aviation and travel industry today when it announced the introduction of charges for customers using wheelchairs.
The move is designed to save the airline costs and increase profitability.
Company spokesperson Orla O'Liodan spoke at a press conference at Dublin Airport today and told reporters. "This is designed to fit into our new Fast Turn Around protocols," she said, then continued.
"We are targeting a sixty-second turn around for all aircraft embarkation and disembarkations. That's thirty-seconds for passengers to get off the plane and further thirty-seconds for new passengers to get on. If they can't achieve that — well that's it, we'll leave without them."
'Not a Charity'
"However," she continued, "we realise that wheelchair passengers may take that little bit longer to board so we are allowing them a minute and a half. But they have to pay that bit extra for the privilege. It's only fair! After all, we are not a charity you know?"
It is believed that the new 'Speedy Boarding' will involve passengers booking their own tickets, handling their own check-in and then queuing up to race to the plane as soon as it touches down.
Passengers will also be asked to clean the aircraft prior to landing at their destination.
A Pittance
M/s O'Liodan also referred to wheelchairs weighing over 10kg.
"If passengers choose to use a wheelchair and of course, that is strictly up to them but they should be aware that anything over 10kg results in an increased cost to the Airline of .00005 cents per passenger.
"And as I said we are definitely not a charity."
Ryanair also intends to introduce a surcharge for passengers who don't buy the Ryanair onboard pre-packed sandwiches.
"We go to the trouble of preparing them; it's only fair that passengers buy them." M/s O'Liodan explained, then concluded, "We're not a charity you know," again.
Flight magazine journalist and travel writer Sam Steinbridge commented. "Personally I think it's a great idea. I mean everybody laughed when they introduced the coin-operated oxygen masks and the whole one-man flight crew idea. But in fairness to Ryanair, it did increase profit margins. They are not a charity you know!"
Market Reaction
Ryanair share prices on both the London and Dublin stock exchanges rose significantly today as both markets reacted to the news.
In scenes reminiscent of last months announcement that the airline had negotiated a twenty-four-hour shift cycle with its pilots millions were added to the already massive fortunes of the Ryan family and the company CEO Michael O'Leary.
CEO Michael O'Leary was not at the main press conference but did appear at the end to pose for photographs holding the usual blow-up Ryanair model planes.
He also took time out to make disparaging remarks about the British and Irish governments, Brexit, the Aviation Authority, the Pope, RTE, trade unions and the Irish weather.
Disclaimer
This article is satire. We do satire articles because it is great craic and Irish people love it! Articles in this section are spoof articles which should not be taken as the truth, nor are they are intended to offend.