Nothing beats a sip of cool, home-grown cider on a warm Irish day. Tempt your taste buds with our list of the Irish best ciders of all time, ranked.
While the subject of beers seems to divide many an Irish household, hardly anyone can resist the sweet temptation of a cider. On a hot Irish summer day, relaxing in your favourite beer garden, or at home with loved ones – what more could you ask for than a crisp, fruity and sweet cider? Especially one that has been brewed locally, supporting Irish farmers.
Ireland is home to some of the tastiest locally-produced ciders in the world, but which one to choose? We've ranked some of our favourite Irish ciders below to help you make your decision.
5. Devil's Bit Irish Cider – for boozy summer treat
Don't let the name fool you; this great Irish cider tastes heavenly. This wonderfully refreshing drink is crafted using Dabinett, Michelin and Ashton Biter apples from the creator's family orchard.
It's also pressed in their own Cidery in Tipperary, giving you the guarantee of authenticity. With 6% alcohol, it's a little bit boozier than other Irish ciders on the market, but this doesn't detract from its easy, fruity taste.
Devils Bit Irish cider also has the added benefit of being gluten free, meaning that even those with gluten-intolerant dietary requirements can enjoy without concern. Take a sip of this award-winning beverage and enjoy the taste of an Irish summer.
4. Cronins Cider – one of the best Irish cider brands
Cronin's cider began more than twenty years ago, when John Cronin, then a young man working in his family pub in Listowel, set out on a mission.
His vision consisted of creating a cider that would be easy to drink, be made with natural ingredients, always taste the same and have just the right amount of acidity to be refreshing.
Flash forward two decades later, and his vision has become a reality. While its ingredients are sourced from the UK, the craft cider is both processed and bottled in Ireland, with the help of a partnership with the Donohoe Drinks Company in Enniscorthy.
The drink is available at selected stockists throughout the country, and is most definitely worth a try with it being amongst the best Irish ciders.
3. Stonewell Cider – support local Irish farmers while enjoying premium taste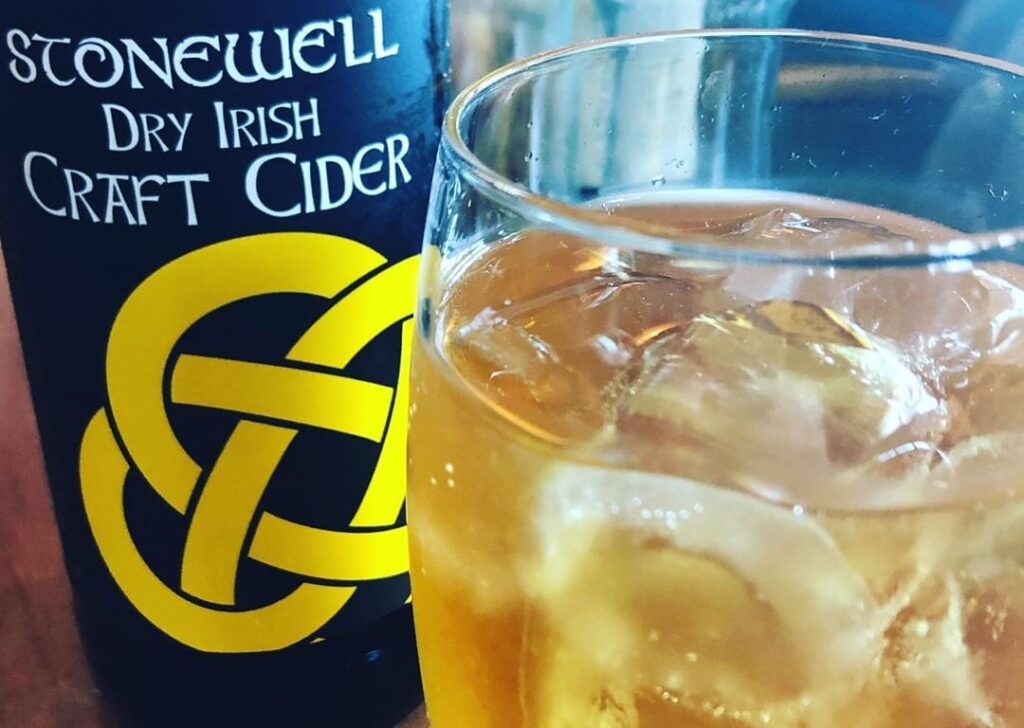 The origins of this premium Irish cider begin in various counties across the Emerald Isle. While created by a small team in Cork, the apples that go into it are bought from Irish farmers in the counties of Carlow, Kilkenny, Waterford, Tipperary and Cork.
When purchasing this cider, you have the added benefit of knowing that local farmers, whom the creators know personally, are being supported in its production.
The 'secret ingredient' in Stonewall cider is naturally cultured champagne yeast which, according to the producers, gives the drink such a "distinguished nose and smoothness on the pallet."
2. Orchard Thieves – engineered specifically with the Irish in mind
What would a cider that was engineered specifically for Irish taste buds taste like? If you've ever wondered what the answer to this question would be, look no further.
According to the creators of this massively popular Irish cider, Heineken Ireland, this beverage was brewed after an intensive taste testing with over 1,000 Irish consumers.
Surely it's worth a try for that claim alone? Specially crafted from an even mix of crisp and tart apples, Orchard Thieves cider is available on draught, in pint bottles, 330ml bottles or cans – making it a versatile choice for any occasion.
1. Bulmers – Irish ciders don't get much better than this
When you think of Irish cider brands, this reliable gem is probably first on our mind. Bulmers' roots are undeniably Irish. It saw its origins in Clonmel in County Tipperary, after a local man named William Magner created the drink in 1935. Does that name sound familiar?
Outside of the Republic of Ireland, this tasty favourite is marketed as 'Magners', after its original creator. It has since seen huge success all across the world, and provides an option for less-adventurous Irish folk while on holiday abroad.
Made from an impressive 17 varieties of Irish apples, this drink is the Emerald Isle in liquid form, and one of the best Irish ciders out there.