The Irish indeed invented the seasoned crisp, but what are the best and worst flavours that the famous Irish Taytos have to offer?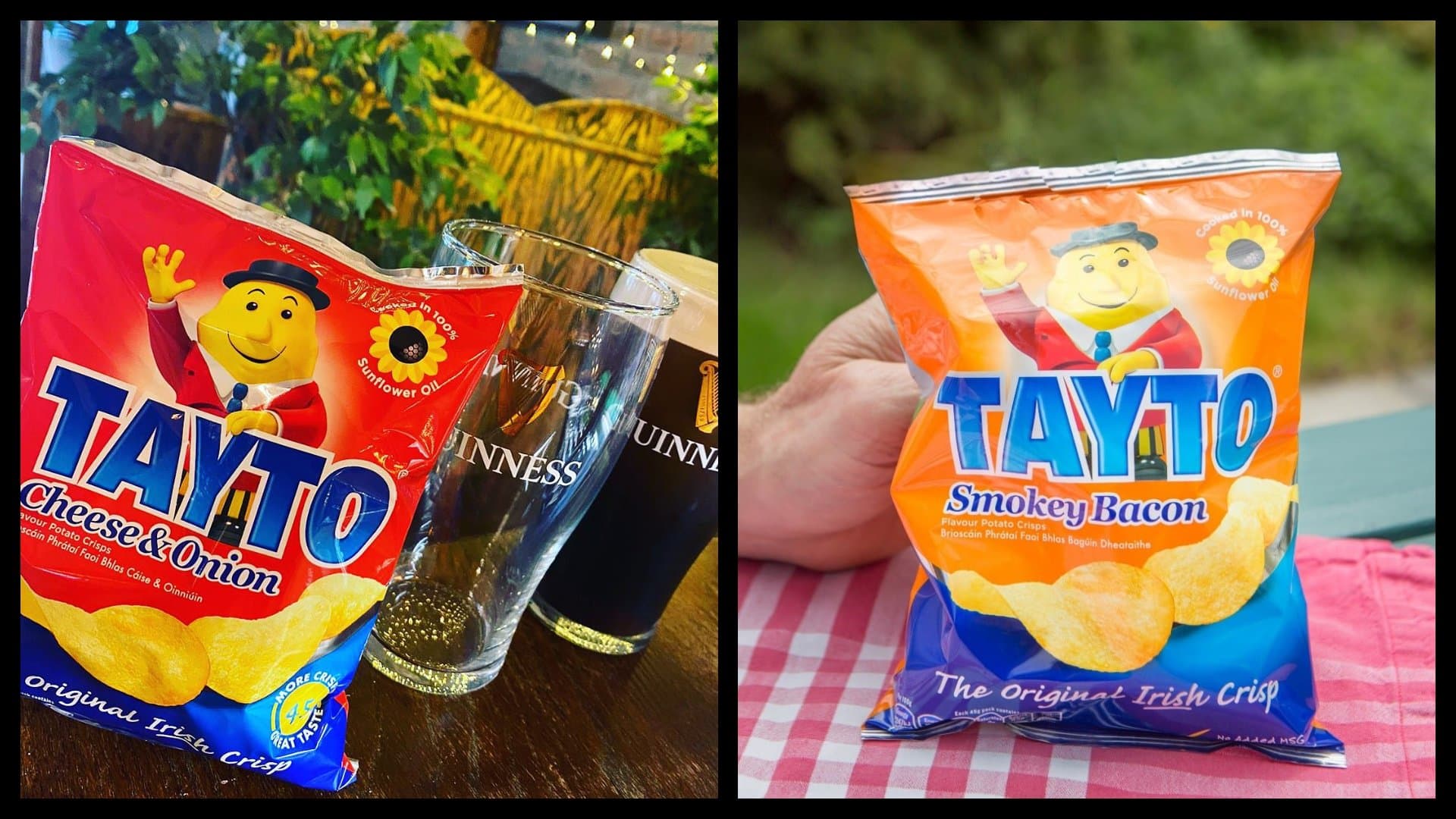 Did you know that Spud Murphy, the man behind Tayto, was the pioneer for the flavoured crisp?
Well, it is true, the world has to thank the Irish for this incredible invention, and we couldn't be prouder to shout it from the rooftops.
We Irish absolutely love a good packet of crisps. Still, many of us have indeed come across some odd flavours around the world, including mushroom flavour, ketchup flavour, and even garlic butter flavour.
Here in Ireland, however, we have some of the best flavours known to man. Let us check out the ten best Tayto flavours, ranked from worst to best.
10. Curry Chip – it is a no from us
To some people, this might have been their dream come true. For the rest of us, this was just a plain no!
Curry chip flavour should be left to flavour…. curry chips, and that is that. We can forgive Tayto for this because there are many Tayto flavours that we just cannot get enough of.
9. Chicken – the famous Chickatees
We all knew and loved Chickatees as kids, but nowadays, with some amazing flavours out there, we're not sure this is one of the best anymore.
There are, of course, many of us that still love the old school crisps such as Wheelies, Johnny's Onion Rings, and Chickatees.
However, that doesn't necessarily mean that they are one of the best Tayto flavours, does it?
8. Buffalo – Hunky Dorys
Ever since the Tayto chunkier version appeared in the form of Hunky Dorys, Irish people have been going wild for them. However, not so many are wild for Buffalo flavour, it seems.
7. Prawn Cocktail – the almost middle man
This flavour has to be somewhere in the middle because, let's face it, some people we know love them and some others cannot stand them.
They really are a hate it or love it kind of crisp flavour, don't you agree?
6. Grilled Steak – the new pub favourite, perhaps?
We love the idea of these being available in pubs because the Chargrilled Steak flavour, accompanied by a creamy pint of Guinness, sounds divine.
Plus, these are even suitable for vegetarians.
5. Crushed Sea Salt & Aged Vinegar – the classic made luxurious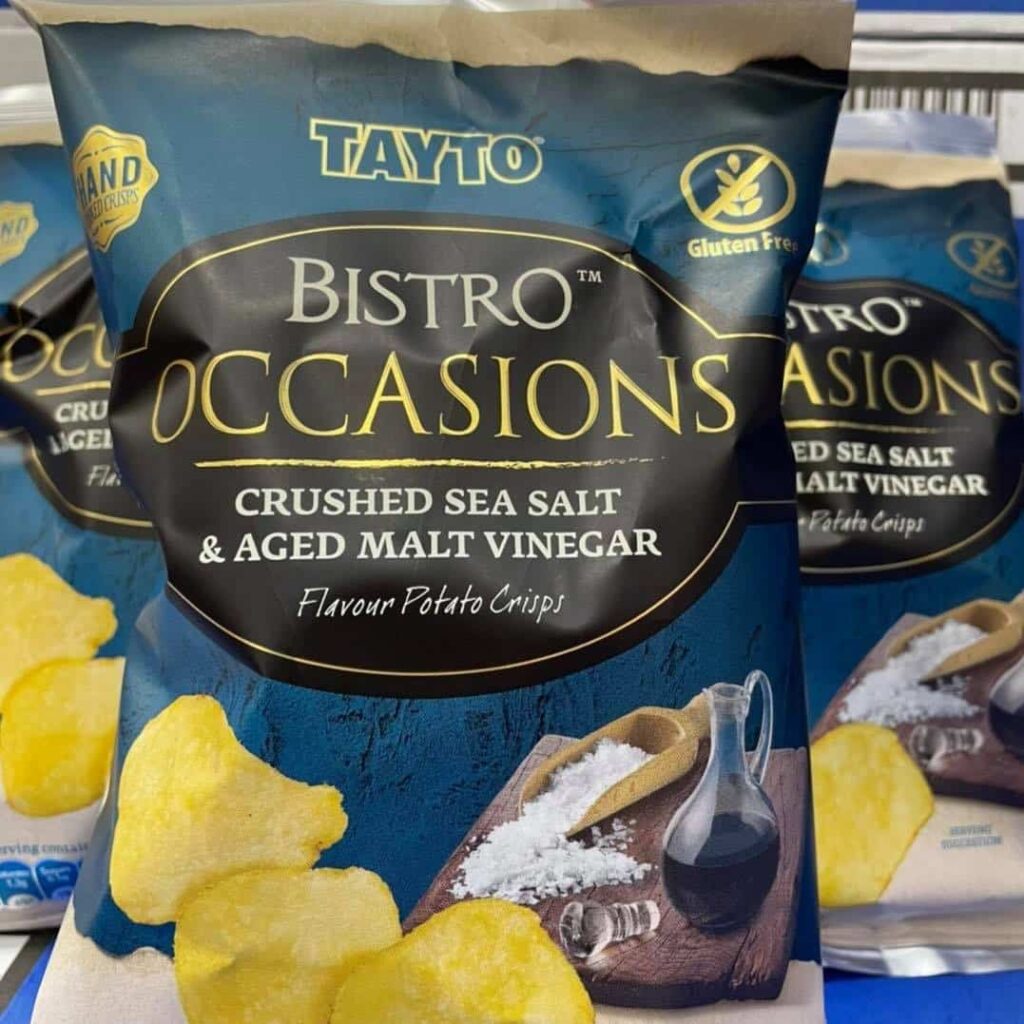 Oh man, if you are a fan of the classic Salt and Vinegar flavour, then you will love these ones for sure.
Another beautiful Tayto Occasions flavour to try if you haven't already.
4. Thai Sweet Chilli – for the ultimate Tayto Occasions
Well, what can we say? When we want to treat ourselves, we LOVE a packet of Taytos Occasions Thai Sweet Chilli flavour.
This luxurious range of crisps is made from carefully selected potatoes, which are carefully sliced and slow-cooked in 100% sunflower oil. Just wow!
3. Smokey Bacon – vegetarian-friendly bacon
Vegetarians can rejoice because one of the best Tayto flavours out there is suitable for vegetarians, despite what it might appear.
In fact, the taste comes from various flavourings, including paprika extract. Thus, everyone can enjoy this delicious flavour guilt-free.
2. Salt and Vinegar – an Irish classic
One of the absolute best Tayto flavours has to be Salt and Vinegar. This is another classic flavour that can be found everywhere in Ireland.
This flavour, along with our number one Tayto flavour, were the first two seasoned crisps that Tayto ever made. So, the fact that we are huge fans until this day says a lot.
1. Cheese and Onion – a pub favourite
These crisps are so good that if you ask an airport security agent in Ireland how many times they've seen these packed into a suitcase, you'll be told it has been thousands of times.
We Irish people love our Tayto so much that we are almost worried we won't find anything to satisfy our cravings. Thus, we end up packing them to take away with us. Clever, eh?
If you haven't tried some of these (namely, between five and ten), maybe you shouldn't bother.
Still, on the other hand, it will make you appreciate the best Tayto flavours out there, especially our classic Cheese and Onion or Salt and Vinegar, which will never cease to satisfy our taste buds.
So many sub-brands have come from Tayto, including Hunky Dorys, Snax, Waffles, and Tayto Occasions, which also have some great flavours.
So, we are excited to follow along as Tayto continue to wow us with their awesome flavour combinations.