Derek Daly is a well-regarded Irish driver, but we bet you don't know these ten facts about Derek Daly. Check them out below.
Derek Daly is an Irish motor racing legend. He was the first driver from the Republic of Ireland to score points on the Formula One circuit.
Daly competed as a professional auto racing driver for 17 years. He participated in 64 World Championship Formula One Grand Prix races, debuting on April 2 1978. He scored a total of 15 championship points.
Moving to America, Daly competed in North American open-wheel racing from 1982-89.
Since his racing career ended, Daly has worked as an auto racing commentator on both IndyCar and Formula One events. Daly also serves as a motivational speaker, operating his own firm known as MotorVation.
He became an American citizen and today resides in Carmel, Indiana, about a 30-minute drive from the famous Indianapolis Motor Speedway.
Here are ten facts about Derek Daly you didn't know.
10. Daly's racing career was first forged in Australia – we all start somewhere
Looking for money to finance his racing dream, Daly thought of travelling to Alaska to help build the oil pipeline or heading down under to work in the iron ore mines of Australia.
Daly chose the latter destination, spending six months in Australia in 1974-75. He made £5000, and that sum financed the purchase of his first Formula Ford race car.
9. He used to live in a bus – the lap of luxury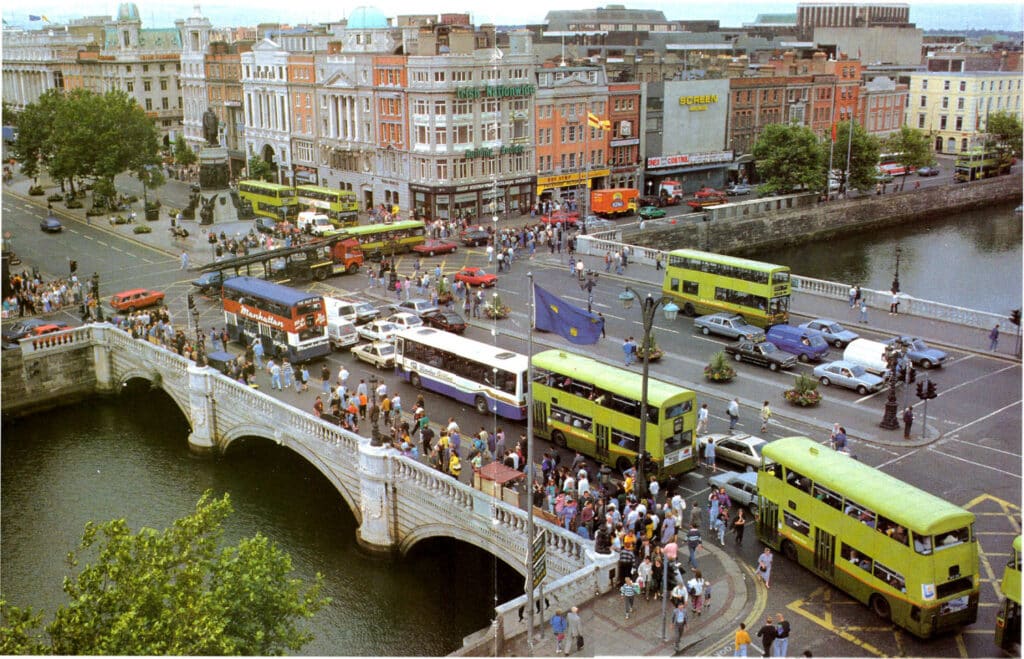 Daly bought an old bus from a fellow in Dundrum. He gutted it, cutting off the back and installing a door and ramps to be able to drive his race car into the bus.
His mother made him some curtains, his father acquired a mattress, and Daly was off. That reconfigured bus served as his home when Daly travelled to England and won the 1976 British Formula Ford Series.
8. James Hunt presented his trophy – what an accolade!
When Daly was awarded his championship trophy for the 1976 British Formula Ford Series, it was reigning World F1 champ James Hunt who had the presentation.
Just 18 months later, they started side-by-side on the grid at the British Grand Prix.
7. He led in his first Formula One race – good going for a beginner
Competing in his Formula One debut in a non-points race at Silverstone, Daly took the race lead in a driving rainstorm.
However, on Lap 13, Daly's helmet visor broke. He lost control of his race car, slamming into the fencing.
6. Daly finished first and second in the same race – one of the top facts about Derek Daly
Daly had a seat in both Nissan Performance Tech GTP ZX-T's during the 1990 12 Hours of Sebring.
He teamed with Bob Earl to win the race and with Geoff Brabham and Chip Robinson to finish second.
5. A near miss at MIS – that was a close one
In September 1984, Daly was nearly killed in a horrific crash in the CART PPG Detroit News Grand Prix 200 at Michigan International Speedway.
The front end of his car was sheared off, and he suffered multiple injuries.
These included a crushed left ankle, double compound fracture to the left tibia and fibula, fractured left hip socket, severely fractured pelvis, several broken left side ribs, broken left hand, third-degree burns to the left arm, a dislocated right foot and ankle, deep abrasions and soft tissue damage to his right heel, and internal bleeding.
He underwent 14 surgeries to repair the damage.
4. A jack of all trades – he had many talents
Daly is the only driver from the Republic of Ireland to race in Formula One, the Indianapolis 500, and the 24 Hours of Le Mans.
3. He taught Sylvester Stallone how to drive – learning from the best
Prepping for his 2001 auto-racing movie Driven, Oscar-nominated actor Sylvester Stallone studied at the Derek Daly Performance Driving Academy in Las Vegas.
2. Daly's son is entered in the 2020 Indianapolis 500 – like father, like son
Conor Daly will drive for Ed Carpenter Racing in the August 23 Indianapolis 500. He's listed at online betting sites at odds of +2500 to win the race.
Derek Daly competed in six Indy 500s.
1. His niece is an international field hockey star – talent runs in the family
Daly's niece, Nicola Daly, is an Ireland women's field hockey international and was a member of the squad that won the silver medal at the 2018 Women's Hockey World Cup.
She also works as a data engineer for Juncos Racing.
There you have it, the top ten facts about Derek Daly you didn't know.