Jack Frost waits for the closing of autumn to cast his spell on the Emerald Isle. These are the top ten signs that it's winter in Ireland.
It's always a good time to visit Ireland, but even we must admit that the winters here can be gloomy.
However, if a cosy pub or beautiful sunrise tickles your fancy, you won't regret visiting Ireland at this time of year.
Be prepared for the good and the bad with our list of the top ten signs that it's winter in Ireland.
10. There's a pumpkin rotting in a back garden somewhere – no joke
Many of us pick up a pumpkin for the Halloween weekend.
We have fun carving the pumpkin and placing a candle inside, but once Halloween is over, it's no longer socially acceptable to use the pumpkin as decoration.
So, the poor old pumpkin gets left out in the cold, the idea being he's biodegradable, so it makes sense just to leave him in the garden, right? Wrong.
After a week or two, our pumpkin is scarier than he ever was before. You know it's winter in Ireland once it's time to actually get rid of that pumpkin.
9. Pets are needier than usual – one of the top ten signs that it's winter in Ireland
If you have the pleasure of staying in a B&B in Ireland, there may be a cute cat or dog for you to play with.
In winter, the puppy dog faces get sadder, and the meows get whinier. But our furry friends appreciate the turf fire as much as we do.
8. There are cute robins around – one of the sure signs that it's winter in Ireland
Robins are smart, friendly, cute birds that often appear on Irish Christmas cards. This is because they frequent Ireland during the colder months.
In winter, robins puff out their feathers to trap warm air pockets next to their internal organs. This makes them look plump and even cuter than usual (if that was even possible).
7. The thermals are out – for when you need an extra layer
If you live in a warm place and need reminding, thermals are layers designed to trap heat underneath your clothes. Every year in Ireland, thermals reappear from the back of wardrobes.
Shops lose their minds over thermals, stocking as many kinds as they can and placing them near the cash register, reminding you to wrap up warm. It's freezing out there!
6. It's not snowing – it's just cold
Don't let the postcards fool you. Ireland's proximity to the Atlantic means we don't get snow very often.
Some of the more northern parts of Ireland are treated every winter to a gorgeous sheet of pure white snow, but for the most part, you can expect frost and sleet, one of the clear signs that it's winter in Ireland.
5. The winter solstice is the talk of the town – part of Ireland's history
The winter solstice in Ireland, also known as the shortest day of the year, marks the time in which the passage of Newgrange is illuminated by winter's sun.
Newgrange is an impressive structure in County Meath built during the stone age. If you'd like to see Newgrange during the winter solstice, you'd better get planning because there's a long waiting list!
4. People drink mulled wine and hot whiskey – simply delicious
This is one of our favourite things about Ireland's winter.
Whether you're a guest in someone's house or a customer in the pub, mulled wine or hot whiskey will be a popular choice.
Such a drink will cast away the cold that has seeped into your bones, another of the classic signs that it's winter in Ireland.
3. The turf fire is down – no Irish home is complete without it
It's the staple of every Irish winter. Families tend to put the turf fire down earlier and earlier every year. Is it 2 pm? Put down a fire. Is it only July? Put down a fire. Any excuse will do.
A turf fire is a treat for the senses; its warmth reddens your cheeks; the crackling sound massages your ears; its smoky smell tickles your nose.
Best of all, it represents the perfect winter in Ireland and is one true smell that will remind you of Ireland.
2. Christmas lights start to appear – oh dear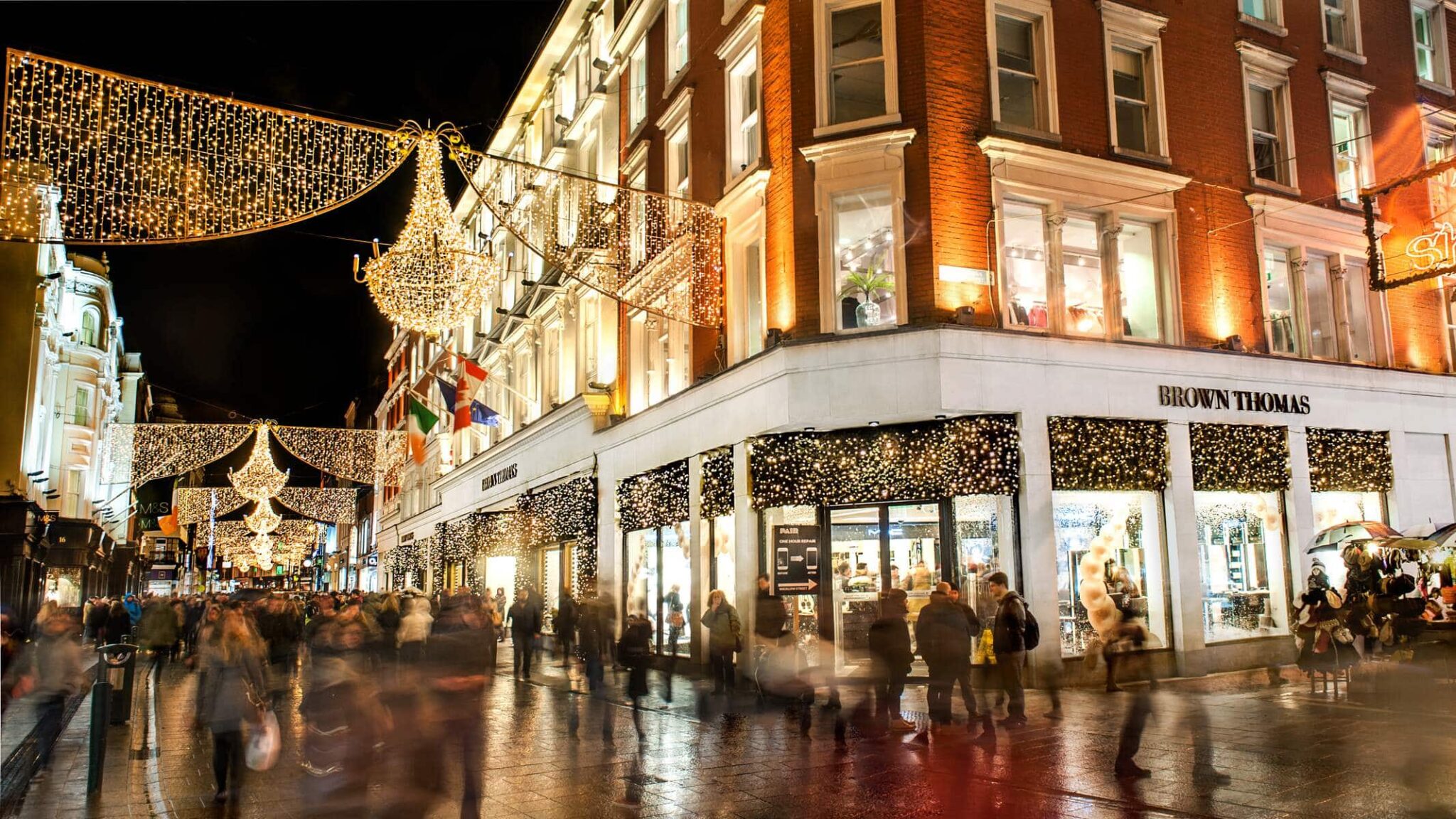 Halloween is barely over by the time Brown Thomas dons its lights and decorations. Once November comes around, lights start to appear in streets, hotels, and other shops.
There are only two types of Irish people, hardcore Christmas fans and those who curse the early arrival of Christmas. Bah humbug!
1. It's dark – very dark
This happens every year. Every single year, and yet it still comes as such a shock to us all. It's dark when you get up in the morning and dark when you get home.
In the thick of winter in Ireland, the sky will start to get dark at around 4 pm or 5 pm.
As locals, we should be used to this by now, but that doesn't stop us from exchanging daily gasps with colleagues over how dark it's gotten.
Studies show that the desire to complain about the weather is genetically passed down to every Irish person at birth. This grants them the true Irish winter experience, which, as we know from this list, is one of a kind!