Ireland is known for its love of all different kinds of sports. If you're a sports fanatic visiting the Emerald Isle, these are the most loved sports in Ireland.
No matter where you are in the world, every country, big and small, will have sports they love.
Football, cricket, badminton, table tennis, it doesn't matter, you will find people enjoying one or more sports everywhere.
Ireland is no different, and while the Irish do love sports we find around the world, they are also passionate about the sports they created.
Whether you are ranking boxers or ranking football players, you are sure to find a couple of Irishman on those lists.
7. Football – one of the most popular sports in the world
Football is the most played and most popular sport on earth, so it is no surprise that it is one of the most loved sports in Ireland, too.
Both Northern Ireland and the Republic of Ireland have their own national team and leagues.
Surprisingly, while still a popular sport to play and watch, it is only the third-most-popular sport in Ireland, behind hurling and Gaelic football.
There are two leagues in the Republic of Ireland, the League of Ireland Premier Division and the League of Ireland First Division.
There are ten teams in the Premier Division, with the Shamrock Rovers being the most successful club with 19 league titles.
You will find another ten teams in the First Division, with Drogheda United being the most successful with five titles.
6. Golf – world-class golf courses
Golf has been ranked number one for the fastest ball game in the world and has been a popular sport across Europe for decades now, and Ireland is no different. Some of the most popular golfers in history have come out of Ireland, such as Padraig Harrington, Peter Lawrie, and Shane Lowrie.
Ireland is also home to some of the best golf courses, with many consistently ranked in the top 100 in Europe and the world.
There are 300 courses across the island, with many of the coastal courses being links-style.
Both Northern Ireland and the Republic of Ireland play host to several tournaments across the year, amateur and women's tournaments, and the Irish Open.
5. Rugby – from school to professional level
Unlike the football teams, the Irish national team is a team that comprises players from both Northern Ireland and the Republic of Ireland.
The national team dates back to 1875 and was ranked number one in the world for the first time in 2019.
Even though Gaelic football is more popular, Ireland as a whole still enjoys rugby from schoolboy level all the way to professional level.
Like other rugby-playing nations, Ireland also has a Sevens team that regularly plays at tournaments and the World Cup.
Some of the biggest names in rugby have come from Ireland, with a few making it into the Hall of Fame.
Ronan O'Gara and Brian O'Driscoll are two of the biggest reasons why the sport is so popular in their country.
4. Gaelic football – Ireland's favourite sport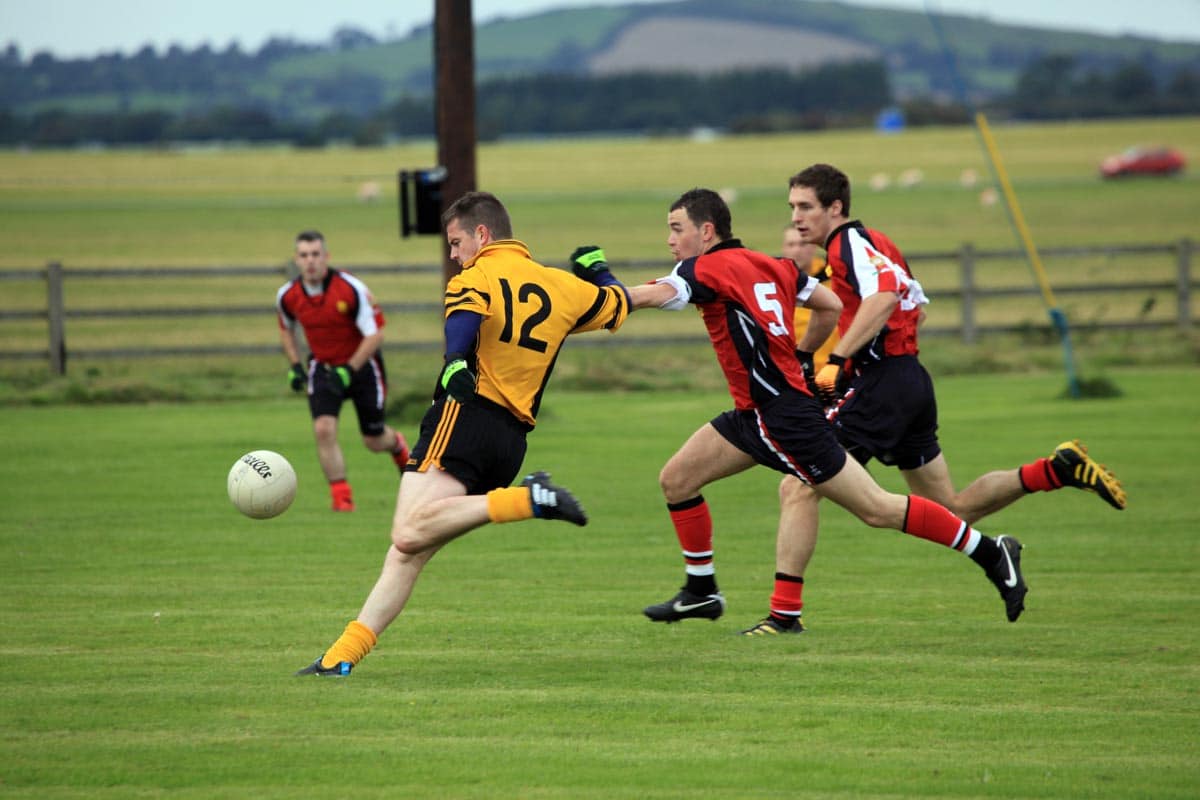 Gaelic football is a team sport created in Ireland.
Played on a rectangular pitch like a rugby field, teams of 15 try to score by punching or kicking the ball into the opposing team's net or through the uprights. It is a mash-up of rugby, football, and Aussie Rules.
Players can kick, pass, and bounce the ball to advance, with the two types of scoring having different values; net goals count for three points and kicking through the uprights counts as one.
Along with hurling and camogie, it is part of what is known as the Gaelic Games. It is the most popular sport in the country, yet it is still an amateur sport despite this.
Gaelic Football is one of the few remaining sports where none of the players, coaches, or staff are paid any form of salary or compensation. This is also one of the most mad facts about Gaelic football you never knew.
3. Hurling – one of the most loved sports in Ireland
Hurling is another Irish invention that dates back generations.
It is played by two teams of 15 players, each equipped with a hurl, a wooden stick with a scooped end. Players pass a small ball that they try to hit into a goal to score.
One of the fastest ball games in the world, it is similar to lacrosse, except you catch the ball and then hit it instead of catching it with your stick and then throwing it.
It also has slight similarities with basketball. For example, you can only move four steps with the ball before having to pass it.
Hurling is part of the Gaelic Games and is considered integral to Irish heritage. It is played across the country and in North America, Europe, Australia, New Zealand, South Africa, Argentina, and even South Korea.
2. Cricket – plenty of high-profile matches
England is most famous for cricket in Great Britain. However, Ireland has slowly been improving and building up the sport's popularity.
Ireland was an associate member of the ICC but was added as a full member in 2017 along with Afghanistan.
Ireland plays in all three forms of cricket: ODIs, Test Matches, and T20s. They often have to qualify for bigger tournaments such as World Cups, playing against teams like Scotland, Namibia, Afghanistan, etc.
Cricket isn't as popular as some other sports on this list. However, Ireland's full ICC status means it can play high-profile matches against international opposition like India, Australia, and New Zealand.
This then builds the profile of the sport in the country.
1. Boxing – success at the Olympics
Boxing is quickly building popularity in Ireland, making it one of the most loved sports in Ireland.
The country has featured regularly in boxing at the Olympics, with some of their boxers bringing home medals. The 2008 and 2012 Olympics were successful, with Irish boxers winning seven medals, including a gold.
While it isn't strictly boxing, fighters like Conor McGregor have also upped the popularity of combat sports in his home country. Boxing is also expanding, with clubs and gyms popping up across the country at a fairly regular rate.
Final thoughts – sport and Ireland
While Ireland enjoys some sports that the rest of the world does, they take pride in the fact that they have sports native to their country that have been around for decades.
The fact that these sports are played and enjoyed by tens of thousands of people every week is a testament to the passion of the Irish.
While they are already a giant in the worlds of rugby and football, Ireland is hoping to make their everlasting mark on the world of sport.
Legal Disclaimer
We cover articles relating to many activities. Some of our articles showcase gaming and gambling as activities. While we do not take money for bets or own any gambling venues, we feel it is important that our readers know the risks of such venues or sites that we may mention in our articles. Gambling involves risk. Please only gamble with funds that you can comfortably afford to lose. See our legal disclaimer for more info.