From ancient Celtic heritage sites to impressive displays of natural beauty, majestic mountain vistas to vibrant local culture, these are the top ten Irish bucket list destinations.
There are so many things to know when visiting Ireland, including these 10 bucket list destinations. Ireland is a hive of activity and amazing if you are backpacking. Renowned for its culture and hospitality, heritage sites, and tourist attractions, there are tonnes of things to do on the Emerald Isle.
If you're looking to add some must-see gems to your wishlist this year, these ten Irish bucket list destinations are as dreamy in real life as they appear in photos.
10. Visit Glendalough, Co. Wicklow – for a Medieval city
Set amidst the backdrop of the enchanting Wicklow Mountains National Park, Glendalough is one of the most famous landmarks in Ireland you need to visit.
Glendalough is the site of an early Christian monastery founded in the 6th-century by St. Kevin. It remains perfectly preserved today, offering great insight into the lives of those who came before us. The park is also ripe with trails, lakes, and waterfalls.
Address: Derrybawn, Co. Wicklow
9. Revel in the majesty of Newgrange, Co. Meath – to see the winter solstice
This ancient heritage site was built around 3200 BC, making Newgrange older than Egypt's pyramids or Stonehenge.
Newgrange is passage tomb of religious significance from pre-Christian Ireland. It is a popular tourist attraction today and one of the top ten Irish bucket list destinations, if you ask us!
Address: Donore, Co. Meath
8. Climb Carrauntoohil, Co. Kerry – the mighty hike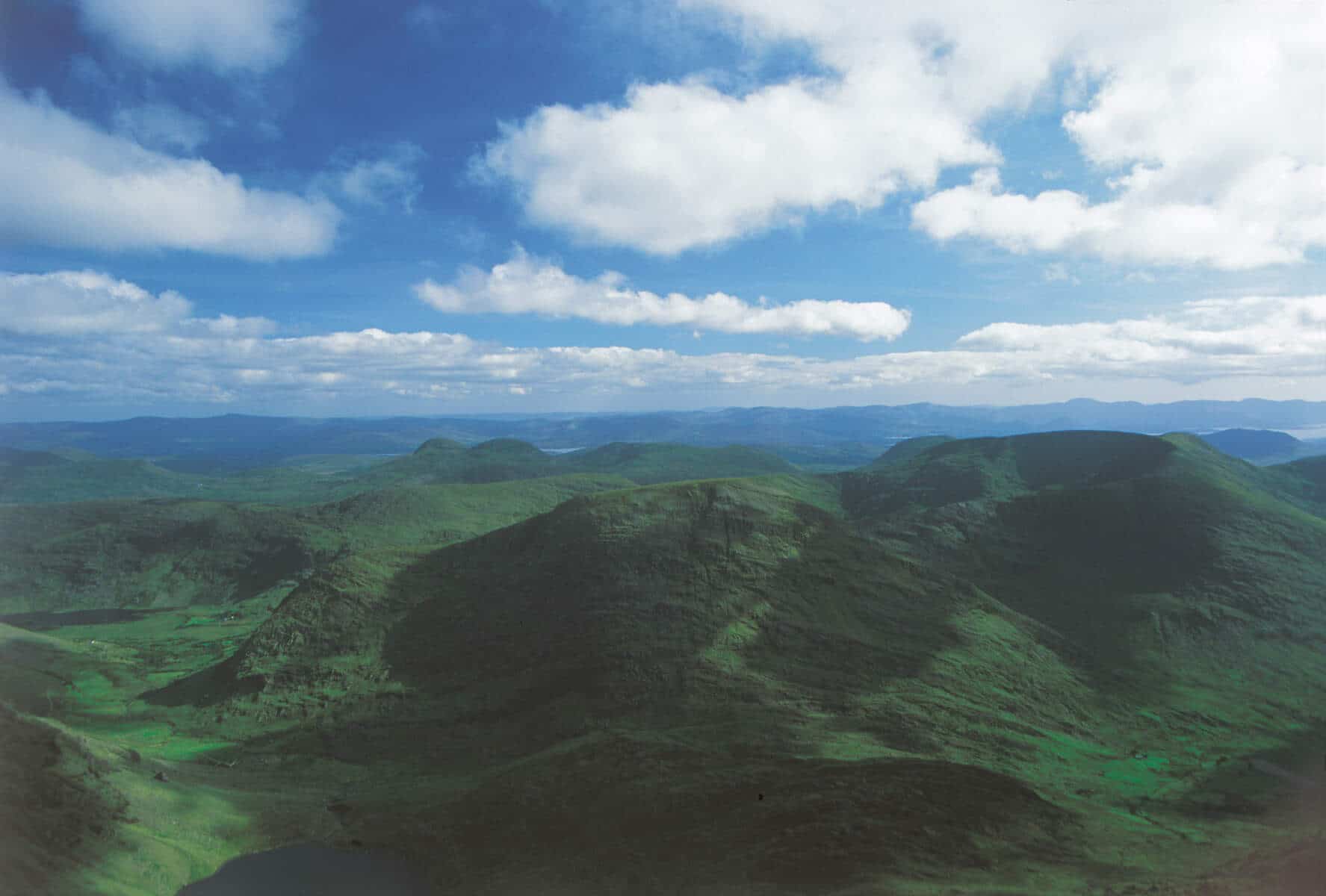 Carrauntoohil is Ireland's highest mountain peak and is part of the MacGillycuddy's Reeks, Ireland's tallest range. It's the perfect place to take amazing pictures worthy of Instagram and maybe even a hiking quote!
Located on the Iveragh Peninsula, trekking this mountain is an Irish bucket list destination, no doubt. Before you embark on your journey, make sure you have a good pair of walking shoes and an adequate fitness level to tackle this mighty mountain.
Location: County Kerry, Ireland
7. Trek to Murder Hole Beach, Co. Donegal – the remote beach
Murder Hole Beach is one of Ireland's best-kept secrets. Nestled in the northern tip of Ireland, in Donegal's most sleepy, scenic towns, a trip here is like falling off the edge of the earth. And believe us, that's a good thing!
Address: Sheephaven Bay, Co. Donegal
6. Admire the Cliffs of Moher, Co. Clare – the impressive cliffs
No trip to Ireland would be complete without experiencing the Cliffs of Moher.
Spanning 14 kilometres (8.6 miles) along Ireland's west coast in County Clare, the Cliffs of Moher are a sight for sore eyes!
See where the Cliffs of Moher ranks on this article of 101 bucket list ideas.
Address: Lislorkan North, Co. Clare
5. Catch some live music in Galway, Co. Galway – the local culture
If you're looking for some live music and local culture, head to Galway city.
Galway was awarded the title of 'European Capital of Culture in 2020'. You can expect to be impressed with its vibrant soul, warm hospitality, and its wealth of live music across its bars, clubs, and venues.
Province: Connaught
4. See the Giant's Causeway, Co. Antrim – the natural wonder
The Giant's Causeway is one of Northern Ireland's greatest treasures.
Consisting of around 40,000 basalt columns along the seashore, this is similar to something you'd see out of a fantasy book. And, needless to say, it's a top Irish bucket list destinations in our eyes.
Address: Bushmills, Co. Antrim
3. Explore the Ring of Kerry, Co. Kerry – the scenic route
The Ring of Kerry has firmly established itself as one of Ireland's most beloved attractions among locals and tourists alike. The looped scenic route (which you can drive, bike, or even walk) begins and ends in Killarney, County Kerry.
Along the way, you can expect to see Killarney National Park, Kenmare, and Valentia Island, amongst other popular attractions. This is a perfect stop to add to your road trip itinerary.
Address: Killarney, Co. Kerry
2. Pub crawl in Dublin, Co. Dublin – the Dublin must-do
When it comes to "must-do" experiences in Ireland, a pub crawl in Dublin, which has many instagrammable places, is way up there. Key stops include the Palace, Grogan's, Toner's, and The Long Hall.
Not only are some of the best pubs in Ireland in the capital city, but its lovely locals are brimming with warm welcomes, and the Guinness in Dublin tastes better than anywhere else in the world.
Address: Co. Dublin
1. Drive the WAW – the mega drive
The Wild Atlantic Way (WAW), is the longest-defined coastal route in the world at 2,500 kilometres (1,553 miles). It traces Ireland's west coast beginning in Malin Head, Donegal, and ending past the Beara Peninsula in Kinsale, Cork. Although the route can be travelled either way.
Covering many of Ireland's majestic sites, this is for sure one of the ultimate Irish bucket list destinations.
Address: Malin Head, Co. Donegal