Irish cuisine has always had a tradition of being wholesome and delicious, but here are some weird Irish foods you'll only find in Ireland.
Growing up in Ireland, many of us have our favourite meals, which bring back a sense of nostalgia or fit a particular occasion, but just because they are normal to us, it doesn't mean they are normal to the rest of the world.
So, with that in mind, we have compiled a list of the weirdest Irish foods right here. Take a look at ten weird foods you'll only find in Ireland.
10. A batter burger − deep fried the Irish way
This is no ordinary burger, similar to the famous battered sausage, which can also be included as one of the weird foods you'll only find in Ireland; this burger is deep-fried to perfection.
Once crispy and oily, it is placed between two buns and a mix of toppings, which makes it an excellent after-party snack.
9. Brown sauce − looks better than it tastes
While brown sauce can also be found in the UK, we still have to add it to the list since it would be bizarre to see this on a shelf anywhere else in the world.
Many of us might have grown up with someone, or that someone, who had an obsession with putting this on everything and boy, did it smell weird.
8. Fried Irish soda bread − the oilier, the better
One of the top weird foods you'll only find in Ireland is fried Irish soda bread, which lots of Irish people love to eat with an Irish breakfast or some runny fried eggs on the weekend, especially after a night out.
However, when it comes to frying it, there is only one rule, make sure it's extra oily and golden.
7. Bread and butter pudding − a simple dessert
Irish people have long been masters of creating something out of nothing, and you'll notice many Irish foods have similar ingredients, such as potatoes, meat or vegetables.
However, this delicious dessert is made of bread and butter, which is so simple yet so tasty and possibly very weird to people from other countries.
6. Curry chips − perfect any time of day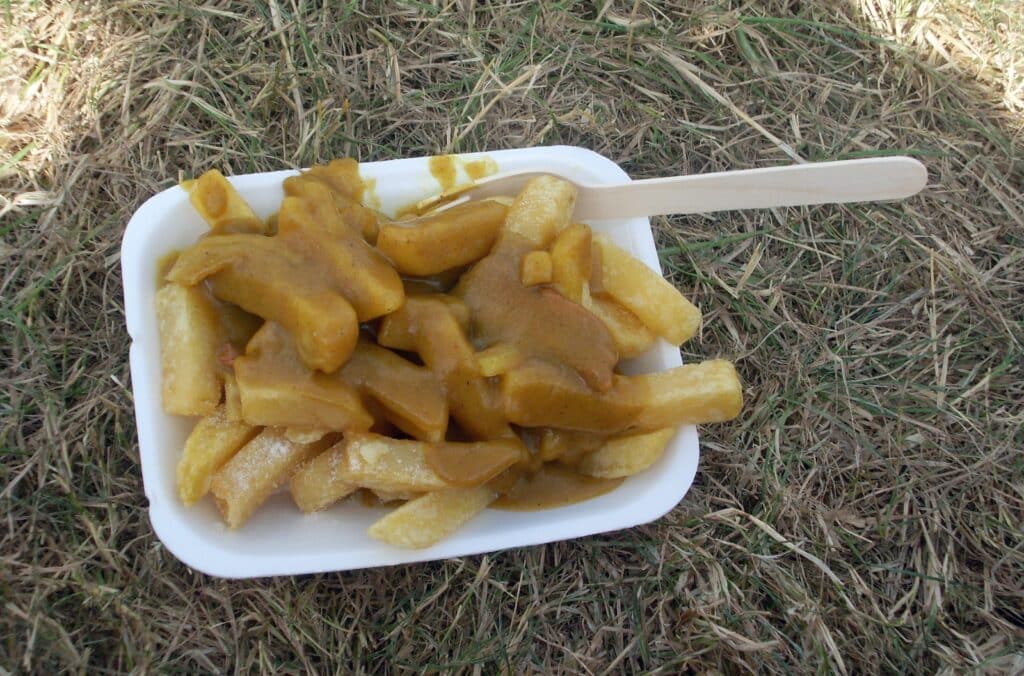 The weird thing about curry chips is that they are found in Chinese takeaways in Ireland, which ironically is far from your authentic Chinese dish.
In Ireland, we have a variety of Irish Chinese specialities, which you will only find here, and this definitely applies to a hearty portion of curry chips.
5. Banana sandwiches − tastes better than it looks
You guessed it; banana sandwiches are one of the main weird foods you'll only find in Ireland. Why? Because they are delicious, that's why.
While this may look strange, we urge people not to make assumptions before trying this delicious, sweet snack, which will prove addictive.
4. Coddle − a hearty sausage soup
Putting sausages into a soup and boiling it until they go soft and floppy? Yes, that's coddle, and we love it.
Coddle originates in Dublin and is one of the top dishes on a cold evening since it is served steaming hot and comes with potatoes and a mix of vegetables – very healthy, if we may say so.
3. Irish breakfast roll − the best breakfast creation ever
Speaking of healthy, the Irish breakfast roll is one of the main weird foods you'll only find In Ireland, and it is not healthy at all.
This is mainly eaten by hungover folk on the weekend or builders on their lunch breaks because it's hearty, delicious, and will give you all the energy you need.
2. Crisp sandwich − the iconic Irish snack
Irish people just love to stuff anything between two slices of overly buttered bread, and we wouldn't have it any other way.
The crisp sandwich is high on our list since it is apparent that no other country around the world enjoys this simple creation, and even if they tried, it wouldn't be the same without Irish ingredients.
1. The spice bag − one of the best dishes
Hallelujah, the spice bag has landed the top spot as the weirdest Irish food. Made up of shredded chicken or chicken balls, mixed spices, peppers and onions all shaken together in a bag.
This is sold in Irish Chinese takeaways and Irish chippers (chip shops) and can be eaten any time you like. So, now we have unveiled these strange foods, which one surprised you the most?