With the third and final season hitting our screens this month, you may be wondering how you'd fit into the iconic friendship group.
Set in '90s Derry, Derry Girls is a hilarious sitcom that follows a group of friends as they navigate the trials of tribulations of teen life growing up in Northern Ireland.
Written by Lisa McGee (a former Derry girl herself), the show has proved a hit across Ireland and further afield.
Bringing nostalgia for those who grew up in that period and lighthearted fun for everyone else, the show has amassed a huge audience of fans across the world.
With the third (and final) season hitting our screens, you may be wondering how you fit into the hilarious friend group.
So, have you binge-watched all the episodes so far but just want a bit more? If so, read on to find out which Derry Girls character are you?
What is your attitude to school? – is education important to you?
a. It's a waste of time
b. I sometimes feel like the odd one out
c. They should introduce step aerobics as a class
d. English is the only class I care about
e. I need to get straight As in everything.
How do you get on with your cousins? – the Irish are known for their big families
a. I put up with them but slag them off any chance I get
b. They're quite mean to me, actually
c. My cousins are cracker
d. Well, but I find them quite annoying
e. I don't have any cousins
Which one best describes you in your friendship group? – which Derry Girls character are you?
a. The wild one
b. The odd one out
c. The funny one
d. The uptight one
e. The smart one
How do you deal with a crisis? – do you crack under pressure
a. Say 'feck it' and have a drink
b. Try to come up with a rational solution
c. I always get out of it somehow
d. Do everything to make sure my parents don't find out
e. Panic. Panic. Panic.
What is your ideal job? – plans for the future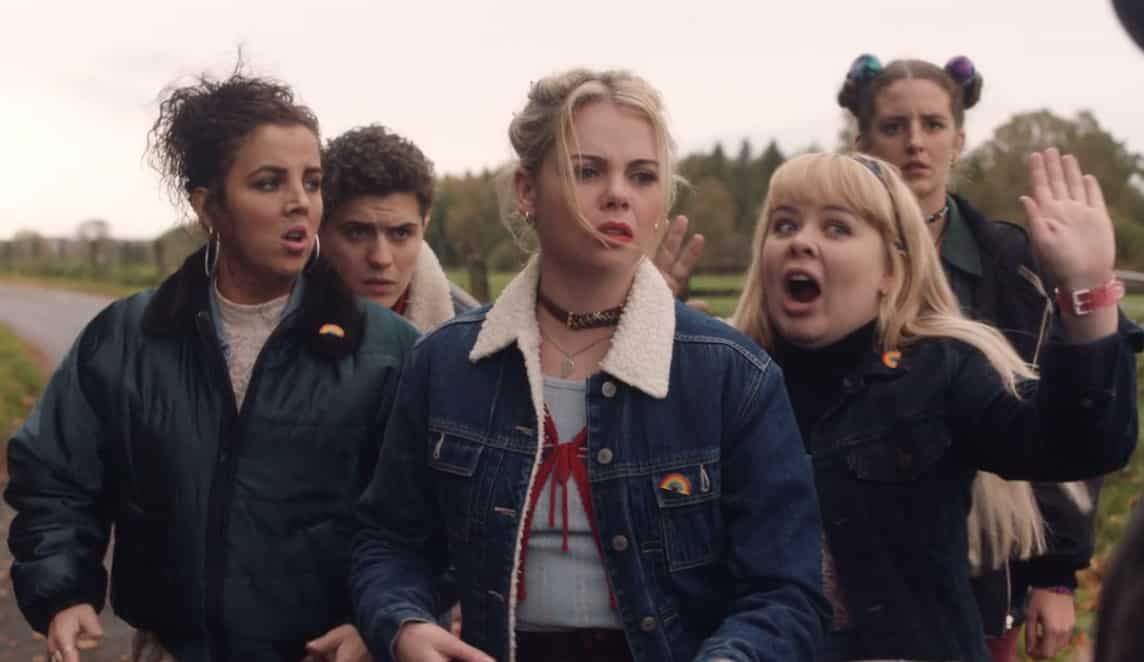 a. I'd rather just marry rich
b. Become a Catholic Priest like Father Peter
c. A step aerobics instructor
d. A writer
e. A doctor or a lawyer
What is your favourite thing about Derry – the hometown
a. The pubs
b. The accent
c. The Orange Order (they're pure cracker)
d. The feeling of hope
e. The history
What is your favourite thing to do at the weekend? – the importance of free time
a. Go out partying
b. Spend time with friends
c. Practice a new skill
d. Write in my diary
e. Study
What is your favourite '90s song? – the hits of the '90s
a. 'Gansta's Paradise' by Coolio
b. '(Everything I do) I do it for you' by Bryan Adams
c. 'Saturday Night' by Whigfield
d. 'Dreams' by The Cranberries
e. 'Nothing Compares 2 U' by Sinead O'Connor
Aside from Derry, which is your favourite city? – there's no place like home
a. Amsterdam
b. London
c. Belfast
d. New York
e. Dublin
The results are in – which Derry Girls character are you?
So, we've reached the end of our very important personality test, and you've answered all of the questions to the best of your abilities.
Count up how many answers you have for each letter. Whichever one you answered the most will reveal which Derry Girl you are:
If you got mostly A, then you're Michelle. You love to have a good time and don't really care what anyone thinks of you.
If you got mostly B, you're James. You're timid and sweet. You might not be a Derry Girl by birth, but the people of Derry would be happy to welcome you.
If you got mostly C, you're Orla. You might often get told that you're a bit 'daft', but you're great fun to be around and often surprise people with your intelligence.
If you got mostly D, you're Erin. You might find that you always want to be the centre of attention. Still, you're always there for your friends and family when they need you.
If you got mostly E, you're Clare. You're the brain-box (and the worrier) of your friendship group. You might find that your friends are often telling you that you need to relax.
So, which iconic Derry Girls character are you? If you want more, discover if you're a Derry Girl by seeing if you have eight out of ten of these traits.