A shock to us all, the DUP promises to rename Derry Girls to Londonderry Girls if they maintain their majority in the upcoming elections.
In a surprise move, the Democratic Unionist Party has pledged to rename the popular TV sitcom Derry Girls to Londonderry Girls. This will come into effect if they maintain their majority of seats in the Northern Ireland Assembly elections to be held on 5 May.
Sinn Fein has labelled the promise as "a cheap trick to pull the wool over the electorate's eyes to garner votes."
Londonderry or Derry, the city's name has always proved contentious for those living in Northern Ireland. Nationalists preferred Derry, while Unionists referred to the city as Londonderry.
The issue became highly politicised during the Troubles.
Protecting tradition – loyalty to the Crown
DUP Leader Jeffrey Donaldson was speaking from Party Headquarters in Belfast. He told reporters, "It's time we got back to our roots and once more took up the cudgel to protect our glorious tradition of loyalty to the Crown and the protection of what's great in Great Britain.
"I look at the misnaming of this, I admit quite amusing television series Derry Girls, as a slur on the traditional values of proud Ulster Unionists."
Donaldson continued, "Dropping the 'London' from Derry Girls is another slap in the face for those Unionists who hold the memory of the Apprentice Boys sacred. It's just another attempt by Channel 4 to put us down. Fostered no doubt by those Fenians in media land," he droned on and on, just like Uncle Colm in the series.
The undertaking to rename the show was highlighted in the latest DUP manifesto and comes as Sinn Féin's popularity figures show a steady rise in the polls.
Many political commentators say that Sinn Féin may emerge as the Assembly's largest party. Commenting on the poll findings, Donaldson said, "It's the results that count."
Tensions – more subliminal mind-games
The Derry Girls name is not the only issue causing tensions on both sides of the political divide. A DUP party spokesperson has singled out other plotlines that are causing umbrage amongst DUP candidates.
"Many of our candidates are outraged at the flagrant pro-Fenian slant within the show. Especially the newest series' first episode cameo appearance of Liam Neeson. He plays the part of an RUC Inspector investigating a break-in at Our Lady Immaculate College.
"Everyone associates Neeson with his portrayal of the Fenian leader Michael Collins. This casting was an obvious ploy to plant the idea of a United Ireland in the minds of the voters," he said.
Donaldson continued; "Let us not forget his, 'but if you don't, I will look for you, I will find you, and I will kill you.' quote in the movie Taken. If that's not a blatant Sinn Féin/IRA subliminal threat to undecided voters, what is?"  the spokesperson asked.
Londonderry Girls − a more Loyalist slant
"We feel there should be a more Loyalist slant to the Derry Girls plot," which was one additional complaint that the DUP undertook to rectify if they retain their majority in the Assembly.
One DUP candidate (who, because of security implications, remains unnamed) has promised to ensure that Loyalist tastes are better catered for if re-elected. "I'm sort of thinking that a cameo role for Prince Andrew could be written into the script," he proposed.
"Wouldn't it be great to see him play the role of a visiting school counsellor? He could help some of the young girls with their issues? It would go a long way toward him regaining public trust and putting his recent problems behind him," the unnamed candidate suggested.
Response – Sinn Féin responds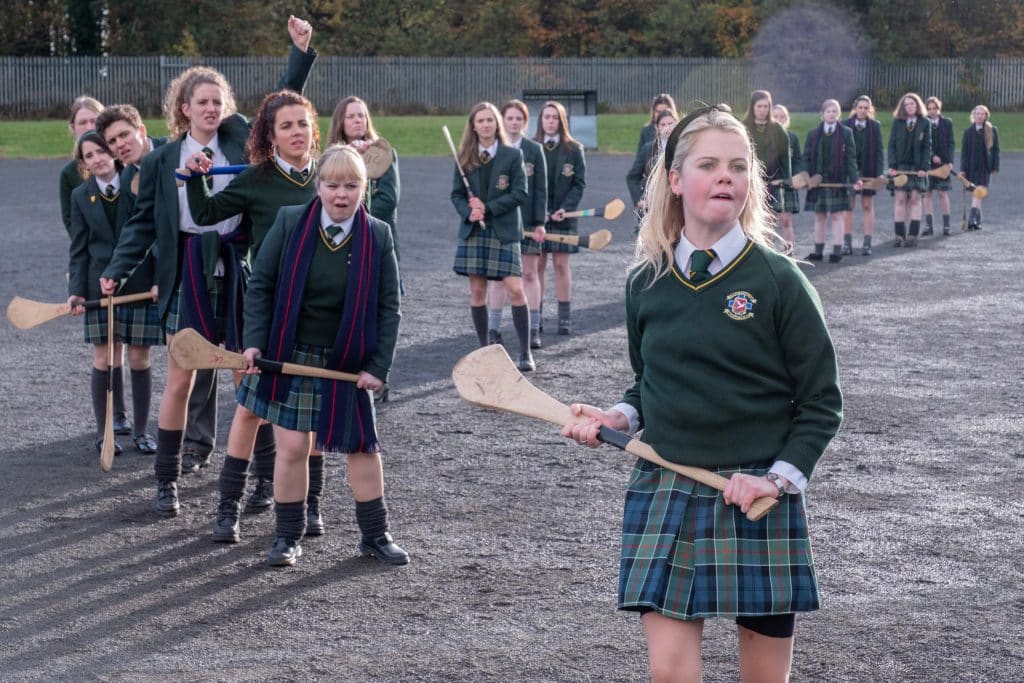 In response to the DUP promises, Sinn Féin's Party Headquarters has issued the following statement.
"Ah Shur, don't be paying them any heed whatsoever. Shur doesn't every party make empty promises coming up to an election. It's sort of like us saying we'd decommission all the guns, so it was. Now, where did I leave me balaclava? I need to make a cash withdrawal," the statement read.
Sister Michael of Our Lady Immaculate College was unavailable for comment.
What do you think of the fact that the DUP promises to rename Derry Girls to Londonderry girls?
Disclaimer
This article is satire. We do satire articles because it is great craic and Irish people love it! Articles in this section are spoof articles which should not be taken as the truth, nor are they are intended to offend.