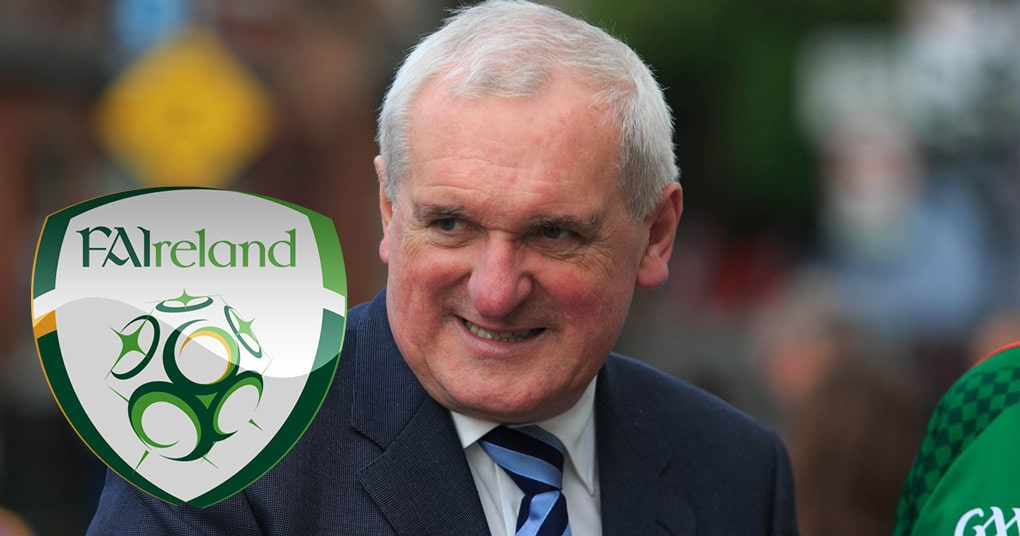 The FAI announced early this morning that former Taoiseach Bertie Ahern will take up the position of president of the association within a matter of weeks.
The appointment of Mr. Ahern is seen as a move to restore public confidence in the association's management structure.
The move follws a number of financial irregularities within Ireland's football governing body came to light at the recent Oireachtas committee hearings following former FAI president John Delaney's — now described as being on 'Gardening Leave' — controversial loan to the association of €100,000.
An FAI spokesperson told reporters "we are delighted to welcome Bertie to the FAI family. He holds all the attributes necessary to be not 'only a good but a great' president.
"Not only does Bertie understand the ins and outs of soccer — knowledge obtained after spending years on the terraces of "Dalymount Park wearing nothing but an anorak but he has also developed a keen awareness of how to deal with tribunals and the ability to walk away smelling of roses. That's the kind of leader we need now." The spokesperson said.
Oireachtas Committee
Responding to evidence given to the Oireachtas Committee that the FAI's recently retired honorary treasure Eddie Murphy's understanding was that that the FAI had only one bank account and not the twenty-four that finally emerged.
The spokesperson agreed that unfamiliarity with bank accounts was a deciding factor in the appointment of the former Taoiseach as president of the FAI.
"We were particularly impressed by the statements given in evidence by Bertie to the Mahon Tribunal back in 2007 in connection with his own accounts" The FAI spokesperson announced.
A former finance minister
Former Taoiseach Bertie Ahern who had also served as finance minister famously told the tribunal that he did not operate any bank accounts between 1987 and 1993.
Mr Ahern told the counsel for the tribunal, Des O'Neill, at the time "I didn't consider it unusual, quite frankly, then or now, ordinary people go into pubs and cash their wages cheques . . . it's not extraordinary.
"Some people put their hair yellow, some people put rings in their noses . . . I decided to cash my cheques, full stop," Mr Ahern said at the time.
The FAI spokesperson finished up by also announcing that as the new FAI president, Mr Ahern is expected to bring Sean Fitzpatrick, former chairman of Anglo Irish Bank on board as vice-president along with other former Anglo senior executives in a move hoped to strengthen the management structure of the football association.
A Spokesperson for Sport Ireland was unavailable to comment.
Disclaimer
This article is satire. We do satire articles because it is great craic and Irish people love it! Articles in this section are spoof articles which should not be taken as the truth, nor are they are intended to offend.