Charming €1000 a month one bed flat, situated in stunning Dublin area with fridge, microwave… and not much else.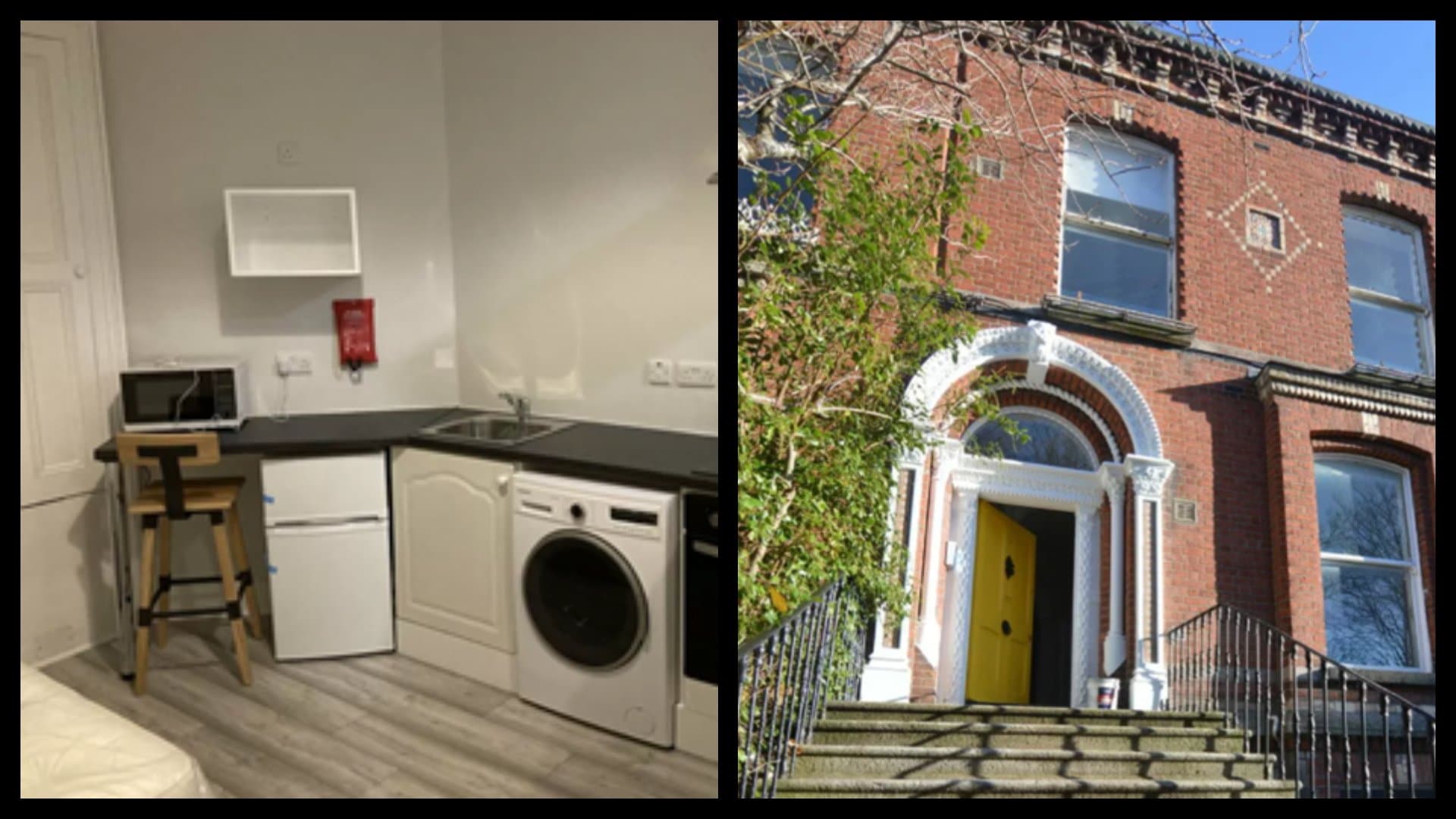 Cancel culture, whether you love it or hate it, serves as a way for people on the internet to vent their frustrations and put someone back in their place. And the latest villain to fall under fire in this online vendetta is…
a flat in south Dublin.
Keep reading to find out what €1000 a month for a flat in Dublin gets you.
Ideal location, newly renovated – all good so far?
The ad for the flat described the property as an "Ideally located and newly renovated studio flat on the exclusive Leeson Park area of Ranelagh." Sounds so good so far.
Dublin is well-known for being an expensive city to live in.
However, the €1000 a month flat in Dublin has sparked outrage for being so pricey, despite consisting of a room that has little more than a bed and small kitchen area, as well as a bathroom, of course.
Easy access – an all-inclusive living area
Despite praising its living and dining space, which comes with a fitted kitchen 'complete with appliances', the reality is not as glamorous as it seems.
Upon inspection, you can see that the bedroom, kitchen, and living area have been reduced to a single area.
On the other hand, even though it'll cost you €1000 for this flat in Dublin, at least you'll find all of the property's appliances in reach of each other.
After seeing the listing online, one person tweeted, "Nothing like coming home after a long day and sitting in front of the microwave."
Something's missing – it'll be a long year ahead
The resident can move in immediately, but has to stay for at least year. The property hasn't been snatched up yet, but if you're interested, don't expect a television.
Some online have joked that the tenant could just watch the microwave instead. It'll be a long year.
Other issues in the flat – potential risk to tenant?
Not only is the property extortionate and slightly underwhelming, but some online claim that it also presents a hidden fire hazard.
Upon looking at the listing images on the company's website, many users recognised that the bed lies against the wall, blocking the window.
In the event of a fire, the tenant may be unable to open and close their window.
For the price of the flat, you'd hope that you'd at least be able to get some air every once in a while.
Hiking prices in the city – €1000 a month for a pokey flat in Dublin
These kinds of issues with housing aren't new in the city, though. Dubliners have been passionately disputing how much prices have jumped in the last decade.
Many have found themselves having to live abroad as an alternative, using the ad to explain why they cannot afford to return.
In reaction to the listing, one person online wrote, "This should be illegal."
Another commented: "Ah, Dublin rental market, you really are astonishingly bad."
Want to see for yourself? You can see the listing HERE.