Poitín is a potent drink with an intriguing past, and we can't wait to tell you all about this famous Irish beverage.
You would be correct if you thought Ireland was a drink-driven country famous for Guinness, whiskey and Irish Cream Liqueur. Still, you might not be aware of the original Irish spirit, Poitín, which existed before any of our famous exports.
So, if this is the first you are hearing about this age-old beverage, then sit back and relax because we have a great story to unravel about the history of Poitín, including where it came from and where it can be found today. But first, what exactly is this strange drink we speak of?
What is Irish Poitín? − what you should know
Poitín, also known as Irish moonshine or more locally known as 'Irish Farm Vodka', was a clear drink that touched the lips of many an Irishman back in the day, but these days it could only be the bravest of the brave that would dare to take a sip – of the old version at least.
You see, this original Irish drink was not exactly produced legally. Instead, it was commonly homemade at rural farms without much thought about its harm, its potency, or even what went into making it.
Generally made up of starchy ingredients, readily available amongst farms in Ireland, Poitín was brewed in the most rural areas to avoid any run-ins with the law. It worked well in this way, despite the rules and regulations.
The history of Poitín is fascinating for anyone interested in Irish culture. It proves the Irish stereotype that we have always been lovers of a tipple or ten, even if it was incredibly potent. So, let's unveil the history of Poitín – our original alcoholic drink.
The history − the story behind the infamous drink
Before whiskey, there was Poitín; before Guinness, there was Poitín and well before craft breweries or gin distilleries popped up around the country – there was Poitín, so how did it all begin?
The Irish have always been lovers of alcohol, so much so that it is said that monks initially formulated a recipe that can be traced back to the 6th century which involved fermenting malted barley and unmalted barley in a small pot – hence the name Poitín (Irish for small pot).
For years this potent beverage received illegal status, yet it was continuously home-brewed under the radar and consumed until the 1960s, making it Ireland's first-ever craft spirit.
In the olden days, the homemade versions of Poitín were said to be some of the most potent spirits in the world, with some brews being up to 90% ABV (alcohol by volume), which have been told to lead to blindness and other illnesses. It was in the 16th century that the drink was introduced into Europe.
On the contrary, Poitín was also used to relieve symptoms of arthritis when rubbed on the joints. After it was declared taxable in 1661, many distillers continued to prepare copious amounts of the spirit privately, using whatever they had available on their farm at that time of the season, making the drink hit or miss.
As time went on − how it changed over time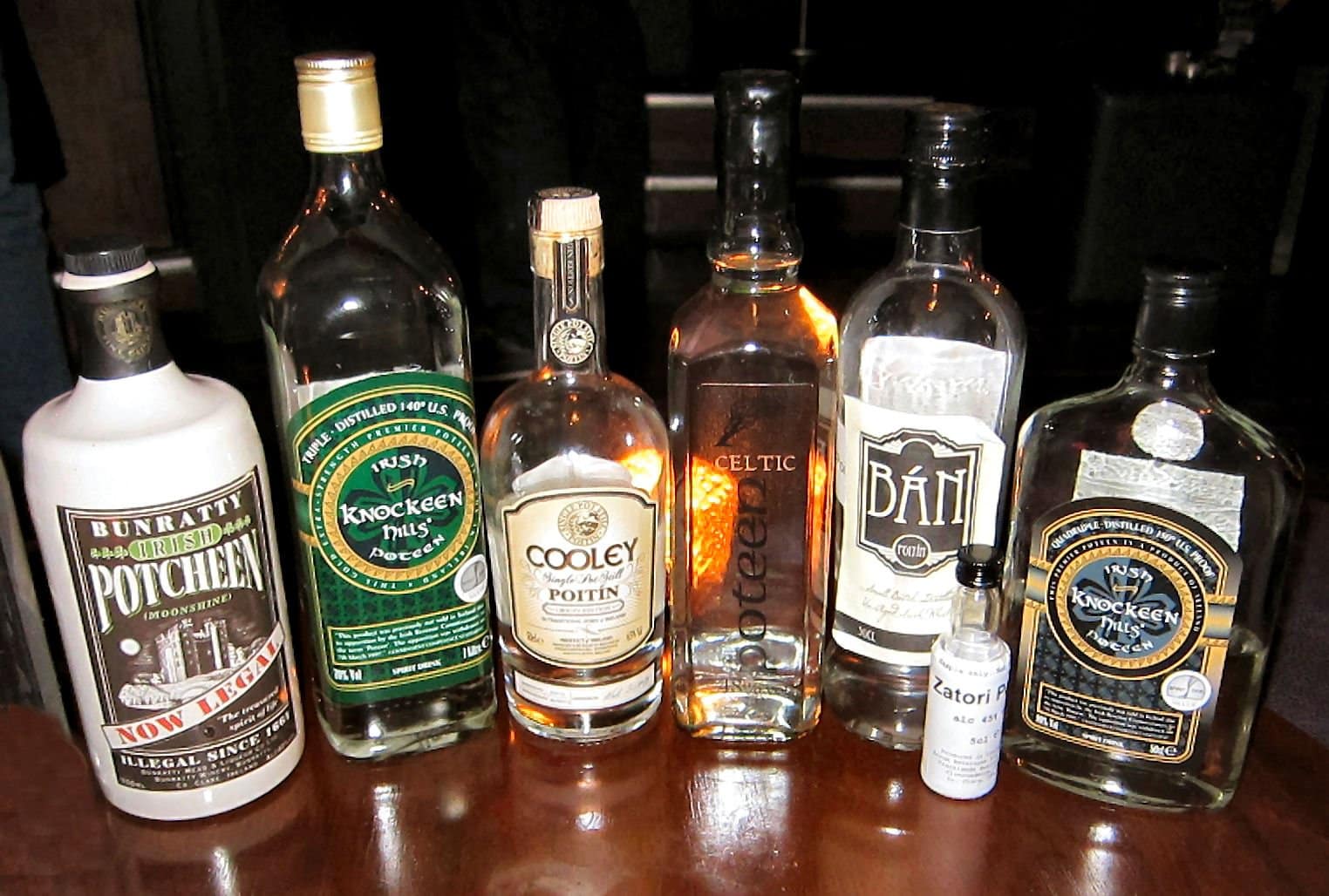 As it stood, every family had their own recipe, which made each batch of Poitín different from the next, and you would never know what percentage of alcohol each one had; you had to trust that the distiller knew what he was doing. To avoid paying taxes to the British government, Poitín distillers would hide their batches in concealed cellars.
Then, in 1760, a new law was brought in, which said that you now needed a license to produce the drink, in the hopes that the average layman would give up his beloved pastime and buy Poitín from sizeable corporate distilleries.
But no, the idea of making small private batches of the original Irish whiskey was made more appealing to the Irish. It wasn't long after that the beverage was banned entirely by King Charles, who had no luck suppressing the Irish people and their love for Poitín production, which, again, did not work well.
However, the Irish stubbornly ignored this rule and continued producing Poitín under the radar, consuming it in several hidden bars known as speakeasies.
In 1987, hard liquor was legalised to be produced for export. In 1997, to the Irish people's surprise and good fortune, the drink was made legal for sale and consumption in Ireland, as long as the alcohol content was reduced.
It wasn't until 2008 that the drink claimed Geographical Indicative Status by the EU. This meant that all Poitín had to be produced in Ireland to use the name.
There are plenty of less harmful Poitín varieties available to buy within Ireland; however, the home production never ceased, and you can always find some home brew at your peril. So how was this infamous drink made?
The process behind Poitín − how it was made
It wasn't just that the Irish loved to eat potatoes; they even used this as a base for making Poitín, and rightly so, since we had an abundance of them available.
They would also use other cereal crops and grains, whichever was available; hence each recipe tasted different.
Distillers at the time would turn the produce into a wash, which was then placed in a small pot and distilled over a fire-heated by turf or coal.
It took several days for the spirit to refine. Locals tended to choose windy days for this process to avoid being a dead giveaway by the local gardai.
Although this process is traditional and was said to have been handed down from generation to generation until corporate distillers began to produce and sell their own, many home productions are still said to be continuing to this day.
How is it pronounced? – how do you say it?
Poitín is pronounced 'paw-cheen' and can be spelt Poitín, Potcheen, or Potheen. It has also been referred to in Irish as An Uisce Bheatha, which means 'water of life' or 'holy water'.
Poitín has a history of being a harsh liquor, with even more drastic consequences. This led to the Irish word for hangover being 'Poit'.
Poitín in 2022 − to this day
While many distillers have gotten onboard with regulated Poitín production, it is not a standard drink that Irish people would opt for when out on the town.
You can get it from several distilleries. Also, several cocktails use the spirit in Ireland and elsewhere. However, this famous drink remains one for a "big night out".
While many legal versions of Poitín are around 40%, it is not unheard of to find the traditional batches, which range up to 90%, but these can be quite dangerous to your health. There have been several deaths from Poitín.
Nevertheless, Poitín makes a great souvenir, especially knowing that it is a drink that you can only technically get it Ireland. So, be sure to research to find the good (and safe) stuff.
Other notable mentions
Bán Poitín: Dave Mulligan is the owner of Bán Poitín and Bar 1661.
Celtic Spirit Company of Anglesey: This is a Welsh company. They make Irish Poteen from an old family recipe from the 19th century.
Teeling Whiskey: Teeling Distillery in Dublin is among the best-known whiskey distilleries producing Poitín.
Glendalough Poitín: Glendalough Poitín is the newest Irish import to America.
FAQs about Poitín
How would you describe Poitíns flavour profile?
It varies but generally has a malty, smoky flavour.
What should bartenders know about serving Poitín?
It is best to serve it as part of a cocktail as it is very harsh. Although some people might like it as a shot!
How is Poitín made?
Using grains or potatoes and malted barley, you then distil it over a turf fire for several days.