A Dublin door-security operative claimed self-defence in court today after he was accused of beating-up and hospitalising a young disabled party goer at a well-known pub in the city centre.
Thomas Kirby (33) a self-employed unlicensed bouncer stood accused at Dublin Circuit Criminal Court today of causing Grievous Bodily Harm (GBH) to Mr Leo Walsh (21) of Salthill Galway.
Mr Walsh a student at DCU was attending the twenty-first birthday party of a friend being held at Smith's bar and music venue Wexford Street.
Evidence
Kirby stood accused of causing GBH to Walsh at or about midnight of the 4th of March.
CCTV footage was shown to the court in which it was alleged that Kirby can be seen punching Walsh causing him to fall over from his wheelchair.
The video footage then shows Kirby continue to kick at Walsh numerous times around the body, only to cease when Walsh's girlfriend threw her self over Walsh in an effort to protect him.
In evidence, Walsh who is a third-year engineering student at DCU and president of both the college's chess club and temperance society told the court.
Victim asked for directions to disabled toilets
"I simply asked him where the disabled toilets were, I have always suffered from a degenerative muscular disease which requires that I use a wheel chair. I normally use the disabled bathrooms when they are available.
Under cross-examination by solicitor Dominic Murphy acting for the Director of Public Prosecutions, Kirby admitted that he was both unlicensed and had never undertaken any formal security or door-staff training.
"I was meant to do a course but I was doing six-months in Mountjoy for aggravated burglary at the time."  He said.
Fear of ninjas
"I've seen the movies on Youtube where these Ninja guys use martial arts weapons to attack innocent door-staff — even those Ninja lads in wheelchairs."
He said. "I wasn't going to take any chances, so I got my defence in first with a fairly decent punch and a few kicks when he fell from the wheelchair — that quietened him and his squeaky fecking wheelchair."
Disabled toilets used for drugs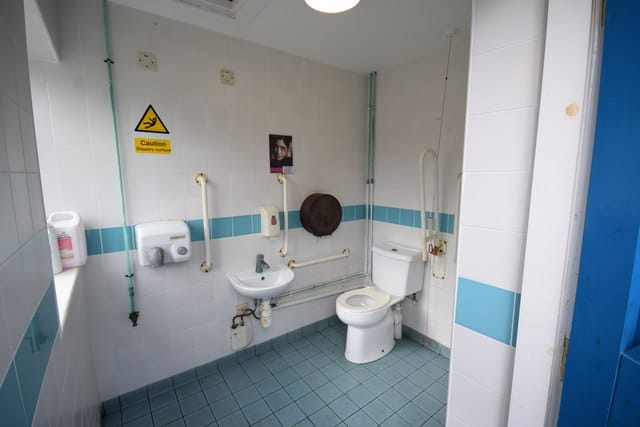 "You see Your Honour," Kirby said addressing the Judge directly. "We've had a lot of problems with customers using the Disabled Toilets to use drugs. So when this Tosser came asking where they were I knew he was about looking to do a line of Charlie or something."
"When I was in The Joy we learned a fair bit about the dangers of drugs and I'm not letting them get away with it — not in any club where I'm the bouncer." He added.
'How was I to know?'
"Ok, so maybe I shouldn't have kept kicking him when he was on the ground but I've seen videos of those Ninja guys jumping up and knocking the shite out of people. How was I to know that the Tosser really couldn't walk? I wasn't taking any chances.
"Anyway, it was a quite sort of a night, and to be honest I hadn't given anyone a good kicking in ages and the other guys in the club looked a bit hard, so I took the easier option."
Kirby who has fourteen previous convictions for assault told our court reporter after his trial. "I don't normally give a s***e, I've got away with much worse in my day." He laughed.
"I have meself fairly decent legal aid and I sticks a suit on and spin a right old yarn to the judge. They always fall for it."
The Judge's decision
In summing up, M/s Justice Bledeán Hart praised Kirby for his anti-drug stance and said "obviously the numerous years you spent behind bars have gone a long way to reform your character. It's good to see the system works."
The Justice went on to tell the court that in her opinion "this is a clear case of a misunderstanding, perhaps Mr Kirby was a tad overzealous but that's no reason to commit him once more to prison."
She then gave Kirby the benefit of the probation act and bound him to the peace for a month.
Disclaimer
This article is satire. We do satire articles because it is great craic and Irish people love it! Articles in this section are spoof articles which should not be taken as the truth, nor are they are intended to offend.