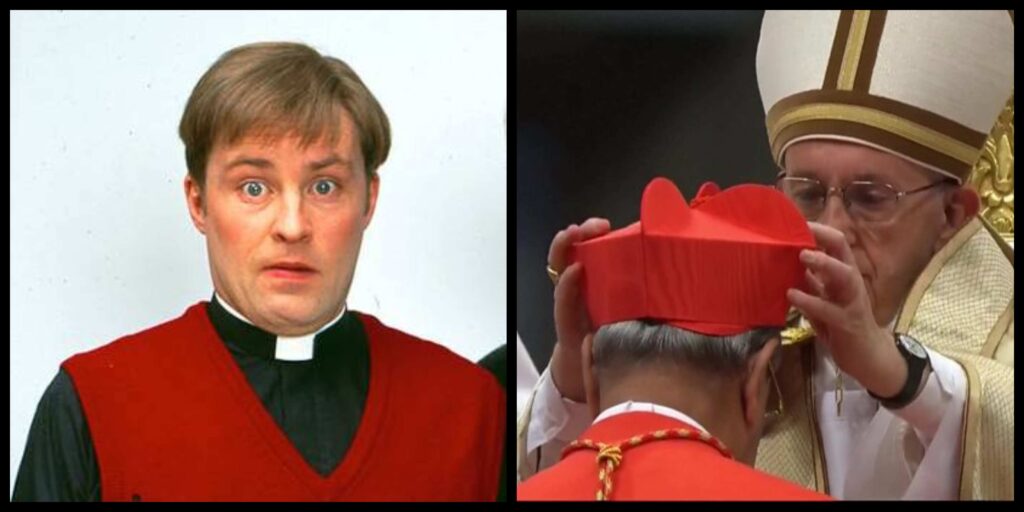 Archbishop Jude Thaddeus Okolo the apostolic nuncio confirmed today that Pope Francis is to install the well known Irish priest into the College of Cardinals.
Father McGuire, formerly of Craggy Island Parish and current professor of theology at Maynooth University, is expected to be installed early next month after been summoned to Rome.
That Would be an Ecclesiastical Matter
Religious affairs correspondent Finbar O'Flaherty reports that this move by the Pope should be seen in context.
"A person, even one who is not a bishop, may be named cardinal as an honour for a lifetime of service. Cardinal Elect Mcguire's promotion is seen as recognition for his exemplary contributions to the Church in the areas of ecclesiology and theology."
"For some time it was thought that Fr Dougal had reached the pinnacle of his career serving the parish of Craggy Island as curate. But after Bishop Len Brennan transferred him for retraining to Maynooth it appears Fr Dougal's understanding of ecclesial matters came on in leaps and bounds.
It is as if, once he rid himself of Fr Ted he suddenly grew up." O'Flaherty writes in today's Irish Times.
It's Mad Ted
Fr Dougal is said to be over the moon about the news. "It's mad," he said. "It's like that thing Ted told me once about the loaves and fishes. God that was mad, I still think Ted was messing — he was like that, a big messer." Dougal reflected.
"No," The Cardinal Elect Dougal went on. I learnt a lot from both Ted and Jack and my days on Craggy Island. Like who would have guessed that there were actually three persons in the one God. I mean that's really really mad."
"Or when I mistakenly thought that those lads dressed in black and saying our Lord's going to come back and judge us all were a cult. No, but seriously I owe a lot to Ted Crilly."
Every Four-Years?
Fr Dougal told us he is really looking forward to getting a chance to vote in the next papal election.
"Like, it will be great excitement," he said. "I'll get to go to Rome and vote for a new Pope every four years. It will be like the American Presidential election only with fewer sex scandals and probably fewer Russians — well fewer Russians anyway."
We asked Fr Dougal could he ever see himself as Pope. His reply was typical of his modesty. "Oh God no," He told us. "That would be way too scary, kind of like that film I watched once with Ted about a Volkswagen with a mind of its own."
"Anyway I'm not Italian, aren't all them Popes Italian?" He asked then continued. "But I have the purple socks, loads of them." He said.
"They were white but I think Mrs Doyle washed them with my red tank-top years ago."
Odds On Favourite
Paddy Power Bookmakers are tipping Fr McGuireto be the next Pope. Due likely to the fact if you have one clown in the White House and another in Downing Street, well then, anything's possible.
Disclaimer
This article is satire. We do satire articles because it is great craic and Irish people love it! Articles in this section are spoof articles which should not be taken as the truth, nor are they are intended to offend.