We have compiled a list of 20 great sporting stars from all over the island of Ireland who we think are the Greatest of all time! It would be impossible to rank them in order, so we are ordering them in complete random.
ROY KEANE:
The fearsome midfield engine at the heart of the Republic of Ireland and Manchester United midfields. Tough as nails, and not one to suffer fools, slackers or softies gladly, Keane's relentless pursuit of perfection on the pitch was his greatest strength – and weakness. A tour de force helped an otherwise workaday Irish team beat Holland to qualify for the 2002 World Cup – but Keane's impeccable standard-setting led to an explosive, expletive-filled bust-up with Mick McCarthy when the team arrived at the finals in Japan and the Corkonian was soon at home, taking his dog, Triggs, out for contemplative walks. Amid the cartoon depictions of the hot-headed hard man, though, Keane's technical ability is often overlooked. In his own unfussy way, he was a highly effective playmaker, as well as a destroyer, in the centre of the park.
PADRAIG HARRINGTON
With three majors to his name the Dubliner is top of a long list of distinguished Irish and Northern Irish golfers that include Christy O'Connor Junior, Darren Clarke and, of course, current world No.1 Rory McIlory. Humble Harrington's successful defence of his Open title in 2008 was a bit special. Three weeks later he won a major Stateside – the PGA Championship – for good measure. One of the nice guys and much loved by the Irish.
STEPHEN ROCHE
Narrowly takes the cycling slot ahead of the legendary Sean Kelly, who won the green jersey four times at the Tour de France. Roche remarkably won both Le Tour – after an absorbing duel with Spain's Pedro Delgado – and the Giro d'Italia in the same year, 1987, to become only the fifth cyclist in history to achieve such a feat.
GEORGE BEST
The genius from working-class Protestant Belfast was simply so good he transgressed the Troubles, and was one the island's rare unifying figures during those dark days. My generation had to suffice with those well-worn highlights reels of the Manchester United winger's mazy runs and ridiculously cheeky goals. But those clips were enough to convey the magic of Best, who, at his peak, lifted the European Cup with United in 1968 and scooped the Ballon d'Or that same year.
LIAM BRADY
Probably the finest creative player ever to emerge from south of the border on the Emerald Isle, and one of the greatest playmakers in history. The Arsenal midfielder possessed a left foot of rare vintage, with his cultured talents also appreciated in Italy, where he graced great Juventus and Inter Milan teams of the Eighties. Tragically, 'Chippy' Brady (so nicknamed because of his fondness for… yes, you've guessed it, chips) never played in a major international tournament. A Brady-inspired Ireland narrowly missed out to France in qualifying for the 1982 World Cup finals and when the Boys in Green made Euro 88, Brady – then in the winter of his career at West Ham – was cruelly dropped from the squad by manager Jack Charlton.
ALEX HIGGINS
Alex" Higgins, nicknamed Hurricane Higgins because of his fast play, he was World Champion in 1972 and 1982, and runner-up in 1976 and 1980. He won the UK Championship in 1983 and the Masters in 1978 and 1981, making him one of nine players to have completed snooker's Triple Crown. He was also World Doubles champion with Jimmy White in 1984, and won the World Cup three times with the All Ireland team.
Higgins came to be known as the "People's Champion" because of his popularity, and is often credited with having brought the game of snooker to a wider audience, contributing to its peak in popularity in the 1980s. He had a reputation as an unpredictable and difficult character. He was a heavy smoker, struggled with drinking and gambling, and admitted to using cocaine and marijuana. Diagnosed with throat cancer in 1998, Higgins died of the illness in his Belfast home on 24 July 2010.
https://www.youtube.com/watch?v=O90hcg-hpDE
ROBBIE KEANE
Robbie Keane has scored a total of 65 goals for the Irish national team between 25 March 1998 and 11 October 2014, making him the all-time record Irish scorer. He is currently the highest international scorer among active players following Miroslav Klose's retirement in August 2014.He is the fifth highest scoring European in history, behind Hungary's Puskás and Kocsis and Germany's Gerd Müller and Klose. Keane was Ireland's top scorer at the 2002 World Cup with three goals as they reached the Last 16, and also played at UEFA Euro 2012.
RORY MCILROY
Rory McIlroy, MBE (born 4 May 1989) is a professional golfer from Holywood in County Down who is a member of both the European and PGA Tours. He is the current World Number One and a four-time major champion. McIlroy won his first major at age 22 at the U.S. Open in 2011, setting a record score of 16-under-par on his way to an eight-stroke victory. The following year he won the 2012 PGA Championship at Kiawah Island by a record eight strokes for his second major title. Two years later, he won the final two majors in 2014. With his victory at the Open Championship in July, McIlroy became the first European to win three different majors, and joined Jack Nicklaus and Tiger Woods as one of three to win three majors by the age of 25. Three weeks later, he won his second PGA Championship for his fourth major title.
JOEY DUNLOP
William Joseph Dunlop, OBE, was a world champion motorcyclist from Ballymoney. In 2005 he was voted the fifth greatest motorcycling icon ever by Motorcycle News.[1] His achievements include three hat-tricks at the Isle of Man TT meeting (1985, 1988 and 2000), where he won a record 26 races in total. During his career he won the Ulster Grand Prix 24 times. In 1986 he won a fifth consecutive TT Formula One world title. He was awarded the MBE in 1986 for his services to the sport, and in 1996 he was awarded the OBE for his humanitarian work for children in Romanian orphanages, to which he had delivered clothing and food. The new documentary, Road, based on the life of Joey Dunlop and his brothers was released in the UK on the 11th June 2014.
ROBERT DUNLOP
Stephen Robert Dunlop (25 November 1960 – 15 May 2008) was a motorcycle racer, the younger brother of fellow road racer, the late Joey Dunlop, and like Joey he died after a crash while racing. He won 5 TTs.
PETER CANAVAN
Peter Canavan (born 9 April 1971) is a former Gaelic footballer and manager. He played inter-county football for Tyrone, and is one of the most decorated players in the game's history, winning two All-Ireland Senior Football Championship medals, six All Stars Awards (more than any other Ulster player, and joint third overall), four provincial titles, and two National Leagues and several under-age and club championship medals. He represented Ireland in the International Rules Series on several occasions from 1998 until 2000. He is considered one of the great players of the last twenty years by commentators such as John Haughey of the BBC, and in 2009, he was named in the Sunday Tribune '​s list of the 125 Most Influential People In GAA History.
COLM COOPER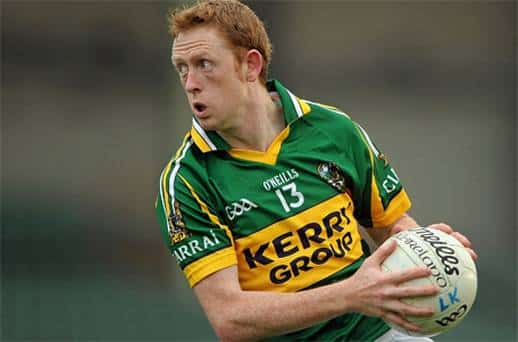 Colm 'Gooch' Cooper (born 3 June 1983 in Killarney) is an Irish sportsperson. He plays Gaelic football with his local club Dr Crokes and has been a member of the Kerry senior inter-county team since 2002.
MARY PETERS
Mary Elizabeth Peters is a former athlete, best known as a competitor in the pentathlon and shot put. She was a gold medalist in the 1972 Oympics. An Athletics track in Belfast is named to commemorate her achievements.
DENNIS TAYLOR
Alex Higgins was admittedly the better player, but the oddly-bespectacled Taylor from Coalisland, County Tyrone, provided snooker with its most memorable night – settling his 1985 World Snooker Championship final on the last black in the deciding frame of his 35-frame epic against Steve Davis at the Crucible. Despite being from north of the border, the whole of the island erupted when that black ball dropped in to the pocket.
SONIA O'SULLIVAN
A lot like Britain's Paula Radcliffe, Irish distance-running great Sonia O'Sullivan's career was punctuated by delirious highs and gut-wrenching, sobbing lows. When the girl from Cobh, County Cork, won 5,000metres gold at the 1995 World Championships, expectations were high for her to repeat the feat at the Atlanta Olympics. But, running with a stomach bug, she failed to finish the final and didn't even make it out of the 1500m heats. But she battled back bravely from those disappointments to win silver behind Romanian Gabriela Szabo in a thrilling 5,000m final at the Sydney Games.
BARRY McGUIGAN
The Clones Cyclone gave Ireland another hairs-stood-on-the-back-of-your-neck moment in 1985. The County Monaghan man felled Panama's world champion Eusebio Pedrosa in round seven of his WBA featherweight title fight at QPR's Loftus Road – a night made all the more uplifting by McGuigan's now-deceased father's rendition of 'Danny Boy' before the bout and Barry's army of fans from north and south of his native border town, Clones, roaring 'Here We Go' in unison throughout.
BRIAN O'DRISCOLL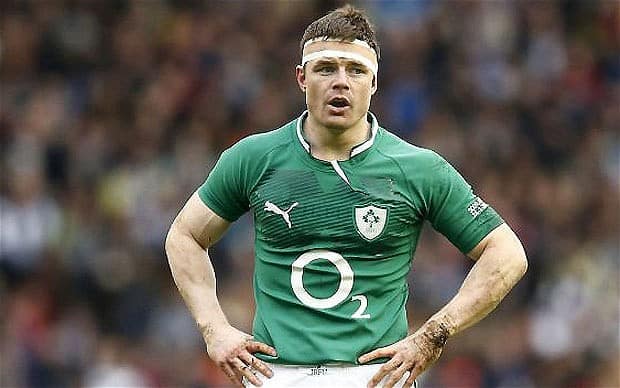 Following in a fine tradition of Irish rugby greats that includes the likes of Ollie Campbell, Simon Geoghegan and Keith Wood, O'Driscoll is arguably the most complete union player to pull on a green jersey. A supreme athlete, the Lions centre was born to run with the oval ball in hand and is also blessed with an astute footballing mind to boot. In his prime, BOD would have walked into any Test side in the northern or southern hemisphere. Apart from his four Triple Crowns and one Grand Slam, O'Driscoll has also won three Heineken Cups with his native Leinster.
PAT SPILLANE
No rundown of Irish sporting greats would be complete without a nod to gaelic games. Most non-Irishmen and women will not be familiar with footballer Spillane, who won eight All-Ireland titles with the great Kerry teams of the 1970s and '80s. All you need to know is he was the Lionel Messi of this great sport.
CARL FRAMPTON
Carl Frampton is a professional boxer from the Tiger's Bay area of Belfast, Northern Ireland, who fights in the Super Bantamweight division. He is the current IBF World Super Bantamweight champion and a former holder of the Commonwealth Super Bantamweight championship and is managed by Barry McGuigan. He has represented Ireland in boxing competitions and is currently unbeaten.
CHRISTIE RING
Nicholas Christopher Michael "Christy" Ring (12 October 1920 – 2 March 1979) was an Irish hurler who played as a right wing-forward for the Cork senior team. Born in Cloyne, County Cork, Ring first excelled at hurling during his school days. He arrived on the inter-county scene at the age of sixteen when he first linked up with the Cork minor team, before later lining out with the junior side. He made his senior debut in the 1939-40 National Hurling League. Ring went on to play a key part for Cork over the following twenty-four years, and won eight All-Ireland medals, nine Munster medals and three National Hurling League medals. An All-Ireland runner-up on two occasions, Ring also captained the team to three All-Ireland victories.
Ring represented the Munster inter-provincial team for a record twenty-three consecutive seasons, winning a record eighteen Railway Cup medals. No other player in the history of the competition has gone into double figures. At club level he won thirteen championship medals with Glen Rovers.
Legal Disclaimer
We cover articles relating to many activities. Some of our articles showcase gaming and gambling as activities. While we do not take money for bets or own any gambling venues, we feel it is important that our readers know the risks of such venues or sites that we may mention in our articles. Gambling involves risk. Please only gamble with funds that you can comfortably afford to lose. See our legal disclaimer for more info.