It's that time of the year again. Time to polish off the carving knives and carve out some of the spookiest things you can think of.
Pumpkin carving is one of the most memorable Halloween activities. Whether you like it scary or adorable, there is a pumpkin design out there for everyone.
We personally love a uniquely Irish design. So hold on to your hats; we've got some fantastic Irish-themed pumpkin carving designs for Halloween to inspire you this Samhain.
Here are ten amazing pumpkin carving designs for Halloween that you can try for something a little different this year.
10. Dublin rent − the scariest pumpkin of them all
Trigger warning: this pumpkin may rob you of all your merit. Truly the scariest thing about Ireland is the price of rent in Dublin.
So it makes perfect sense to commemorate it on a pumpkin at Halloween. That will scare the Trick or Treaters away, for sure. They won't come near the gaff for fear of being charged exorbitant rates.
9. Celtic Tree of Life − a traditional Irish design
The Celtic Tree of Life is a uniquely Irish symbol. It represents the link between the land of the living and the afterlife. You never know who you might see come back from the dead if you combine this symbol with this holiday.
It's only fitting that this symbol is carved into a pumpkin. This design makes perfect sense, as Halloween is the day when the portal between our world and the spirit world is at its weakest.
8. Thin Lizzy − a musical theme
If you're a hardcore music fan, why not bring it into your pumpkin carving designs? Like this die-hard Thin Lizzy fan, who decided to commemorate the iconic Irish rock band by carving their name into a pumpkin. Rock on.
7. Guinness − you can't get any more Irish than this
Suppose you really want to celebrate your Irish culture in pumpkin form, then, of course. In that case, you should be celebrating the Irish drinking culture.
And what's the most Irish beverage? Sure, a pint of the plain, of course. We insist only the most devout Guinness drinkers adopt this design.
6. Celtic knot design − one of the most Irish pumpkin carving designs
Celtic knot designs are often stamped across people's bodies as tattoos and Celtic crosses would also be above their bodies as grave markers!
Now you can have one on a pumpkin too. This design can also ward off evil spirits and demons, like that pesky devil.
5. Leprechaun − combine two holidays into one
Combine your love of Halloween with your love of St Patrick's day with this leprechaun pumpkin carving design.
You might bring luck to your household during this spooky time. Luck, meaning, the trick-or-treaters might just avoid your house this year, and you can lash into the sweets yourself.
4. Sister Michael − for a more religious twist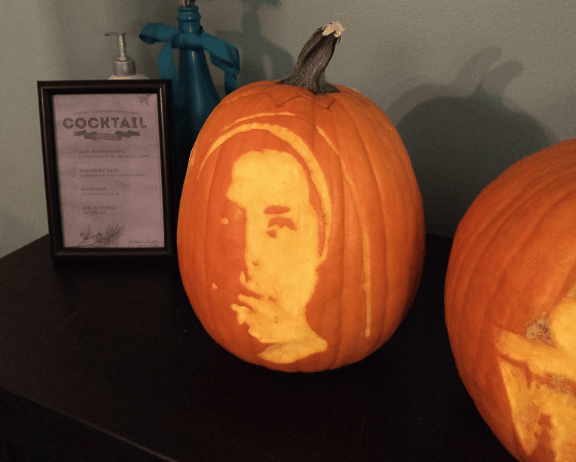 Are you a wee Derry girl? Whether you are or not, you'll probably love this Sister Michael pumpkin design.
Sister Michael is known for her dry sense of humour, and now she can be known for being one of the best pumpkin carving designs.
3. Joe Dolan − there's no pumpkin like a Joe pumpkin
Another one for Irish music fans. Joe Dolan was one of the most celebrated Irish music men to date.
His cheeky grin can now be adored on your seasonal gourd for at least a week before he rots away. It really is true what they say: there's no pumpkin like a Joe pumpkin.
2. Leo Varadkar − now it's getting too scary
A pumpkin of an Tánaiste Leo Varadkar might be the perfect amount of spooky for this Halloween. His face is just perfect to light up in any front room window, to serve as a beacon for passers-by.
1. Michael D. Higgins − absolutely phenomenal craftsmanship
Some talented folk at Fallon & Byrne in Dublin created this stunning depiction of our beloved president Michael D. Higgins in pumpkin form.
If you genuinely love Ireland, then, of course, you'll surely love dear sweet Miggledy enough to carve him into a pumpkin. Let his smile guide all who pass it on Halloween night.