Irish people take Halloween very seriously, and you will find a host of iconic Halloween decorations throughout Irish households – here are a few to look out for.
With Halloween being a traditional celebration from Celtic times, you can assume that the Irish go all out when October comes around.
Irish people love nothing more than getting into the Halloween spirit by shopping for spooky costumes, decorating their houses and, of course, watching scary movies every evening in the lead-up to Halloween.
However, if there is one place where Halloween is celebrated, it has to be Ireland, and there are many iconic things you will see in many Irish homes and gardens if you keep your eyes peeled.
Here is our guide to Halloween decorations Ireland: 10 things you always find in an Irish home.
10. Halloween sweets − we love our sweets
When Halloween approaches, many Irish households adorn their houses and gardens with various decorations.
Plus, they will all have a big bowl of sweets which are generally a mix of black and orange. These are displayed amongst the rest of the decorations and are central to Halloween celebrations.
9. Halloween lights − setting the frightening mood
Nothing screams Halloween more than orange and black-themed lights, which are vital in setting the spooky spirit in an Irish home.
Some people opt for pumpkin lights or ghost lights, while others may choose simple themed lights, but whatever the choice, Halloween lights are a must in an Irish household.
8. Halloween banners − displaying Halloween greetings
For those who really take Halloween seriously in Ireland, you will find Happy Halloween banners either in their garden or their house – or both, which add to the atmosphere. Some even have personalized signs, which set them apart from other homes on the street.
7. Skeleton decorations – a symbol of the dead
When it comes to Halloween decorations in Ireland, skeleton decorations are a common thing you will find in an Irish home.
Skeletons are just as crucial as pumpkins and jack o' lanterns since the paramount importance of Halloween, or Samhain as it was traditionally known in Celtic times, was to celebrate the dead.
6. Window decals – an easy Halloween decoration Ireland loves
Window decorations and decals are one of the most common Halloween decorations you will see in Irish households, mainly because they are simple, easy and readily available, so even if you don't fancy spending hours decorating your house, a few spooky window decals will set the mood.
5. Spider webs − a way to spook up your household
Irish people love to go all out when it comes to Halloween decorations, and arranging spider webs around their house and garden is a fun way to bring Halloween to life.
Believe it or not, some Irish people look forward to Halloween more than Christmas, and the excitement of decorating their house with spider webs and creepy spider decorations amongst the webs.
4. Black cats − a symbol of superstition
Halloween is a time for superstition, and traditionally black cats were a sign of bad luck and were said to be evil spirits, which is why they are an iconic symbol of Halloween.
As well as this, black cats were widely associated with witchcraft since they believed witches would disguise themselves as these fearsome felines.
3. Ghosts − an iconic spooky symbol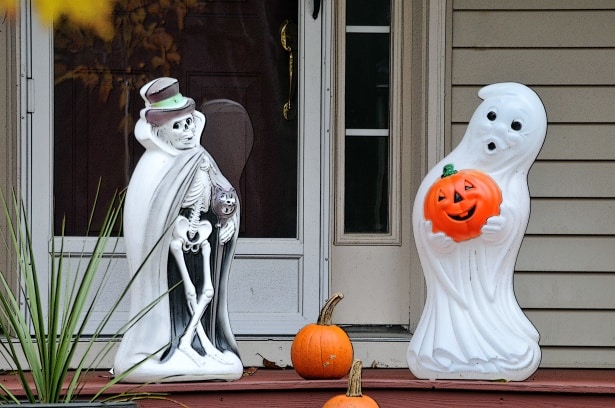 Just like black cats and skeletons, ghosts are an iconic symbol of Halloween since they represent the dead, and you will find many Irish homes decorated with ghosts, both inside and outside. This was also a widespread and practical Halloween costume for Irish children.
2. Halloween wreaths − a fun way to be creative
If you drive around various towns and cities in Ireland, you will count many Halloween wreaths on Irish doors. These will generally be black and orange, with either skeletons, ghosts or witches in the middle.
While these are readily available everywhere during Halloween, some Irish people love to be creative and make their own.
1. Jack-o'-lanterns – one of the Halloween decorations Ireland can't go without
The jack-o'-lantern or carved pumpkin is the most common Halloween decoration in Ireland, and it actually comes from the Irish myth of 'Stingy Jack'.
The whole process of carving your pumpkin is an event. Irish people love to be creative, gather with friends and spend a night or two carving out scary faces, which they will place in their house or front doorstep with a lit candle inside.
Notable mentions
Bats: Bats are said to be the mascot of Halloween since they come out at night and feature in many Halloween stories and movies, so you will always find bat decorations around the house.
Witches: Witches were associated with evil, especially during early Christian times, so the symbol of the witch these days is still very much present in houses all over Ireland.
Gravestones: Mock gravestones can be found in some Irish gardens, especially for those who go all out during the Halloween season and depict the relationship with death.
Haunted House: It is not uncommon to spot a prop for a haunted house in Ireland, and some people feature a spare room or section of their garden to represent a spooky house.
FAQs about Halloween decorations Ireland
What day do you usually trick or treat in Ireland?
Children generally trick or treat on 31 October, on the eve of Halloween, and the custom goes back to the days when poor children in Ireland would go from house to house singing songs in return for food.
How long do the Irish celebrate Halloween?
While Halloween parties and events take place all through October in Ireland, Halloween is mainly celebrated for a few days before and after 31 October.
Is Halloween Irish?
Yes, the celebration stems from our pagan ancestors who would observe the dead during the ancient festival known as Samhain.
So, if Halloween is your thing, you will undoubtedly recognize these main Halloween decorations Ireland has to offer, which can be spotted in households all over the country.