Moving to Ireland's capital city? Here are ten interesting properties in Dublin you can get for €200,000 or less.
As thousands of people move to Ireland's capital every year, the cost of living there has continued to grow.
The prices of properties across Dublin has skyrocketed in recent years, with the average cost of a home being €400,000 (but many are substantially more). Fear not, for there are some Dublin properties for under €200,000!
€200,000 can get you some amazing properties across Ireland – we're talking about beautiful four-bedroom homes in rural Ireland with a sizeable garden.
However, €200,000 is not a lot of money when it comes to buying a property in Dublin, so prepare your eyes for the reality of Dublin living.
These are ten interesting properties that under €200,000 can get you in Dublin.
10. 17 Park West, Inchicore – requires substantial work
This one-bedroom cottage is just 5 km (3.1 miles) from Dublin City Centre and has an asking price of €145,000. It spans just 37 sq m (398 sq ft), and it is described as "needing work but offers huge potential".
So, if you're looking for somewhere to invest a small sum in modernising it after purchasing, this could be your gateway to Dublin living.
More information: HERE
9. 2A Chamberlain Court, Drumcondra – lots of potential
This Dublin property was once a commercial live-work apartment that spans over two floors.
Costing €150,000, this property comes with planning permission to convert the unit into a two-bedroom duplex apartment.
What's more, this property comes with two designated car spaces in an underground carpark – absolute gold dust in Dublin. A bargain for under €200,000 in Dublin, we think!
More info: HERE
8. 70 Block A, The Maltings, Dublin 8 – one of the world's coolest neighbourhoods
If you're looking to move into one of the world's coolest neighbourhoods, then look no further than Dublin 8.
This one-bedroom apartment is situated on the fourth floor and overlooks a central courtyard.
For just €195,000, you get a double bedroom, kitchen, living room, bathroom, entrance hall, balcony, a large attic, and designated car parking space.
More info: HERE
7. 70 Fourth Avenue, North Wall, Dublin 1 – a quaint property
If you're looking to undertake a project to create your dream house within close proximity to Dublin City, then this is it!
With some refurbishments required, this one-bedroom cottage is on the market for €189,000.
However, once modernised, this property will be a total catch, with some houses in the area going for €350,000.
More info: HERE
6. Apartment 6, Bridge Bow House, Kilmainham – oddly shaped
For a mere €190,000, you can get a property that defies all design logic with strangely shaped yet small rooms.
Although conveniently located near the Guinness Brewery, this one-bedroom apartment will be a tight squeeze.
However, if you can get past the shape of the bedroom, this isn't a bad property in Dublin to enjoy it all.
More info: HERE
5. 73 Lanesborough Mews, Finglas – a great family home
If you're looking for somewhere with schools and child-friendly amenities nearby, then this could be the property for you. This two-bedroom, two-bathroom apartment has an asking price of €199,950.
There is an underground carpark, private terraced area, and playground all onsite. Not bad for just under €200,000 in Dublin.
More info: HERE
4. Apartment 6, The Weavers, Dublin 8 – a fun space
Enjoy this vibrant and exciting apartment that is conveniently located near all the action. This one-bedroom apartment costs €195,000 and has a balcony that overlooks a courtyard.
Apartment 6 has been rented out for several years, so this is a prime investment property.
More info: HERE
3. Apartment 38, Tuansgate, Tallaght – conveniently located
This one-bedroom third-floor apartment is the perfect place for a young couple with no children.
With a beautiful balcony and an enclosed communal courtyard, this is the ideal place to get away from it all. Costing €195,000, this apartment is within walking distance of the red Luas line.
More info: HERE
2. Apartment 99, Tolka Vale, Glasnevin – for incredible views
The main appeal of this Dublin property has to be the incredible views, as it is located on the top floor.
The two-bedroom apartment benefits from an open-plan living and dining area, two bathrooms, and a balcony.
With an asking price of just €195,000, some would say that this is an absolute steal!
More info: HERE
1. Apartment 21, The Landey, Santry – the best property in Dublin for under €200,000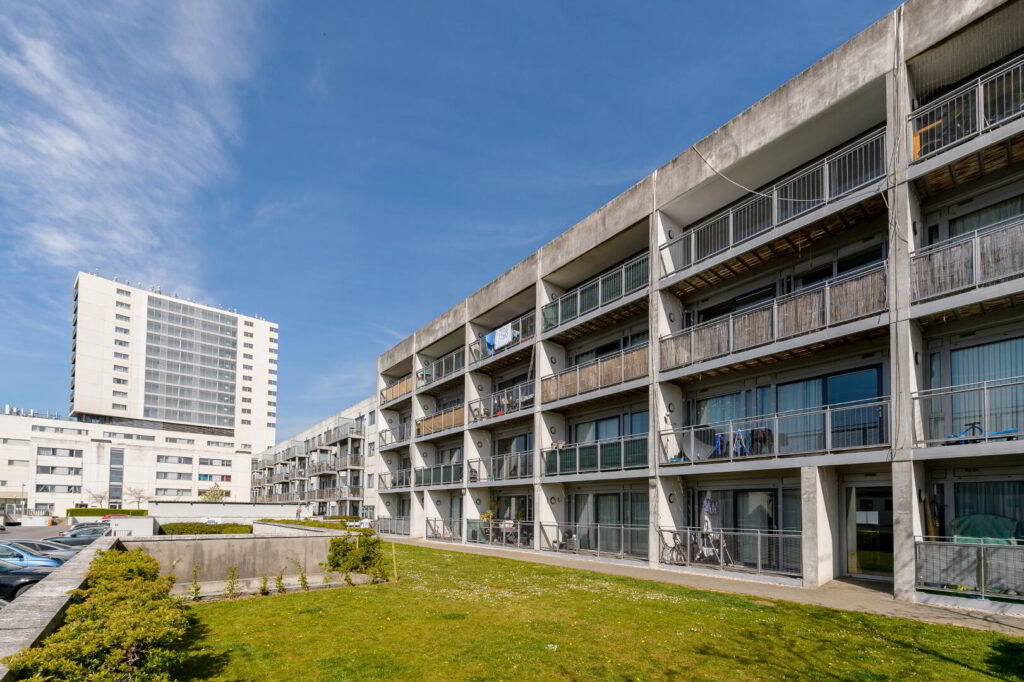 This third-floor one-bedroom apartment is conveniently located near brilliant bus routes that connect you to the city. The apartment is extremely modern and benefits from natural light.
The asking price for this property is €180,000 and would be perfect for those working in the city but who don't want to live in the heart of the action?
More info: HERE