There are many aspects of growing up in Dublin that we can all relate to, and here are just a handful of the most common things.
Ireland may be a small country, but there are some vast differences between each region, and if you recognise these ten things, then you were definitely raised in Dublin.
With Dublin being the largest city in Ireland, or 'the big smoke' as some would call it, there are many Irish people who were brought up there.
So, this list of things will be a dead giveaway that you are a born and bred Dub. If 8/10 of these are true, you were definitely raised in Dublin.
10. Big green buses – the main transport in Dublin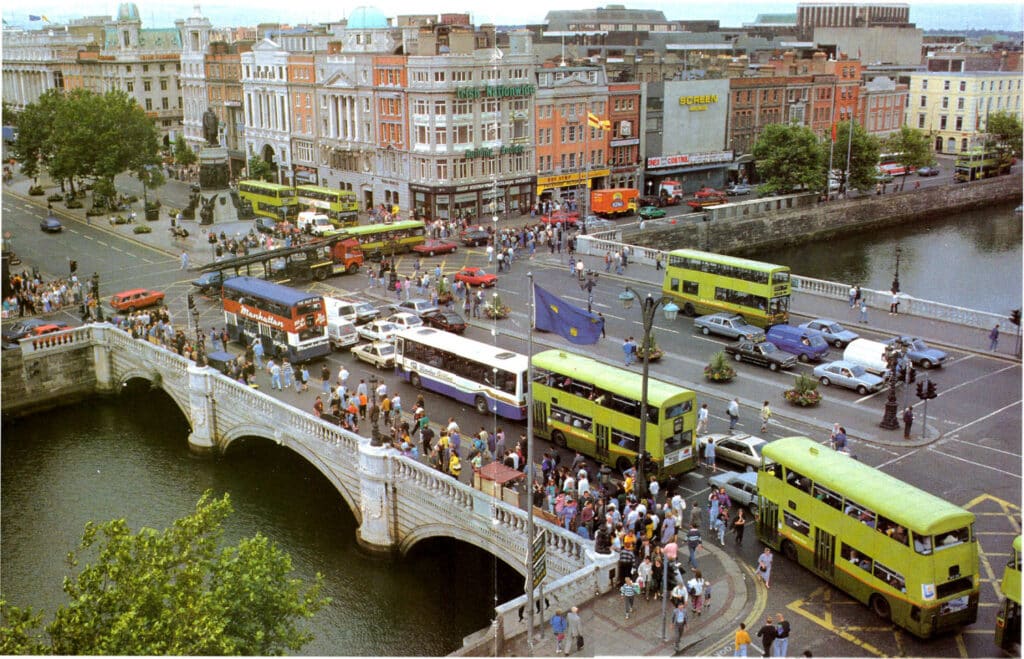 One of the biggest giveaways that you were definitely raised in Dublin is if you remember the big green double-decker buses, which became iconic over the years.
While many of us took the bus without thinking about it, looking back, it is a piece of Dublin history to remember with a smile.
9. Moore Street – the traditional Dublin market
Hearing phrases like 'Get your bananas six for a euro' was common in the city centre, especially on Moore Street, where you could find all sorts of fruit, vegetables and flowers.
Growing up in Dublin, you may have passed by this spot with your parents or grandparents.
8. Flower sellers were the norm – a Dublin thing
One of the best things about Dublin is the city's heritage, and with that comes the people selling flowers along the busy streets.
This wasn't a thing in other parts of the country, but in Dublin, this was taken for granted, so if you remember this, you were definitely raised in Dublin.
7. The countryside – anywhere outside of Dublin
If you considered everywhere outside Dublin, ' The Countryside', you were definitely raised in Dublin.
Many of us had relatives around the country, and at certain times of the year, we would venture off down the countryside to visit them, even if that meant just to County Wicklow or even County Meath.
6. Culchies – the country folk
Many folks from Dublin often refer to people who lived outside the city as culchies, and while this phrase is still widely used today, it is a dead giveaway that you were brought up in the capital.
Over the years, Dublin has started to expand significantly, but Dubs will still refer to non-Dubs as culchies.
5. Learning to drive was a hassle – not the best place to learn
While there were many perks to growing up in Dublin, learning to drive was not one of them. Many Dubs envied those living in the country when it came to learning to drive since there was far less traffic and obstacles to be aware of and passing your test was much easier than it was in the city.
4. The Northside & The Southside – the ongoing rivalry
This is one of the biggest things that will ring true if you were brought up in Dublin since there was always a rivalry between the north and the south.
Coming from the Northside – north of the Liffey, was not seen as fancy compared to coming from the posh Southside – south of the Liffey.
3. You never visited the attractions – there was no reason to
One of the main things you will relate to if you grew up in Dublin is that it took you years to see many of the city's famous attractions, mainly when someone came to visit.
Many Dubs didn't spend their free time visiting Temple Bar, The Guinness Storehouse or Trinity College unless they had a reason to.
2. The Milkman – fresh milk daily
In Dublin and surrounding areas, it was common for the milkman to do his rounds, leaving you with glass bottles of fresh milk most mornings.
You were definitely raised in Dublin if you recall the milkman stopping by, no matter what kind of weather was upon us.
1. Coddle was a staple food – a dead giveaway
Dublin Coddle is one of the most traditional Irish dishes out there, which you can still find on pub menus around the country, so growing up in Dublin meant that this was indeed a staple food for the family.
You were definitely raised in Dublin if potatoes and soggy sausages still bring back memories.
Alas, if 8/10 of these were true, you were definitely raised in Dublin. So how many did you recall?