The disgraced former President of the United States of America has now comfortably moved ahead of the former UFC world champion in the eyes of the Irish people.
Opinion and popularity polls are often useful ways to determine how well a society might view a certain idea, topic, political party, or indeed famous individuals who hail from the Emerald Isle.
The most recent poll, published by the Irish Society for Working Out Who We Hate More, or 'ISWOWWHM' for short (although we have no idea who is going to remember that), has revealed a result that certainly will not blink the eyes of 99.999% of Irish people.
Donald Trump, the ex-US President who banned Muslims from entering America, incited riots on his own capital, and threatened to jail Hillary Clinton, has now overtaken, indeed comfortably, Conor McGregor in the popularity poll.
Broken mouth, broken reputation? – an infamous loss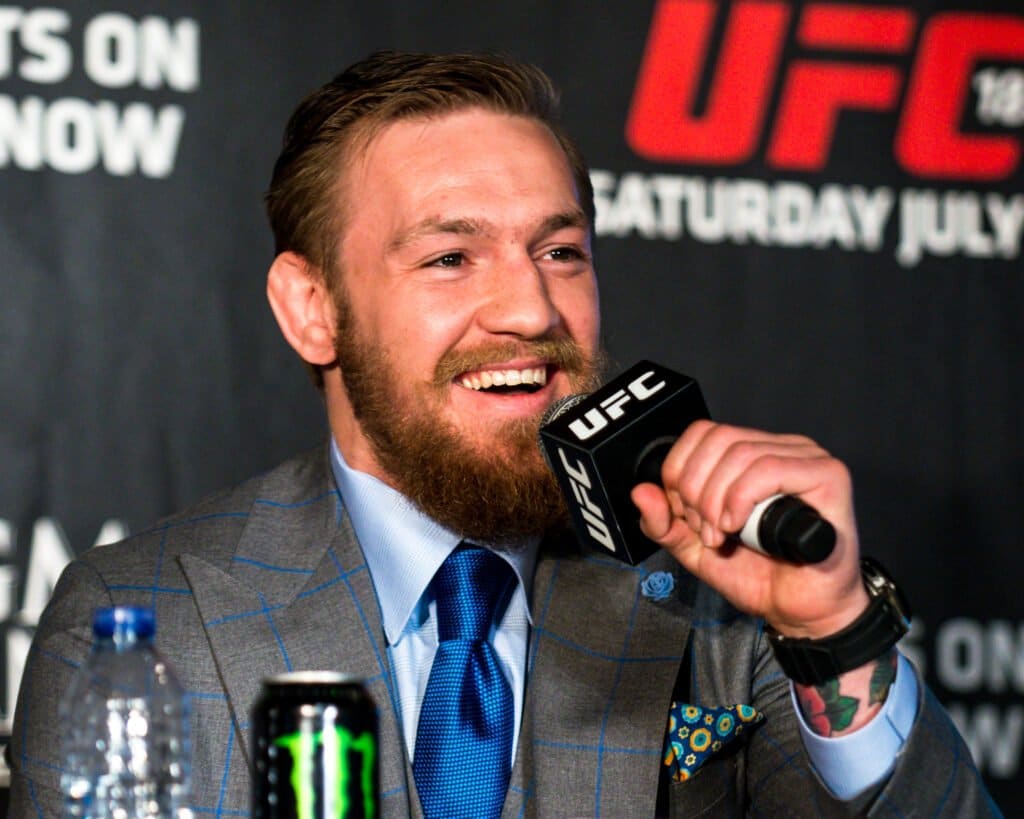 Donald Trump overtakes Conor McGregor in an Irish popularity poll. But why?
Conor McGregor's latest fight ended in infamy. Yes, he snapped his ankle in an ungodly fashion. Not even the ISWOWWHM would wish upon any of its contestants, but what really stood out was how he treated his opponent, Dustin Poirier, in the aftermath.
Poirier revealed his disgust with McGregor as he talked about killing his opponent (something Donald Trump might also be familiar with) and how he taunted his wife in the build-up to the fight.
Mystic Mac continued in the same fashion whilst sitting idle on the octagon floor.
It was an expected decision – the feeling of many
Conor Lenihan, director of the Irish Society for Working Out Who We Hate More, spoke directly to media this week as Donald Trump overtakes Conor McGregor in an Irish popularity poll.
He said, "Look, first and foremost, we admit our name is a little hard to remember. Not even I can remember the acronym, but sure here we are, anyway.
"The result was expected. 'The Donald' had been catching up on Conor in the last few opinion polls. So, it was just teed up nicely for him to take over. And by a good bit too, don't forget!
"Now, don't get me wrong, the both of them are bottom of the pile. Jesus, even BoJo, Leo Varadkar, and the rest of them clowns here and across the water are miles ahead. Is that a good look for us?"
Donald Trump was left ecstatic – chuffed with the victory
While many still will tune in to the BT Sport pay-per-view to watch Conor McGregor in his latest round of the Roman Gladiator series, the man's popularity has declined significantly in the last few years.
We aren't sure, but it might have been around the time he punched an older man in an Irish bar that esteem dropped on Irish shores. Or maybe the time he lauded Trump as possibly the best President of all time. Who knows, really?
Across the pond, on the other side of the Atlantic, Donald Trump was said to be ecstatic. Teeing off for his 4566435th round of golf since being elected President in 2016, he said, "It's really great. I'm very happy. I love Conor, and I love the UFC, but I'm the most popular man in Ireland. I've always said it."
So, there you have it. Donald Trump overtakes Conor McGregor in an Irish popularity poll.
Disclaimer
This article is satire. We do satire articles because it is great craic and Irish people love it! Articles in this section are spoof articles which should not be taken as the truth, nor are they are intended to offend.