A viral social media post has claimed a miraculous happening concerning a Eucharist in a Mayo church.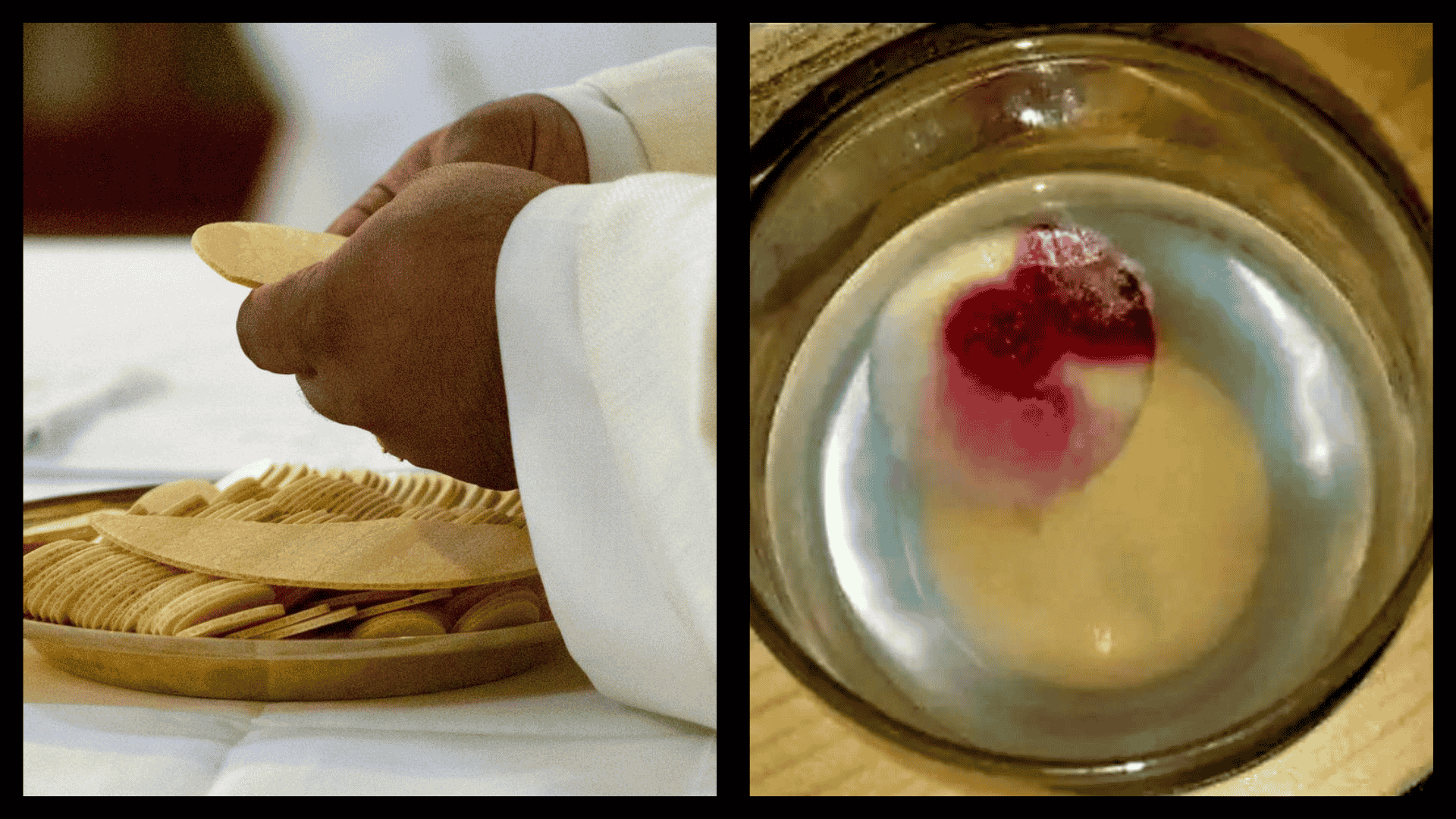 People were left shocked this week following a viral social media post concerning some strange goings-on in a Mayo church.
The Facebook post by Anne O'Sullivan claims that a eucharistic host began to bleed blood sometime after being dropped on the ground.
The shocking event took place at St Joseph's church in Aghamore Ballyhaunis, near Knock in County Mayo.
A viral Facebook post – GAA fans rejoice in the miracle
The post states, "A Eucharistic Minister accidentally dropped a Consecrated Host to the floor whilst administering Holy Communion.
"The Indian Parish Priest put it into a small bowl of water to allow it to dissolve. Upon checking it sometime later, he discovered the water was blood coloured.
"He added some more water and then later saw that the Host had taken on the appearance of bloody flesh tissue".
Many believers took to the idea of the miracle, with the post being shared 3,500 times to date.
Many GAA fans believe that it was a sign that Mayo was set to win the Sam Maguire Gaelic Football Cup for 2022.
Not is all as it seems – a Catholic vlogger speaks out
Unfortunately for the thousands of believers, one diligent man was quick to do a reverse image search on the photo, only to find out that the image had not originated in Mayo but in Utah, all the way back in 2014.
Robert Nugent speaks about it on his YouTube channel. He states he has spoken to people present in the Mayo church on the day. Thus, confirming that there were no photos taken during the incident.
Nugent explains that the people he spoke to at the mass in question did report seeing a host appear to become flesh-like in appearance. However, this photo is not one from the church in Mayo.
The Irish Mirror reported that the priest in attendance at the Sunday mass has spoken out. He said, "The alleged miracle that took place at a church in County Mayo was actually a reaction to the water".
Apparently, this phenomenon is often the case of bread mould causing a red discolouration when introduced to water.
Debunking the supposed miracle – Eucharist appears to bleed in Mayo church
GAA fans and believers may be left disappointed after the excitement of an affirming miracle. However, Robert Nugent states in a video that this should have no effect on people's faith.
The Catholic vlogger states, "It makes no difference to our faith whether its a miracle or not. If it's a miracle, it affirms our faith.
"If it's not a miracle, the Eucharist still remains the most precious thing: the body, blood, soul, and divinity of our Lord Jesus Christ".
What do you think of these events? Could it have been a miracle after all?