Sinn Féin is to honour DUP leader and former Northern Ireland First Minister Arlene Foster in recognition of her work to help bring about a United Ireland.
The decision comes amid a series of actions committed by Arlene Foster that has undoubtedly accelerated the process toward ending partition and uniting Ireland as one.
It is expected that the party's award ceremony will be held in Ireland's national stadium, Croke Park, next St. Patrick's Day.
So Little Done By So Few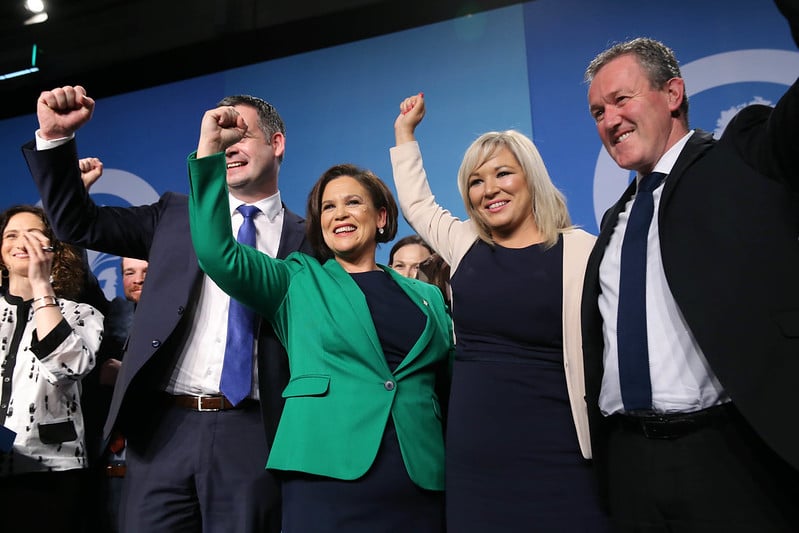 Sinn Féin press spokesperson Cllr. Tadhg O'Murtage stated; "No one has done as much to help the cause of bringing about a United Ireland more than Arlene Foster.
"Her handling of the Brexit negotiations on behalf of the Unionist People of NI has been extremely helpful towards making citizens in the North realise how better off they would be in a United Free State Ireland."
Cllr. Tadhg O'Murtage candidly continued; "Arlene's deliberately provocative comments and intransigent stance on Brexit have done more for the cause of uniting the island of Ireland than the decades of Republican rhetoric that we have been spouting."
Smooth Handling
"Arlene has shown smooth handling of the 'Cash for Ash' controversy and impeccable guidance of the Irish Language Act through the Assembly, as well as a unique diplomatic style.
"I mean, are there many politicians that can say 'If you feed a crocodile, it will keep coming back for more' about fellow politicians and get away with it?" O'Mutage enquired. "It shows how great she is in inspiring confidence across all sections of the community."
O'Murtage went on to outline how the DUP, under Foster's leadership and with only ten MPs, have completely hamstrung both Teresa May's and Boris Johnson's proposals for an orderly Brexit.
"Their policy of never agreeing to anything and delaying everything has been much more successful than our centuries-old-tradition of simply just not showing up. You have to hand it to her," O'Murtage stated.
"When the Unionist people realise how great a leader Arlene is and how she has successfully handled both the sleeping NI Assembly and the equally deadlocked Brexit negotiations we are expecting a huge amount of existing DUP members to join Sinn Fein and campaign to Unite Ireland. It's only a matter of time," he concluded.
As Gaeilge
The award ceremony will be conducted through the medium of the Irish language in conjunction with an open-air concert of traditional Irish music.
Headlining acts to appear will include The Wolfe Tones playing 'Come out You Black and Tans', while Bob Geldof is expected to delight the attendees with 'The Boomtown Rat's Banana Republic'.
Meanwhile in Ireland's Fashion Desk are also reporting that Arlene Foster, Michelle O'Neill and Mary Lou McDonald plan to have a girly-spa and shopping weekend in Dublin before the award ceremony.
Disclaimer
This article is satire. Articles in this section are spoof articles which should not be taken as the truth, nor are they are intended to offend. However, if you are offended, please inform us formally via a letter. You can ensure it gets to us by placing it in the nearest recycling bin.