Do you know the backstory of this iconic Irish phrase?
If you have seen Kilkenny play a hurling match, you will have heard them referred to as The Cats. You'll often hear Kilkenny people shouting "Up the cats" at matches. But have you ever wondered what the origin of this phrase is?
There are a few stories to help us consider the origin of this phrase, so brace yourselves for a historical journey into the lore of the medieval county Kilkenny. We're here to highlight the history of the Kilkenny Cats.
The Hessians − used cats for entertainment
One story of historical origins indicates that the phrase 'Kilkenny Cats' stems from around the time when the Hessians were stationed in Kilkenny city, around 1798.
As a form of entertainment, it is said that the lads in the army would tie the tails of two cats together and hang them over a line so they could watch them battle it out. The soldiers would place bets on the winning cat.
However, gambling was restricted by military rules, so in fear of an approaching officer, one of the soldiers is said to have taken his sword and cut the two cats' tails so they could run away.
When asked where the cats had gone, the soldiers are said to have said they fought each other until only their tails were left. So, a Kilkenny Cat is said to be an allegory for someone who fights so hard it results in the mutual destruction of both parties.
Oliver Cromwell's army − a similar story
Another story of historical origins, this story has similarities to the above. However, this origin story comes from Oliver Cromwell's army.
The army, said to have been stationed in Kilkenny city in the mid-17th century, would tie cats up on a wire by their tails as a game, and Cromwell's boys would place bets.
The last living cat in the destructive struggle would be crowned the victor, but it was then beheaded. What a vulgar form of entertainment they had in the ancient city; we're glad they've moved on a bit now.
A poem about the Kilkenny Cats − a brilliant limerick
There is a wonderful limerick outlining the story of the Kilkenny Cats called Two Cats. It goes like this:
"There once were two cats of Kilkenny,
Each thought there was one cat too many,
So they fought and they fit,
And they scratched and they bit,
Till, excepting their nails And the tips of their tails,
Instead of two cats, there weren't any."
We read this poem as a story of two people fighting until the ruin of both of them, and we can apply it nicely to the following account about the Kilkenny Cats.
Irishtown and Englishtown − two governing bodies not seeing eye to eye
It is also thought that the story of the Kilkenny cats is an allegory for the feud of ancient times between the governing body of county Kilkenny and that of Irishtown (a suburb in Kilkenny city).
This destructive struggle lasted from the late 1300s to the late 1700s and involved hardship and near-ruin for both sides.
Ultimately, it is thought that this feud was an altercation between the Catholic and Protestant religions, both of which had great power in Kilkenny City. Our next story will bring us to a more mythical place.
A 12th-century tale − a giant hellcat of ancient times
This story attributes the phrase to more nonsensical origins. According to a 12th-century story in The Book of Leinster, a cruel mouse-lord called Luchtigern (luch = mouse, tigern = lord) resided in the Dunmore Caves in county Kilkenny, just outside of what we now know as Kilkenny City.
Luchtigern was eventually overthrown by a hellcat called Bánghaisgidheach (Bawn-gash-keh-duck) in an epic battle.
Irish legend states that the giant cat fought an enormous army of mice, killing thousands upon thousands until only Luchtigern and Bánghaisgidheach remained.
The two foes endured battle for 24 hours before the mighty Kilkenny Cat reigned supreme. Long live Bánghaisgidheach, the true hero of Kilkenny!
Dame Alice Kytler − a story of witchcraft
People who have visited Kilkenny will be familiar with Kytlers Inn, a popular bar and restaurant. Kilkenny people can tell you that the building was home to Dame Alice Kytler in the 1300s.
Alice is known to be the first woman tried and condemned as a witch in Ireland and has at times been attributed for bringing the tyrannical Kilkenny cat into existence. In a 1963 poem, Austin Clarke wrote,
"Soon afterwards, they say, that demon sired
The black cats of Kilkenny. They fought for scales
Of market fish, left nothing but their own tails
And their descendants never sit by the fire side."
Though this is a great story, we believe it to have more nonsensical origins than historical ones.
Multiple stories, but which one is true? − we'll let you decide for yourself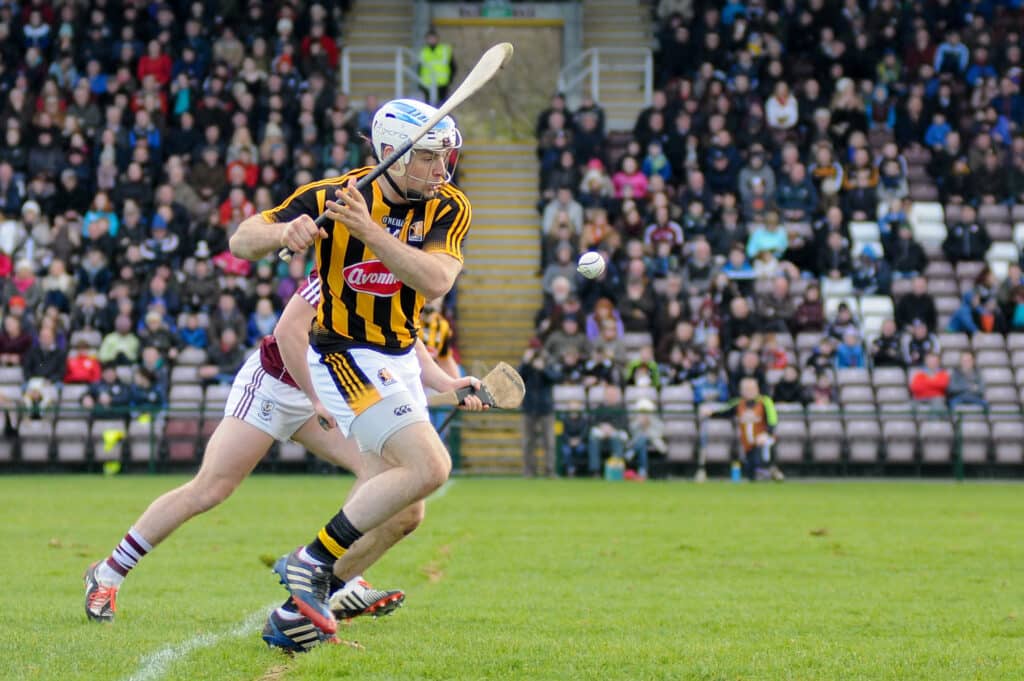 With so many different variations on the origins of this phrase, there is no way of knowing which one is the true one. Different Kilkenny people will give you a different version of the above tales.
But we can enjoy each one for what they are; stories. What we do know is that a Kilkenny Cat is a fierce warrior who won't stop until they have gotten the job done, even if it results in a destructive struggle.
With this in mind, we think that's a fitting title for the Kilkenny hurling team. They will keep playing, even if it means the mutual destruction of both teams.
FAQs about the Kilkenny Cats
Why do they call Kilkenny the cats?
There are multiple stories indicating the origin of this phrase. Some attribute it to historical accounts, others to stories associated with Irish legends of ancient times and nonsensical origins.
What does Kilkenny mean in Irish?
The Irish for Kilkenny is "Cill Chainnaigh", which means "Church of Cainnech". St. Cainnech is the saint who converted the county of Kilkenny to Christianity all the way back in 597.
What type of poem is 'The Cats of Kilkenny'?
The Cats of Kilkenny is a limerick. A limerick is a humorous poem with a rhyming scheme to it. The poem is also referred to as "Two Cats" or "Two Cats of Kilkenny".
Legal Disclaimer
We cover articles relating to many activities. Some of our articles showcase gaming and gambling as activities. While we do not take money for bets or own any gambling venues, we feel it is important that our readers know the risks of such venues or sites that we may mention in our articles. Gambling involves risk. Please only gamble with funds that you can comfortably afford to lose. See our legal disclaimer for more info.