So, who is Saint Brigid, and what's all this about St Brigid's Cross? Here, we delve into this cultural icon and discover what all the fuss is about.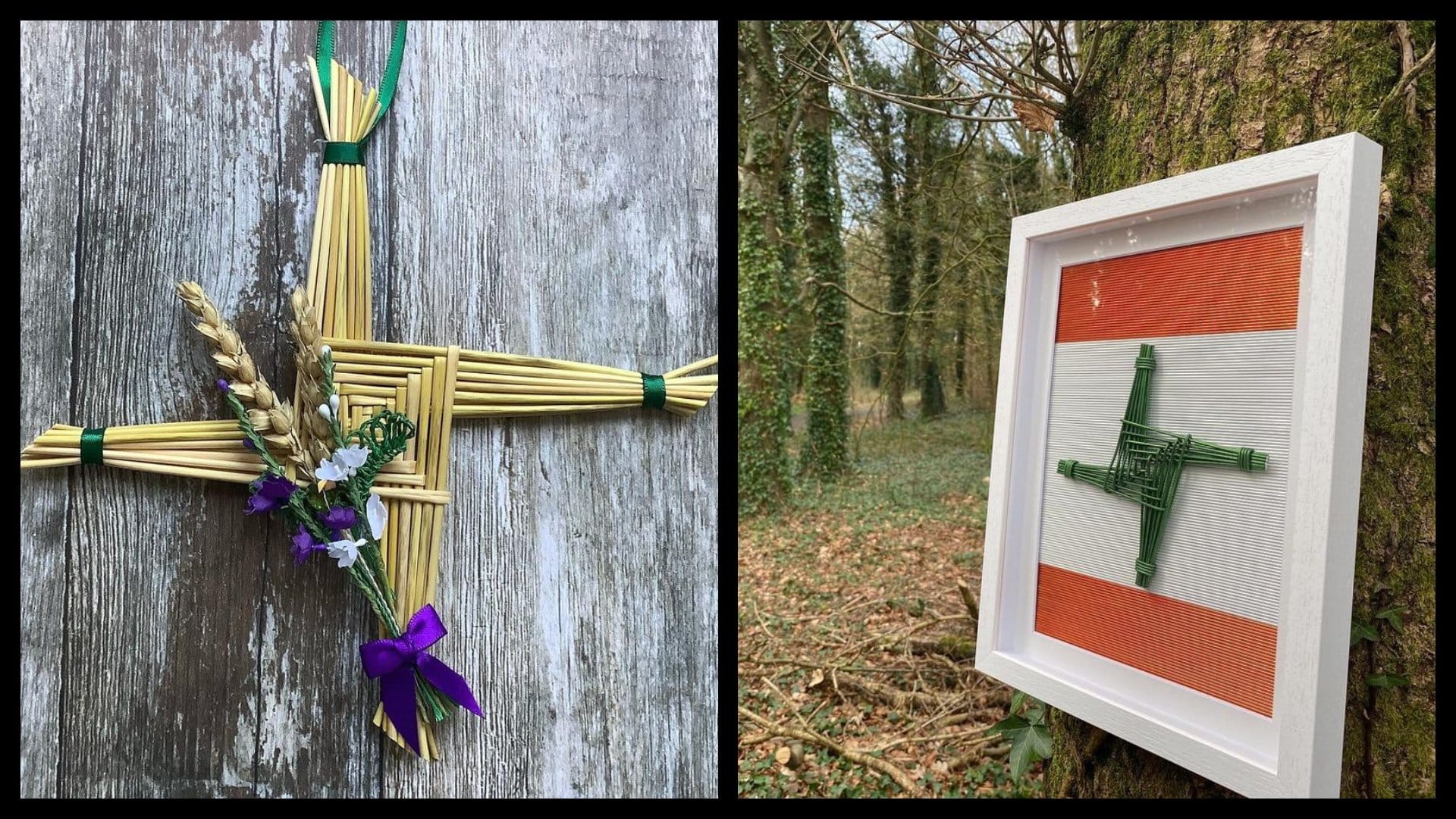 Ireland is known as the land of saints and scholars, painters and poets. Indeed, many famous names and artistic and religious icons are tied to our cultural heritage.
For many, the topic of St Brigid's Cross has come up at some stage in their life. But, how much do you really know about the woman in question?
And, more so, what's the story behind her famous cross?
Read on to discover all you need to know about one of Ireland's most well-known saints.
Meanwhile in Ireland's top facts about St Brigid:
St Brigid is also known as Mary of the Gael.
She is venerated in both the Catholic and the Eastern Orthodox churches.
Kilbride is one of Ireland's most common placenames: there are 45 Kilbrides in 19 of the country's 32 counties. Kilbride means 'Church of Brigid'.
St Brigid founded the first monastic settlement in Kildare in 480 AD.
Her feast day coincides with the pagan festival Imbolc: 1 February.
A bit of background – the history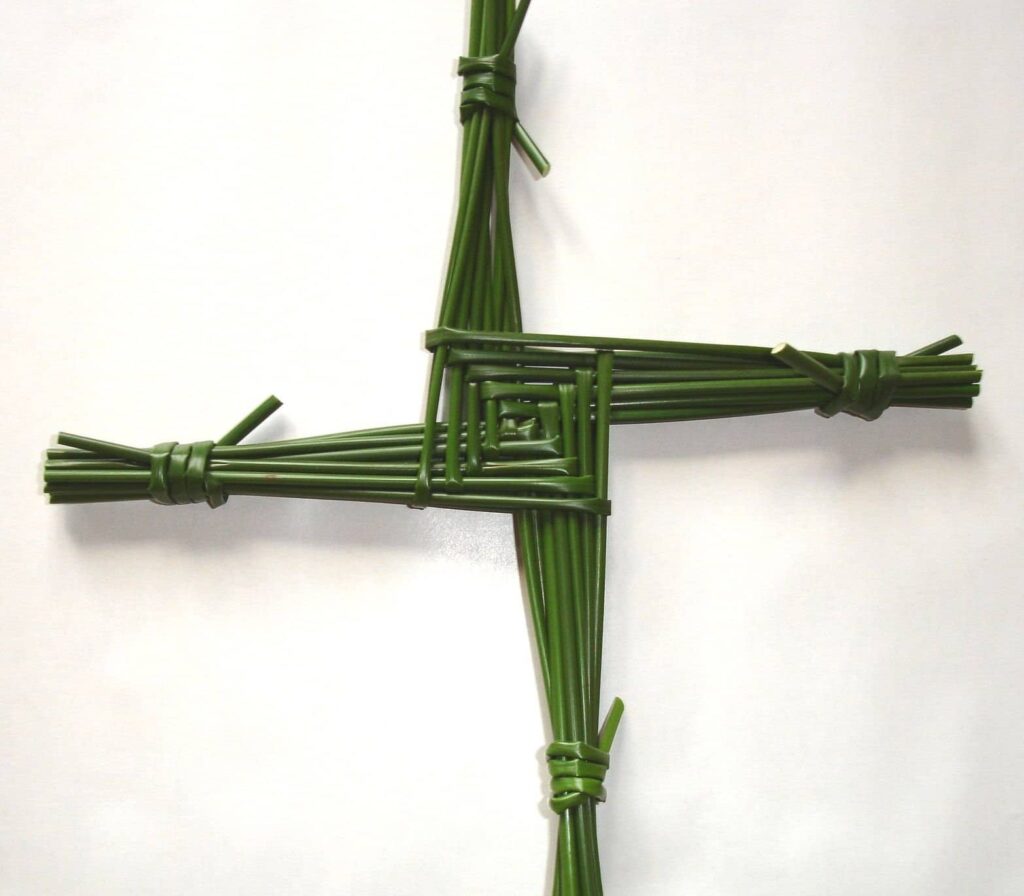 To kickstart our journey into the history of St Brigid's Cross, we'll begin with the basics. Many of us are familiar with the concept of an Irish saint, but what exactly that is or means may be more of a grey subject.
Irish saints were mainly active during the 4th to 10th centuries. Christianity was introduced to Ireland in the 4th-century. With that came Celtic Christianity and missionaries whose life purpose was to spread the word of God.
Some of the most well-known saints of Ireland include Saint Patrick, The Twelve Apostles of Ireland, and the woman in question: Saint Brigid of Kildare. The St Brigid's cross also features on our article on the Irish Celtic symbol for family.
RELATED READ: The Meanwhile in Ireland guide to Celtic regions.
So, who was St. Brigid? – founder of many monasteries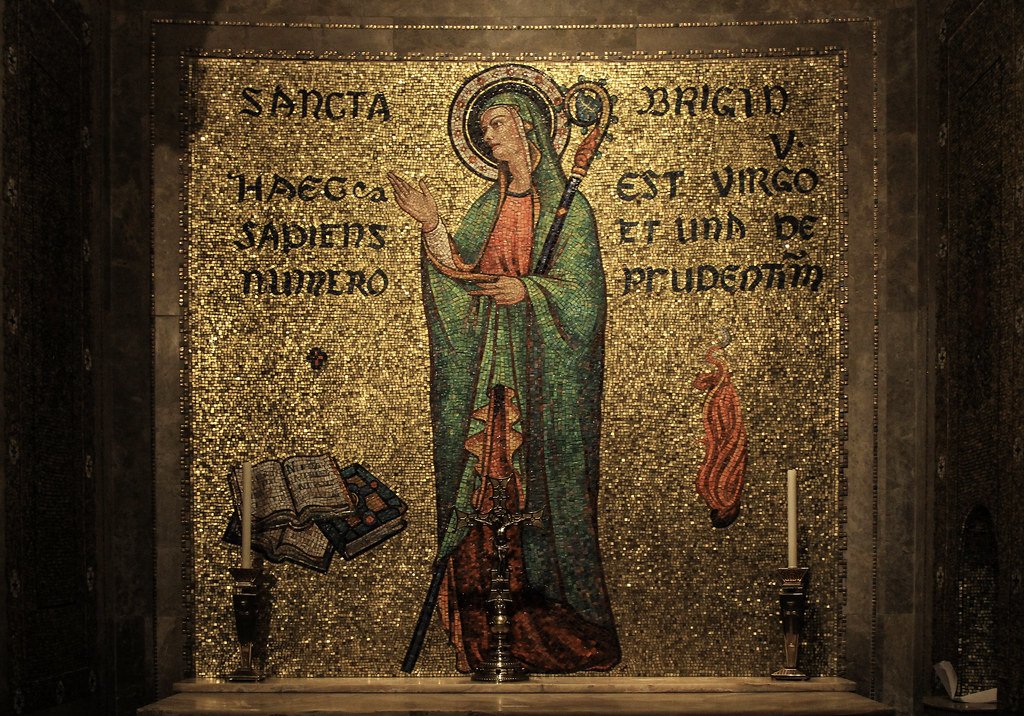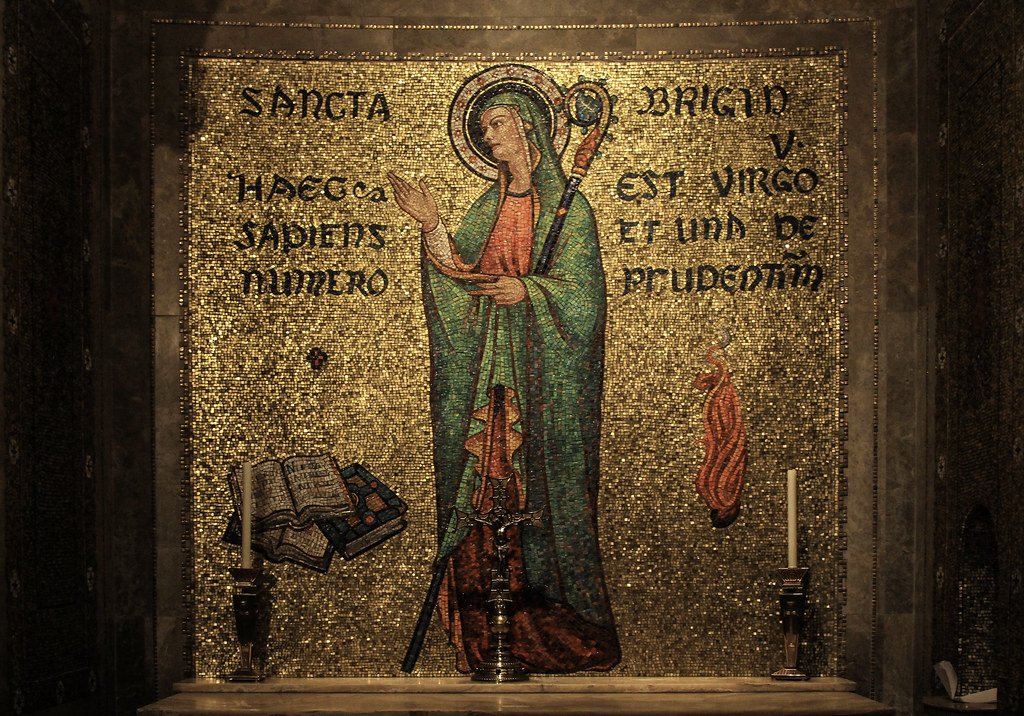 Saint Brigid (often called Brigid of Kildare or Brigid of Ireland), c. 451 – 525, was one of the most iconic early Irish Christian nuns.
She was responsible for founding many monasteries. The most respected and revered of all was in County Kildare – leading to her name, Brigid of Kildare.
Real or mythical? – two people with the same name
It must be noted that there is a genuine debate over whether St. Brigid was, in fact, a real person. This is because she bears the same name and characteristics of the Celtic goddess, Brigid – an icon of pre-Chrisitan, pagan Ireland.
In addition, the day of celebration to mark Saint Brigid falls on the same feast day for the Celtic goddess Brigid: the traditional Gaelic festival of Imbolc.
Scholars argue whether she was, in fact, a Christianisation of pagan beliefs or a real person who mimicked the goddess. Regardless, her life is well documented, and she remains a popular figure in Irish Christian history.
And what about her cross? – the iconic Irish symbol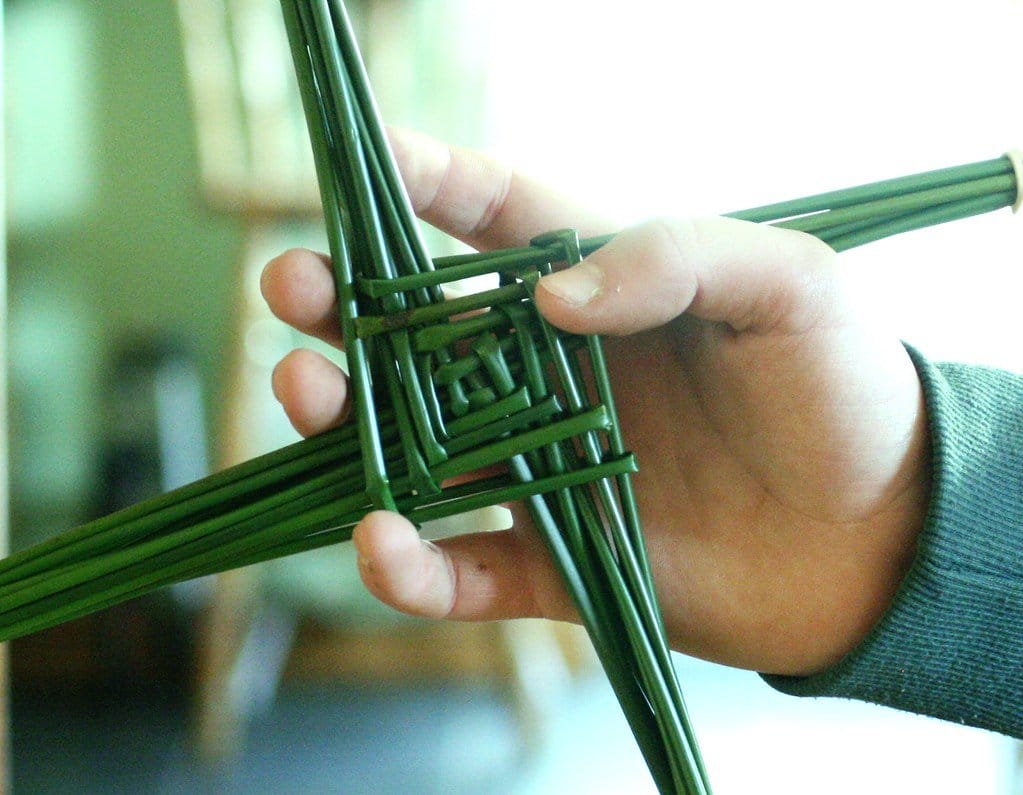 St Brigid's Cross is almost more popular than the woman herself. And, it is safe to say that most Irish kids will recall making a cross in primary school at one stage or another.
The famous cross synonymous with the saint is usually made from rushes – a grass-like plant found in Ireland.
A standard format for St Brigid's Cross is four arms tied at the centre with a woven square. However, three-armed St Brigid's Cross' have also been seen throughout history.
READ MORE: Our guide to ten Irish Celtic symbols and their meanings.
A unique backstory – how did St Brigid's Cross come to be?
Why, you may wonder, does this cross look different from most others. The story of how the first St Brigid's Cross came to be is an interesting one.
It is said that Saint Brigid sat at the foot of the death bed of either her father or a pagan lord, weaving this cross shape, unaware of its meaning. When it was brought to her attention what the cross symbolised, it was then that she asked to be baptised.
A tradition that endures – the first day of spring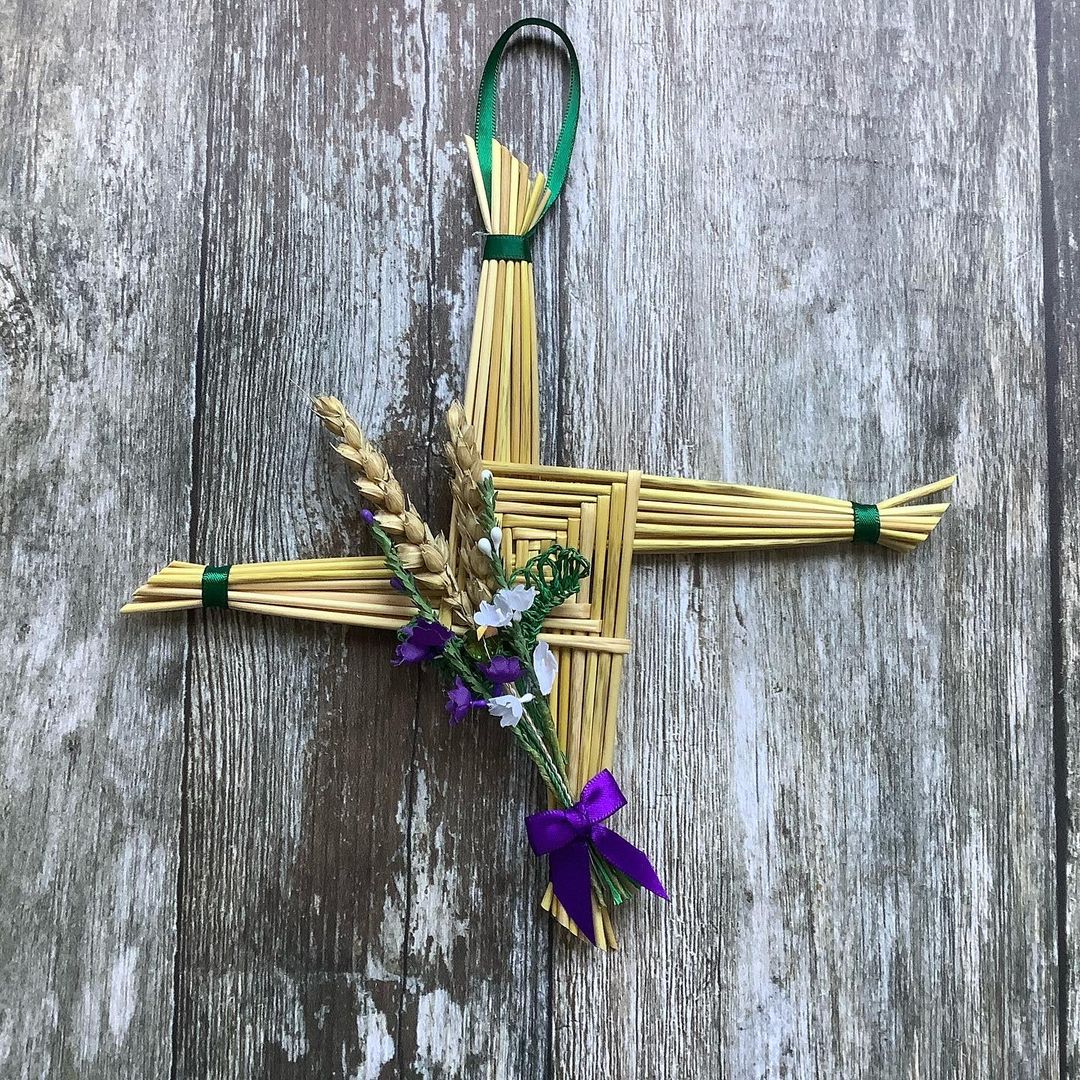 Traditionally, these crosses are made on 1 February, Saint Brigid's Day. This, as mentioned before, is also the pagan festival of Imbolc, which marks the first day of spring.
The crosses, once woven by hand, are hung above doorways and windows. The purpose of this is to protect homes from any evil or harm.
RELATED: The eight important and sacred Celtic holidays of the year.
St Brigid's Cross in a modern world – a symbol of Ireland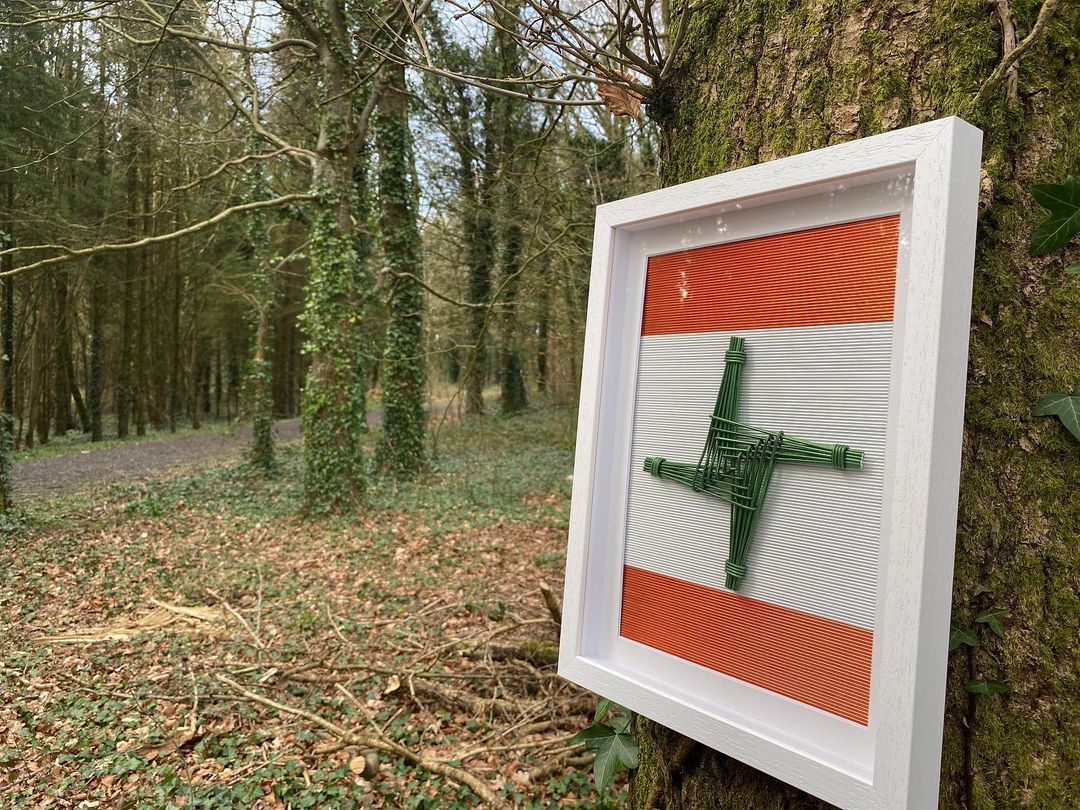 Irish Celtic and Christian heritage have had an equally significant impact on Ireland. Today, much like shamrocks or folklore, St Brigid's Cross is seen as a symbol of Ireland.
Saint Brigid's Cross has been so iconic in Irish culture that at one point, it was the symbol of the Department of Health and used as part of the brand visuals for RTÉ Television up until the 1990s. In addition, it is utilised in the logo of An Bord Altranais, the Irish Nursing Board.
Your questions answered about St Brigid's Cross
If you still have some questions in mind about St Brigid's Cross, we have you covered! In this section, we answer some of our readers' most frequently asked questions about the topic, along with some that appear often in online searches.
Where do you put a St Brigid's Cross?
You put a St Brigid's Cross over entryways to buildings.
What is the meaning of a St Brigid's Cross?
The St Brigid's Cross is said to ward off evil and illness.
What colour is St Brigid's Cross?
St Brigid's Cross is often dark green, though colours can vary.