For a proper Irish Christmas, stick to the classics. Here we have the top ten Irish classics that are always on TV at Christmas.
Are you and your family always fighting over the remote? You know what to do then, switch over to a timeless favourite.
Some may find it odd that most of the Irish classics on TV at Christmas are by no means festive. However, we know that Christmas brings nostalgia to Ireland.
Every December, we binge-watch the same shows and movies, and this year will be no different. Presenting the top ten Irish classics that are always on TV at Christmas.
10. Mrs Brown's Boys Christmas Special – one of the Irish classics that are always on TV at Christmas
Mrs Brown's Boys is an 'Irish Mammy' television sitcom starring comedian Brendan O' Carroll as the witty and sarcastic Mrs Brown.
The show comes out with a Christmas Special every year, and you can be sure to catch reruns of the show's previous Christmas specials, too.
Mrs Brown has captured audiences in Ireland, the UK, Canada, Australia, and New Zealand with her wild sense of humour and fun depiction of family life.
9. The Quiet Man – one of the top ten Irish classics that are always on TV at Christmas
While The Quiet Man is technically an American movie, we decided to include it on this list as it's every Irish granny's favourite.
The romantic comedy, set in the 1920s, follows the Irish-born ex-boxer Seán Thornton who returns to his birthplace of Innisfree to purchase back the old family farm.
It's an old favourite thanks to its luscious shots of the Irish countryside and a classic to spot on your TV this Christmas.
8. The All-Ireland Gaelic Football Final – watch it all again
Even though the All-Ireland Gaelic football final takes place in Dublin's Croke Park every September, you can be sure to catch the replay on your TV this December.
This comes as great news for some (fans of the winning team) and a nuisance for others (fans of the losing team).
This Irish classic that is always on TV at Christmas is sure to be met with either cheers or a mince pie thrown at the screen. You decide.
7. Agnes Browne – a tale of family and friendship
Agnes Browne is a romantic comedy-drama film. Set in 1960's Ireland, Agnes faces unimaginable grief when her husband and father to seven children dies.
An emotional movie about love and loss, Agnes Browne reminds us of just how strong and inspiring an Irish mammy can be.
The wonderful friendship between Agnes and her best friend Marion is the movie's highlight for us. Even in the darkest of times, that pair will keep you laughing!
6. Into the West – possibly the cutest Irish movie ever
From the creator of My Left Foot comes Into the West, an adorable and charming family movie that all 90s kids were obsessed with.
Into the West is a lovely magical realism movie in which two young traveller boys try to track down their stolen horse.
The film is full of magic and folklore, another one of the Irish classics that are always on TV at Christmas.
5. The Butcher Boy – not for the faint-hearted
Based on the award-winning book by Patrick Mc Cabe, The Butcher Boy is an Irish classic that is always on TV at Christmas.
It tells the story of Francie Brady, a schoolboy whose violent fantasies lead him to insanity as he tries to escape from his troubled home life.
The Butcher Boy is abundant in graphic scenes and whacky black humour. It's Father Ted meets Psycho, a dark movie with a stellar cast of Ireland's finest actors.
You might also recognise the famous singer Sinéad O' Connor and Fiona Shaw who plays Aunt Petunia in the Harry Potter movies.
4. Breakfast on Pluto – our favourite Cillian Murphy movie of all time
Ireland owns its fair share of heart-warming dramedies sprinkled with a touch of dark humour. Breakfast on Pluto fits this description perfectly.
It's another Patrick Mc Cabe creation that features the actor Cillian Murphy in what we consider to be one of his best performances.
Murphy plays a transgender woman growing up in a fictional Irish town. It's an amazing story of self-expression set against the backdrop of the 1990s political conflict.
3. Michael Collins – discover how Ireland gained independence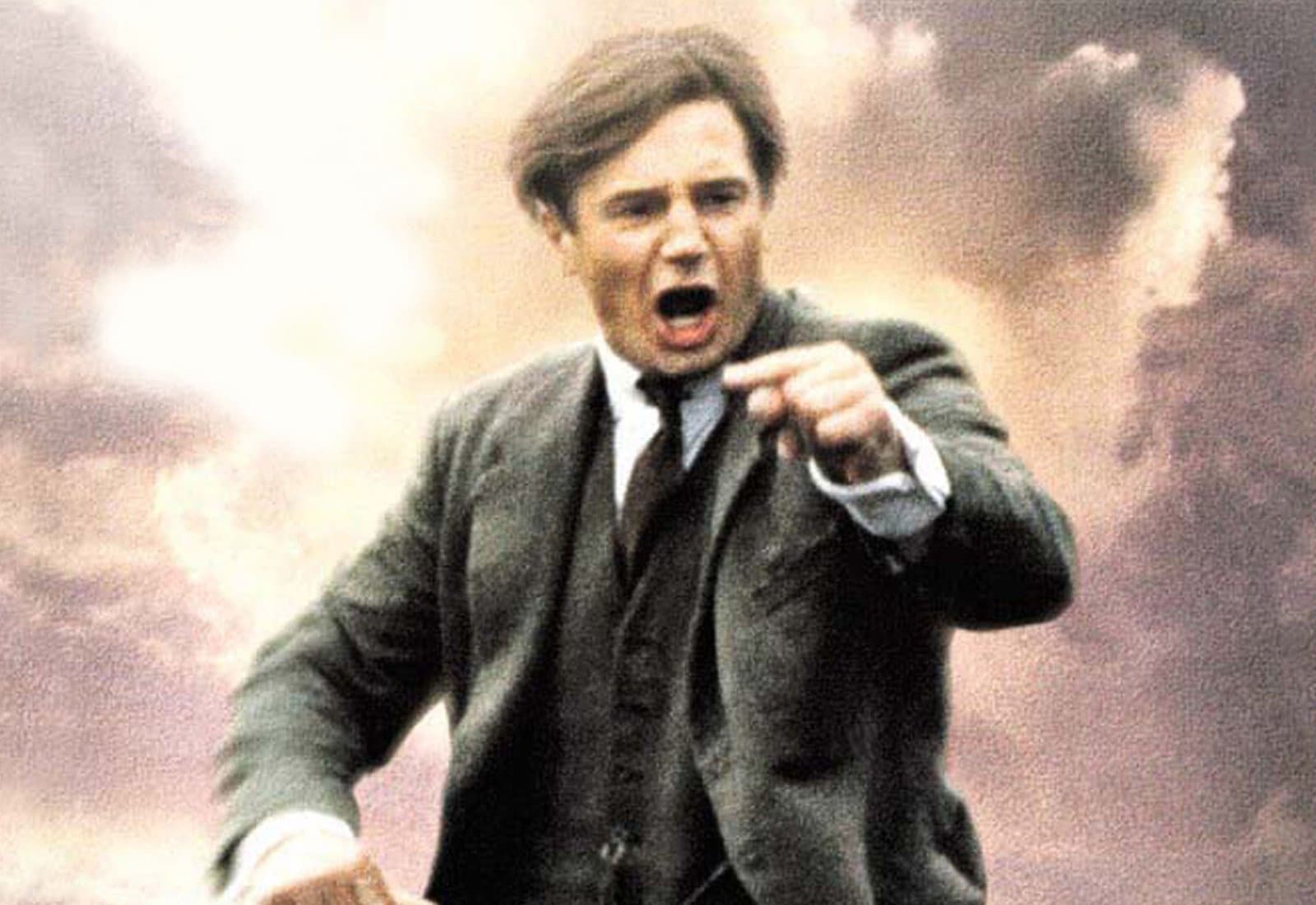 This movie is based on the real Irish soldier, politician, and revolutionary figure who played a central part in Ireland's early 20th-century fight for independence.
It is a true epic and another one of our Irish classics that are always on TV at Christmas.
What's more, it boasts an incredible cast. Liam Neeson, Julia Roberts, Brendan Gleeson, and Alan Rickman are just some of the actors who star in this film.
2. My Left Foot – it doesn't get much better than Daniel Day-Lewis and Brenda Fricker
My Left Foot, also known as The Story of Christy Brown, is a biographical comedy-drama film. It tells the story of Christy Brown, an Irish man born with cerebral palsy who can control only his left foot.
This movie was hugely successful after its release, with amazing performances by Daniel Day-Lewis and Brenda Fricker.
These two actors won the awards for Best Actor and Best Supporting Actress at the 62nd Academy Awards for their roles in My Left Foot. You won't want to miss it!
1. The Father Ted Christmas Special – from Ireland's funniest comedy series
Father Ted, the cult classic made by Channel 4, lights up our TV screens every year with its hilarious Christmas special.
In this episode, Ted is awarded the coveted golden cleric award for his outstanding contributions to the church.
However, trouble starts to brew when a strange new priest starts poking his nose around Craggy Island.
Watch Ted and the gang as they get lost in Ireland's largest lingerie section. Meanwhile, the traditional Mrs Doyle rages war against an ultra-modern tea-making machine.
It's Ireland's favourite Christmas classic!