There is so much to know about Irish cuisine. Here are ten mad facts about Irish food you never knew.
Irish food is so delicious, hearty, and comforting. It has made its way around the world, making people everywhere fall in love with it too.
There are lots of meals native to Ireland, such as the famous Irish stew or beef and Guinness pie. But there are also plenty of myths about Irish food such as some foods being mistaken as Irish when they are actually from somewhere else entirely.
We are here to set the record straight when it comes to Irish food, so here are ten mad facts about Irish food you never knew.
10. Corned beef is not Irish – a substitute for Irish bacon
We'll have you know that this so-called Irish food is actually an American invention.
In fact, it was invented by Irish Americans in the 19th-century as a substitute to the traditional Irish dish of bacon and cabbage. So don't expect corned beef and cabbage to be on the menu when you come to Ireland.
9. Irish beef – Irish beef in the Middle East
Irish produce is high quality and delicious, so it is no wonder it is distributed all over the world.
Irish beef is even served in the world's tallest building, the Burj Khalifa in Dubai. That makes us proud to be from Ireland!
8. Irish food is served worldwide – one of the facts about Irish food you never knew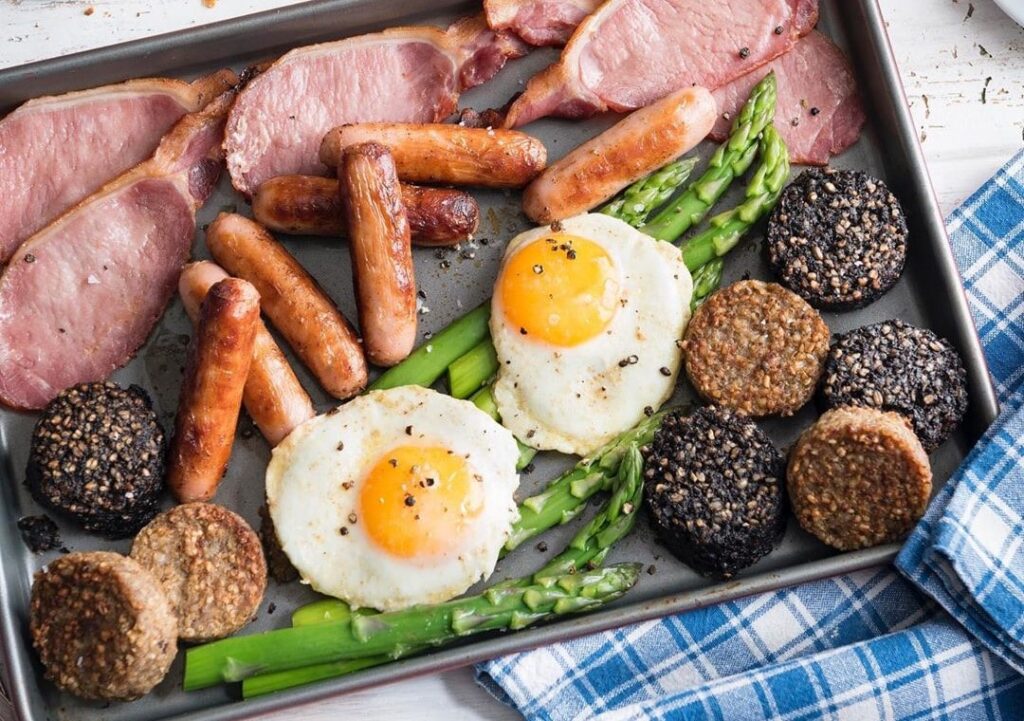 Although we have some unusual tastes, Irish food is actually eaten and enjoyed in 180 countries worldwide – now that's impressive. Almost world domination! 
7. Potatoes the Irish way – the skin is the most nutritious part
Unlike the U.K., potatoes in Ireland are generally cooked in their skin, with it only removed once they are served at the table.
The reason for this is to keep the nutrients in the food as long as possible – sometimes the skin is even eaten too.
6. The pig – we love our bacon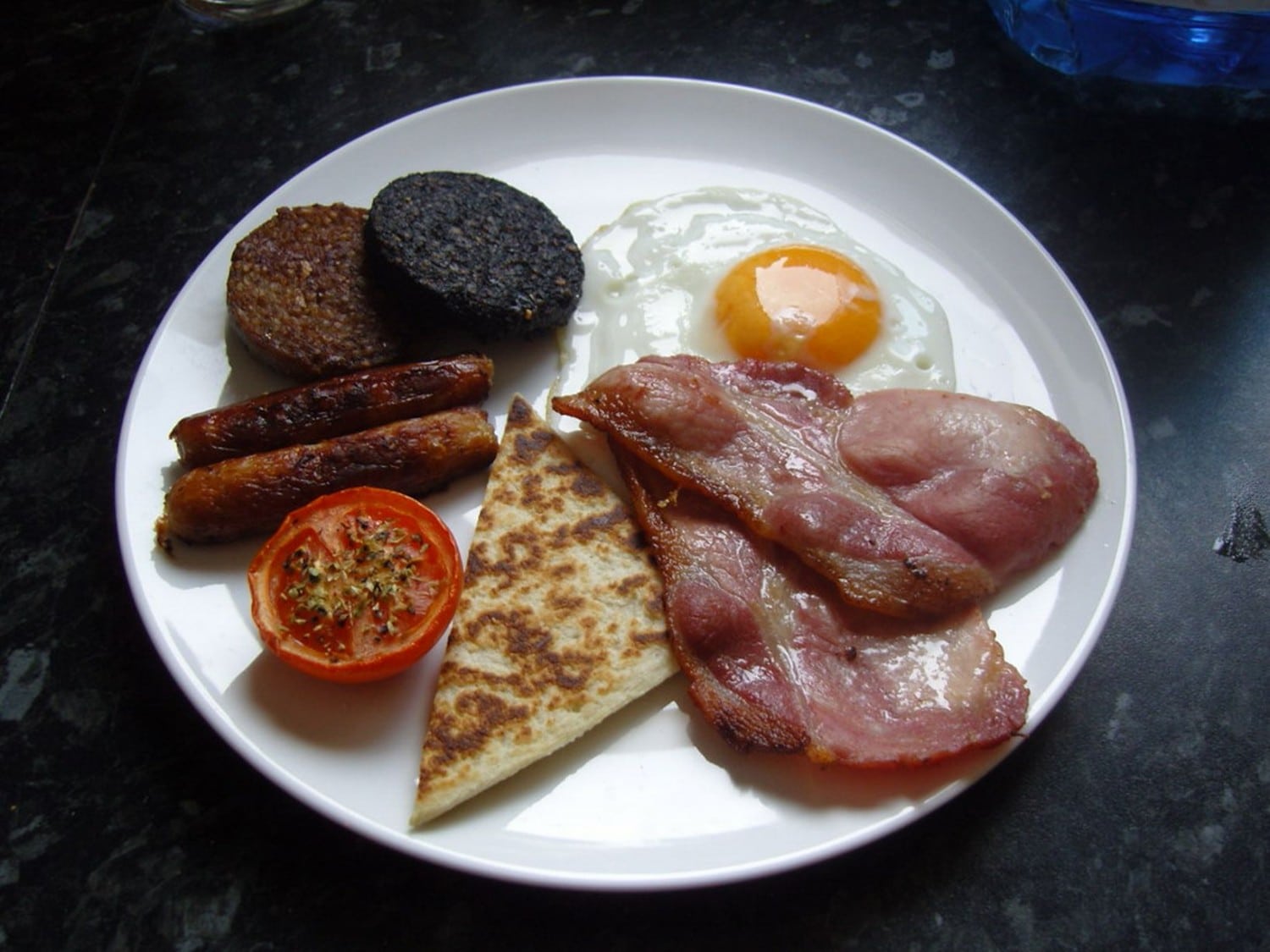 The pig is the oldest domesticated animal in Ireland, hence all the sausages, bacon rashers, and gammon we eat.
Traditionally, a typical breakfast included a variety of meat, mainly from the pig, as well as soda bread, porridge, juice, etc., and dinner usually consisted of some form of meat and potatoes.
This is still the same today, although meat consumption has slightly decreased as more and more people turn to plant-based diets.
5. Bananas – we're bananas for bananas
Irish bananas come from abroad – well obviously, because we can't grow them in a climate like ours.
But did you know that we are the largest banana importer in the whole of Europe? Who knew we loved bananas that much?
4. Irish cheese – ah becheesus
Back in the early 20th-century, Irish cheese wasn't that great considering manufacturers mass-produced it.
However, Irish cheesemakers returned to their artisan cheesemaking ways in the 1970s and Irish cheese is now world-famous for its distinctive flavour and quality.
Ireland makes around fifty different types of farmhouse cheeses, which are considered delicacies.
3. Food for Lent – oatcakes for everyone
Traditionally, during the 40 days of Lent, Irish people gave up anything that came from an animal, whether that be meat or dairy. Instead, they opted for other types of food to keep them going until lent was over.
The poorest people throughout Ireland ate only oatcakes for the entire 40 days –  thank goodness things have changed now!
2. We grow our own grapes – move over Italy and France
Grapes may not be traditional Irish food, but did you know that Ireland is actually home to five vineyards in Dublin, Waterford, and Cork?
Wine making can be traced back through Irish history for centuries as Irish monks would make wine to have at mass – so it's not entirely out of the ordinary.
1. Crisps – king of crisp flavours
Flavoured crisps were invented by an Irish man, Joseph 'Spud' Murphy, the man behind the Tayto brand.
It all began in 1954 when he created the now-iconic flavours Cheese and Onion, Salt and Vinegar, and Barbeque, and now there are endless flavours around the world. You're welcome!
So who knew Ireland was a haven for vineyards, or that we are the reason for the variety of crisps worldwide, or even that we are the largest importer of bananas in the whole continent?
Well there are lots more than just these ten mad facts about Irish food you never knew because, after all, the Irish cuisine goes back centuries and has been influenced by Celts, Vikings, and Britains.
The potato was once our primary source of food, and we loved it, and still do, but we certainly have many more food options these days.
Of course, many traditional Irish meals are still served with a side of potato, because we couldn't give up our favourite starchy vegetable that easily now, could we?