From online platforms to world-renowned courses and bookmakers, these are the five best spots to watch horse racing in Ireland.
Horse racing is an age-old sport that has captured the attention of punters from across the globe. It has been a common feature in culture since ancient civilisations, with the Romans and Greeks placing their bets on the most trained and tested thoroughbreds on the course.
Today, horse racing is as popular as ever, with world-class courses dotted around the Emerald Isle. If you're keen to learn more, read on! These are the top five best spots to watch horse racing in Ireland.
5. Punchestown Racecourse – home of the Hunt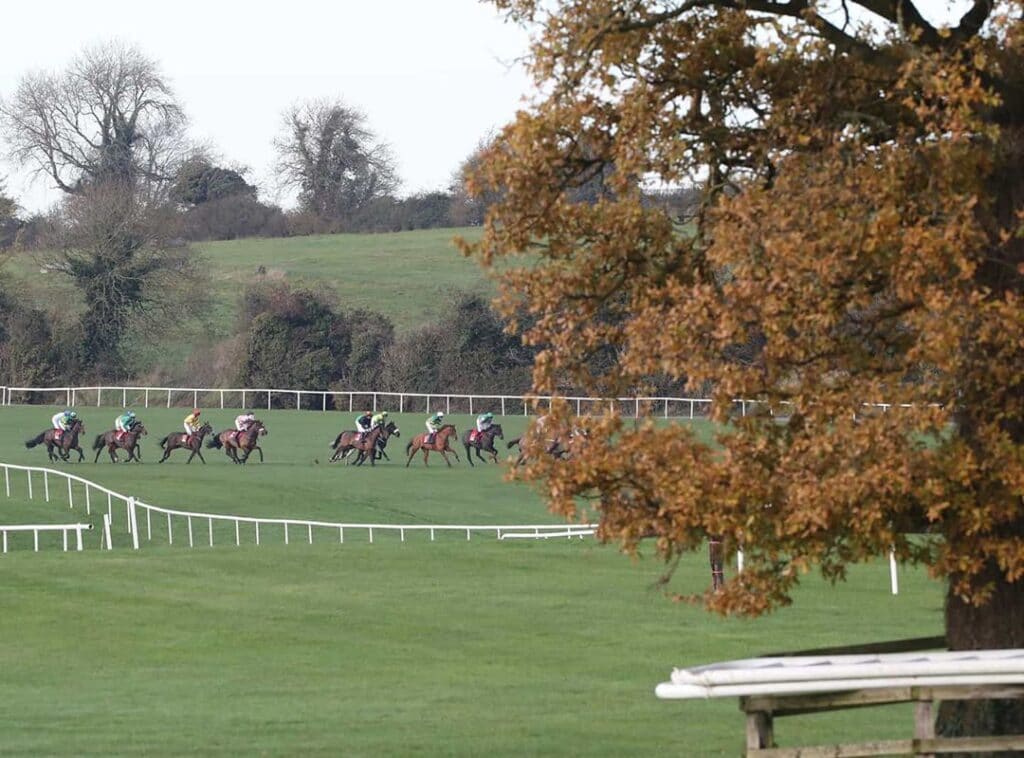 Punchestown Racecourse is one of Ireland's leading racecourses located in Naas, County Kildare. Often regarded as the 'home of the National Hunt', punters come from far and wide as this is one of the best spots to watch horse racing in Ireland.
Another medal of honour, which the course holds high is that it is also referred to as the 'home of Irish Jumps Racing'. Punchestown Racecourse consists of a right-handed racecourse with an undulating hurdle and steeplechase track.
A differentiating factor from other top Irish tracks is that it is the only cross country banks course on the Emerald Isle.
Address: Punchestown, Naas, Co. Kildare
4. William Hill – the best bookmaker
If you're looking to enjoy a local experience, one of the best spots to watch horse racing in Ireland has to be William Hill. With betting shops dotted around the island of Ireland, this is a great way to connect with local punters while testing your luck.
The reason some people prefer this betting experience is that it is simple and straightforward, with little planning required in order to enjoy a race. Forget busy courses and bustling crowds; horse racing is sorted effortlessly with the likes of William Hill.
Alternatively, should you wish to enjoy the races online, William Hill offers a trusty betting platform, which can be accessed on desktop or by its free app.
More info: HERE
3. Leopardstown Racecourse – for a course close to Dublin city
Leopardstown Racecourse is located on the outskirts of Dublin city – 8 kilometres (4.97 miles) to be exact.
With such close proximity to the capital, this racecourse has become a firm favourite with horse racing fanatics. Not to mention it is one of the best spots to watch horse racing in Ireland.
Hosting both the National Hunt and Flat racing, Leopardstown Racecourse's calendar sees about 22 meets per year. However, the cream of the crop at Leopardstown Racecourse is the Irish Champion stakes, which take place every September and is one of the World Series of Racing.
Address: Leopardstown Racecourse, Foxrock, Dublin 18, D18 C9V6
2. Racing TV – from the comfort of your own home
For those who are keen to enjoy horse racing from the comfort of their own home, we suggest you check out Racing TV – the leading channel for Irish (and British) horse racing.
Serving up 61 courses across the Emerald and the British Isles, any punter with any preferences is bound to be spoiled for choice. In 2019 alone, over 7,000 races were broadcast, making this one of the best spots to watch horse racing in Ireland.
In order to avail of all that Racing TV has to offer, you must become a member. There is a range of options to suit your needs such as a monthly pay-as-you-go membership (€31/month), an annual subscription (€370), or a one-off day pass (€10).
More info: HERE
1. Curragh Racecourse – for the finest Flat racecourse
Taking first place on our list of the best spots to watch horse racing in Ireland has got to be Curragh Racecourse in Newbridge, County Kildare.
A target for thoroughbreds the world-over, horse racing enthusiasts come from far and wide to catch a race on this impressive course.
Although the first official race took place on its grounds in 1727, it is understood that the site was home to the sport long before that, making it a true cornerstone of the Irish horse racing community.
The track itself – which hosts all five Irish Flat Classics – is right-handed and consists of a demanding uphill finish that will test even the most established of horse and jockey duos.
Address: Newbridge, Co. Kildare, R56 RR67
Legal Disclaimer
We cover articles relating to many activities. Some of our articles showcase gaming and gambling as activities. While we do not take money for bets or own any gambling venues, we feel it is important that our readers know the risks of such venues or sites that we may mention in our articles. Gambling involves risk. Please only gamble with funds that you can comfortably afford to lose. See our legal disclaimer for more info.