An eighty-eight-year-old County Kildare man has claimed that 15 pints a day is the secret to a long and happy life.
The retired farmer and cattle dealer, Dennis Joseph (Dinny Joe) McNamara, made the sensational claims this week in an interview with Meanwhile in Ireland News.
Claims Substantiated
An article in the Lancet medical magazine appears to support the claims made by an eighty-eight-year-old County Kildare man and may promote new research investment into pintman longevity.
The Lancet is the world's most prestigious peer-reviewed general medical journal. It is among the world's oldest, most prestigious and best known general medical journals.
The article by Stanford Professor Richard Makingstuff substantiates the claims made by a County Kildare retired farmer and cattle dealer Dennis Joseph (Dinny Joe) McNamara.
It claims that there is significant evidence that pint-men in Ireland live long and happy lives.
A Horse of a Man
McNamara at eighty-five still lines out for his club's senior football team, is a regular the local disco and is reputed to be a "great hand at pulling a stubborn lamb from the innards of a lazy ewe."
As one local put it "Be God, but he's a horse of a man for his age, God bless him."
Professor Makingstuff and members of his team visited Ireland last summer after reading reports of McNamara's extraordinary lifestyle.
O'Sullivan's Bar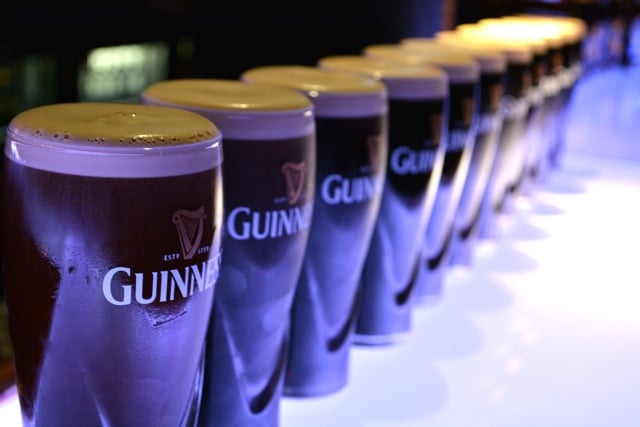 MeanwhileinIreland News caught up with McNamara in O'Sullivan's bar two miles out of Kildangan.
"I don't put any great store in all these fancy diets," he told us.
"Nuts and berries are for God's birds. I once spent the few nights with one of those vegan wans, be Jaysus she was hot-to-trot but there was nothing to huld on to. Shur, I nearly fell off her the once.
No!" he exclaimed, "for me, the only healthy diet is the fifteen pints here in O'Sullivans of an evening and a bag of curry chips from the chipper next door on the way home.
I find the chips great for soaking up the alcohol and if you order a big heap of curry it fools the breathalyser. That new guard is a terror." He finished.
The Picture of Health
McNamara is a picture of health. His rosy-red face is complemented by a bulbous purple-veined nose symptomatic of a blood pressure way off the Richter scale.
However, his dress sense leaves a bit to be desired. "I've often been accused of wearing mismatched shoes," he told us.
"The problem — a consequence of the pints — is as they say 'a well-developed gut,' it's been years now since I last had sight of me feet." he lamented as he continued to prop up the bar.
Love and Marriage
On the notion of marriage McNamara was philosophical. I've a few good years left in me yet." He told us.
"Me own father was about eighty-five when he met me mother. She was a slip of a thing from Clare — a decent hard working woman. I suppose I'll have to think about it eventually. But I'm telling you now, it will be a simple wedding affair. I'm not a great man for wasting money."
It has been calculated that taking an average price of €1.5 for a pint over the seventy or so years of drinking, Dinny Joe has spent upwards of €650,000 on pints.
Lifetime Achievement Award
No!" He continued, "I've been drinking the fifteen pints a night now for seventy-six-years. I had me first pint here in O'Sullivan's on the night of me thirteenth birthday and haven't missed a night yet.
I suppose between the pints and the curry chips I live a good clean life."
A spokesperson for Guinness confirmed that a lifetime achievement award will be presented to Dinny Joe at a ceremony to mark the occasion over the next month.
The Royal College of Surgeons declined to comment.
Disclaimer
This article is satire. We do satire articles because it is great craic and Irish people love it! Articles in this section are spoof articles which should not be taken as the truth, nor are they are intended to offend.