Eric Luke's career in photojournalism spans almost five decades. Working for the Irish Times, Eric has covered major news events including World Cups, Olympic Games and other news and feature stories both in Ireland and worldwide.
Winner of the Irish Press Photographer of the Year Award, Eric has also been awarded the World Press Photo News Award to add to his illustrious success.
In this interview, Eric talks to journalist Ger Leddin about another side to his work, that of photographing some of Ireland's largest music events and takes us behind the scenes of events that many of us may have attended.
Ger Leddin: Eric, can you list some of the big acts you would have photographed?
Eric Luke: While I never really specialised in gig photography I would have photographed a lot of acts in the context of news — especially when they crossed over from entertainment to news value.
I would have photographed U2 on their first The Joshua Tree Tour in 1987 and again thirty years later on the second Joshua Tree tour.
Of course. Bob Marley on his last live gig ever in Dublin, then there was Christy Moore, The Boomtown Rats, The Rolling Stones, David Bowie, Queen and of course Springsteen. Of course, they're just of the top of my head there were many others.
GL: What would have been your favourite venue?
EL: Well, usually it was about access, not the background. In those days I would go along to weekend gigs at places like the Carlton on the National Stadium where you could walk right up to the stage and stay as long as you wanted.
In later years when venues like Slane, Lansdowne Road and Croke Park opened up it became a lot more controlled.
GL: Who would have been the easiest act to photograph — or the most vibrant on stage?
EL: I'd say Rory Gallagher. He was very relaxed and conscious of photographs being taken — I suppose, I mean he was very relaxed and into his music.
Nowadays everything is about image whereas Rory was just into his music and relating with the crowd. With him, you really couldn't fail, to be honest.
GL: Who were the most difficult or most petulant stars you photographed?
EL: Oh, it had to be the Rolling Stones. I was working for the Irish Press at the time and the picture editor sent four photographers to the gig in Slane.
I drew the short straw to stay in the crowd while everyone else was taken up to the Castle and treated royally. After an hour or two, I worked my way to the front of the crowd. Then the other photographers were told that no pictures would be allowed.
Thanks to the foresight of my picture editor I was in the right place at the right time and got good shots while all the other photographers were stuck at the back of a crowd of about eighty-thousand. I thought I would have the most boring shots but in fact, it was a very fruitful day.
GL: Who was the biggest star you photographed?
EL: Oh, it had to be Bob Marley, I wasn't a particular fan but I must say I was blown away by this guy with the dreadlocks and a great band.
It was a beautiful afternoon in Dalymount with a very small number of people turning out. Now he would fill Croke Park five times over. But he was one of the greatest to photograph.
I also spent a lot of time concentrating on his dreadlocks trying to get an image; don't forget we are talking about nearly forty years ago.
GL: Were you ever treated badly by an act?
EL: No not me but a colleague told me he was working at a gig by a very famous American female performer who allowed the photographers to photo just the first three numbers and as the photographers were leaving a spotlight was shone on them and she said to the crowd; "Right, now that the scum bags are leaving we can get on with the show."
But the best had to be U2. They were always very respectful to photographers even to the extent of providing lockers for our equipment so that when we were finished after the first three numbers we could stay and enjoy the show.
Now, they are very conscious of the background, be it verbal or images — what is on the screen behind them. But they have always been very good to photographers.
GL: Have you ever become friendly or got to know any of the celebrities that you've photographed?
EL: God, that's a hard one. Can I give you an example of how nice some of them can be? Years ago before camera phones, I used to go to my local for a pint after work. I'd just drop the cameras in the corner and relax for a while.
One time it was a fine summer evening I got a tap on the shoulder and a friend of mine, Des O' Brien, told me that his hero Martin Sheen was just down the road filming a scene for a movie that was been shot in Dalkey. It was Hugh Leonard's Da, and would I ever go down and take a picture of him.
I told him I didn't do that sort of thing but if Des asked him, I'd do it. Anyway, Des went off and came back fifteen minutes later and said that Martin said ok with being photographed.
I spent about twenty-minutes taking shots of Des and his hero but I do remember how obliging Martin Sheen was, smiling and waving and taking time out of a busy schedule just to please a fan.
GL: What was your most difficult assignment or were there any that went pear-shaped?
EL: No, not really in the entertainment side of things. Ok, you had the times when you were promised access but it was denied at the last minute.
There was one time in general news work when it got scary. My self and another photographer were working in the North of Ireland during the seventies, waiting for a riot which was rumoured to be about to happen. There was a French film crew there as well.
It was on the Falls Road when all of a sudden, a group of IRA members came around the corner doing a show of arms. I remember being held up against the wall by a girl with a gun held against me while someone else went through my credentials. It ended well but it was scary.
In Ireland, there has always been respect for photographers but that's changing now. Often our photos can be used in court and I suppose some people don't realise that photographers are impartial and they are at times subjected to violence themselves, especially in Europe.
GL: What advice would you give to aspiring photographers who want to get into music or concert photography?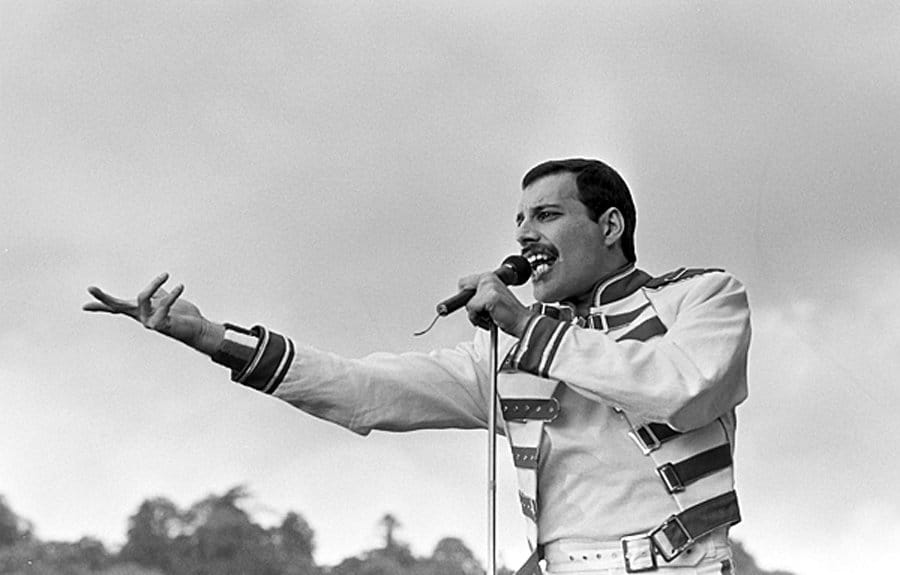 EL: I found that the access now is so difficult; I do very little of that now. I'd advise them, assuming they were technically proficient, just to get to know the handlers are the artists themselves and build up a trust. If you get good access you'll get some really good pictures.
Pictures off stage are much more important than pictures on stage which can be replicated anywhere. Try to include a background that shows the artist in a location.
Our thanks to Eric Luke for giving us his time.