8 of the most embarrassing and controversial Irish political gaffes of all time.
In this feature, Journalist Ger Leddin looks back at some of the most cringe-worthy gaffes made by Irish politicians and the Irish political system over the past few years.
I suppose in a way we Irish are fairly lucky when it comes to our political leaders and the gaffes they might make. I mean, just look across the Atlantic and the gaffes that have emanated from the White House over the past few years.
But we like all other nations have politicians and politicians are only human! And as Alexander Pope said, "to err is human."
So let us take a look back and recount a few of those more notable Irish political gaffes.
1. Charlie and the shirt factory
One night during 1980 former Taoiseach Charles Haughey appeared on a televised broadcast to the nation appealing to the public to as he put it "tighten our belts."
This was in response to the cruel and tough economic recession that Ireland was then experiencing.
But what our then leader didn't tell us was that he had got into the habit of spending thousands of euros annually on the purchase of French designer-shirts.
It emerged in evidence at the 2001 Moriarty Tribunal that there was £15,832 paid in one particular year from the then Leader's Allowance Account to the Paris based Charvet shirt company.
2. Enda and the N-word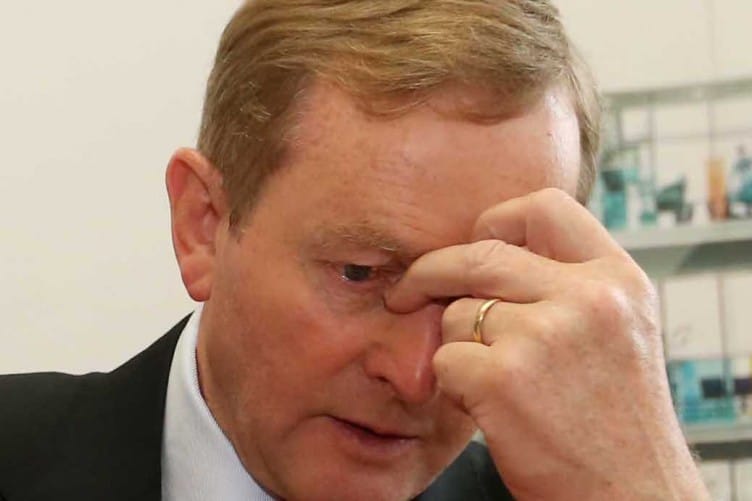 As you will see when you read on, former Taoiseach Enda Kenny is no stranger to putting his political foot in his political mouth on the odd occasion.
One such occasion occurred in 2002. Kenny was on holiday in Morocco, which as you know is on the African Continent. While looking through the drinks menu as you do. Kenny notices that one of the cocktails on offer is called a Lumumba named after referencing African liberation hero and former DR Congo Prime Minister Patrice Lumumba.
When a companion of Kenny asked who the drink was named after Kenny comes out with his witticism," some n****r who was killed in the war," much to the embarrassment of those in his company.
Of course, the Irish press soon picked up on the gaffe and it received substantial coverage in the Irish media.
To make matters worse some of Lumumba's remaining family were living in Dublin at the time and were less than impressed by Mr Kenny's tact.
3. Mary O' Rourke and working like blacks
The use of racial slurs is not confined only to one side of the Dáil. Former Fianna Fail minister Mary O' Rourke also put her dainty foot in it when she referred to her campaign workers as "working like blacks."
Mary was speaking publicly at an event and wanted to thank her support staff for their hard work. Unfortunately, her choice of words failed her but at least she did have the grace to apologise after her remarks were widely reported.
4. Enda phones home
As mentioned in 2 above, Enda Kenny is no stranger to the occasional gaff but this time he really outdid himself.
In September 2012 the then Taoiseach Enda Kenny along with other European leaders was present at a small audience in Rome with Pope Benedict. A video showing Enda — while sitting in the front row — browsing his smartphone subsequently went viral.
At one stage during the video Enda can plainly be seen paying more attention to his touch-screen as the other political leaders applaud the Pope's remarks.
Of course, back home Enda was accused of behaving discourteously as Pope Benedict XVI made the address. Enda had no immediate comment to make, sticking to the tried and tested political maxim, whatever you say, say nothing.
See the video below:
5. Poor Pádraig Flynn
If you're going to make a political gaffe you might as well go the whole hog and make it on the nation's most popular chat show. This is what former minister and EU commissioner did when he was being interviewed by Gay Byrne on the Late Late Show back in 1999.
Padraig was laid-back and relaxed while talking to Gay about the difficulties he faced keeping up with the expenses involved with being a politician.
"I get, give or take, it works out at about, with expenses IR£140,000 a year, and I pay 30.3% tax on that so it's about net about £100,000 and out of that £100,000 I run a home in Dublin, Castlebar and Brussels.
I wanna tell you something….try it sometime — the cars, the three houses…and a few housekeepers"
As you can imagine these comments didn't sit very well with an Irish public who were struggling to cope with a major recession.
But that wasn't the end of it, Pádraig who kept digging the proverbial hole deeper and deeper.
Flynn went on to make a verbal attack on businessman Tom Gilmartin, who was said to have made a donation of €500,000 to the Fianna Fail coffers intimating that Gilmartin may not be the most emotionally stable of men. The remark was heard by Gilmartin who unknown to Flynn was actually watching the live program at his home in the UK.
These remarks hurt Gilmartin, who was also annoyed when Flynn brought the illness of his wife into the attack. Gilmartin retaliated by releasing details of meetings he held with Flynn and where the questionable donation was alleged to have been made to the attention of the McCracken Tribunal. This opening of a can of worms was seen as the end of any advancement to Flynn's political career if he was to re-enter Irish home politics.
See a news report about the matter below:
6. The Electronic Voting System Farce
There is a very old but true adage that goes "if it ain't broke don't fix it." But that's exactly what the Fianna Fail government tried to do back in 1999, although it has to be said that the main opposition parties were also behind the plan.
The then minister for the environment Noel Dempsey commissioned a feasibility study on the use of electronic voting machines during the European and local elections of that year; the system was used on trial bases in the national elections of 2002 in just three constituencies.
The Department then proceeded with the scheme to introduce electronic voting for all elections and the machines were bought at a cost of €51 million from Dutch firm Nedap for use in the 2004 European and local elections.
Of course, Ireland being Ireland and politicians being politicians an argument that there were security concerns about the voting machines and that there would be no paper verification of the results soon began.
This argument was promoted by the opposition parties who now had changed their tune from one of support back in 2002.
Now, remember that the government had already spent €51million on these machines so they did what Irish governments do — when in doubt set up a commission of enquiry, to pass the buck to.
Anyway, the commission reported back in 2006 basically saying that they could not stand-over integrity of the machines and the whole idea was scrapped. Again remember that these machines were laying in some fourteen warehouse storage facilities around the country at a cost of more than half a million a year.
Then in July of 2012, the then government decided to not only scrap the ill-conceived idea but to also scrap the machines.
A fleet of trucks travelled the country picking up the now redundant hardware and each of the 7,500 units was sold for a scrap value sum of €9.30 each, realising €69,750 for the state coffers. Not a great return from an expenditure of millions. Surely a bit of a gaffe?
7. Willie O'Dea "go ahead punk, make my day."
In November 2005 Limerick politician Willie O'Dea was Minister for Defence and as such, he visited the Curragh Army Camp home of the special service regiment the Ranger Wing.
I suppose boys will be boys even if they are appointed cabinet ministers and Willie let his boyish fantasies loose and allowed himself to be photographed in Clint Eastwood fashion staring down the barrel of a pistol which he was pointing at a photographer.
Not a great gaffe you might think but remember Willie's hometown, Limerick was experiencing a terrible spate of gangland and gun-crime at the time and innocent members of the public had been shot and killed and Willie's actions were criticized as been unwise and unthoughtful and also to glorify gun crime.
Willie in fairness to him apologised and rode out the storm. However, the photograph will follow him to the grave.
8. F**k you Deputy Stagg!
Last but not least, is a crazy incident from the Dail. On 11 December 2009, during his contribution to a debate in the Dáil on the Social Welfare bill of the 2010 budget, Paul Gogarty TD said to Labour Party TD Emmet Stagg: "With all due respect, in the most unparliamentary language, f**k you Deputy Stagg! F**k you!"
He immediately apologised to the House for his use of unparliamentary language, which was criticised by Deputy Lucinda Creighton, who demanded his suspension.
The incident was referred to a sitting of the Dáil committee on procedure and privileges when it emerged that "f**" is not included among the list of forbidden words set out in the Salient Rulings of the Chair, the document which regulates the behaviour and conduct of TDs.
Gogarty later clarified that the outburst was totally unintentional and not premeditated as some had suggested.
He also said that the outburst had to be taken in the context of his contribution during the debate that day as well as a very turbulent and heated debate the previous night.
Watch footage of the incident here: