Ireland, the land of saints and scholars, has produced a huge amount of talent. From artists to poets, we give you the history of the Yeats family, revealed.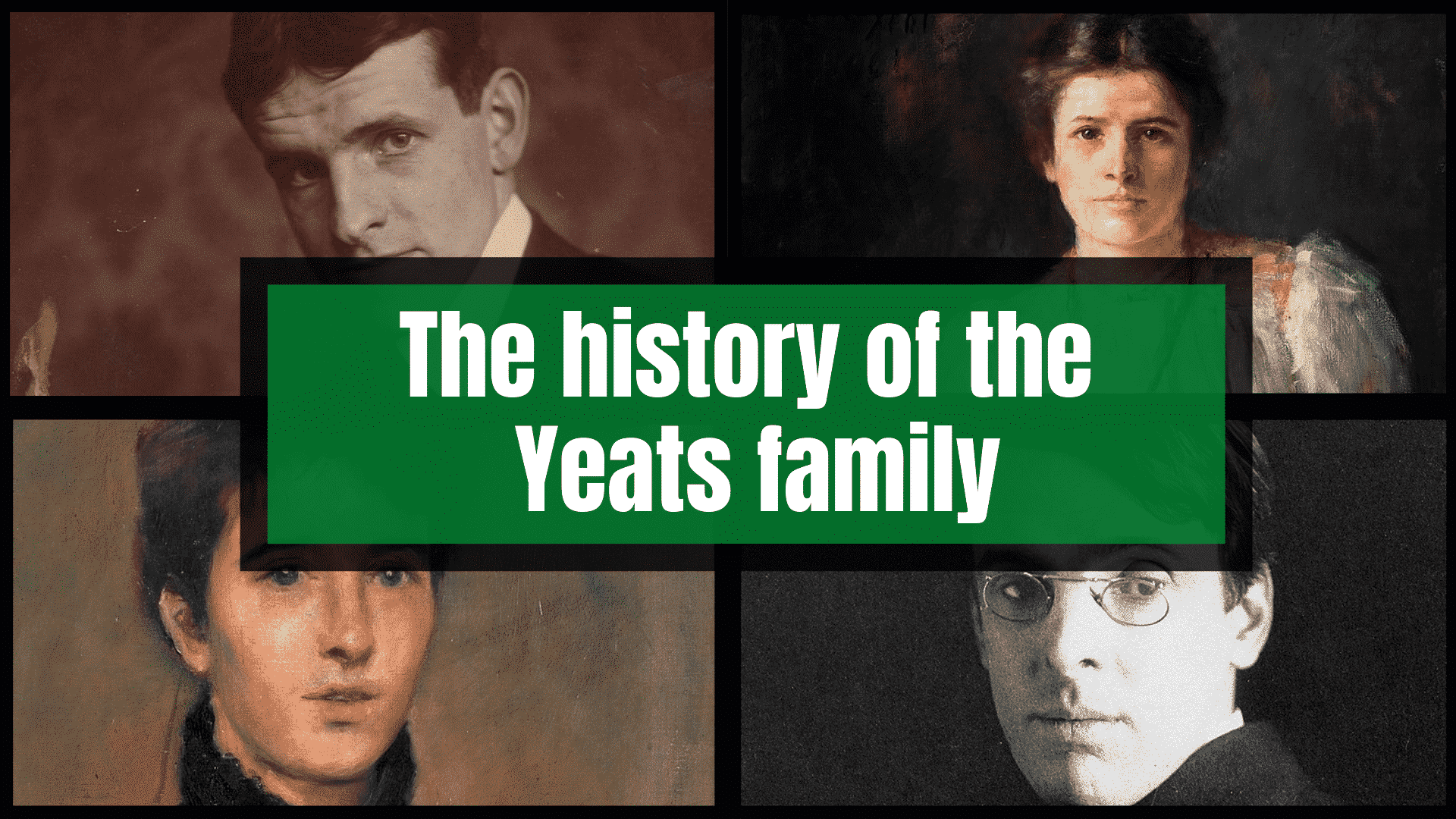 In the late 1800s in Sligo, Ireland, there lived four siblings, all gifted in talent and ambition. Their father, John Butler Yeats, had been a famous portraitist.
His two daughters, named Elizabeth and Lily, were masters of crafts and embroidery. They worked together to establish the Dun Emer Press, Ireland's first commercial printer to work exclusively with hand presses.
Jack B. Yeats, the youngest of the siblings, would become Ireland's most celebrated painter. Meanwhile, William B. Yeats earned his name as a renowned poet, dramatist, and prose writer.
The name 'Yeats' strikes a chord with everyone in Ireland. Whether through a poem or painting, this family has immortalised the beauty of Ireland's past.
Let's explore this vision now as we reveal the history of the Yeats family and the art that lets them live forever.
The Yeats sisters – a powerful team
Elizabeth Yeats, known for her work as an art teacher and publisher of books, first enrolled in the Dublin Metropolitan School of Art along with her sister Lily in 1883.
By the year 1900, Elizabeth Yeats had worked as a teacher and published a homemade magazine and several painting manuals.
Lily Yeats had a similar interest in arts and crafts. She was an artist well-known for her stunning embroidered pictures. However, she faced unimaginable illness and hardship throughout her life.
She fell ill as a child and spent a few years living with her grandmother in Sligo. She fell ill again in 1881 and was sent to live with relatives.
Years later, she contracted typhoid while working as a Governess in the south of France and later was believed to have tuberculosis.
Even with the burden of illness on her shoulders, Elizabeth Yeats led a successful career as an embroiderer and co-founder of Dun Emer Press.
Jack Butler Yeats – the beloved artist
Not only is Jack B. Yeats one of Ireland's most famous painters. Rather, he also owns the title of first Irish medallist to appear at the Olympic Games.
Yeats' painting, The Liffey Swim, won a silver medal in the arts and culture section of the 1924 Paris Olympic Games. He is best known for his expressionist style that he developed in the 1920s.
His paintings are playful and full of colour, depicting the Irish landscape, horses, the circus, and travelling players. They are unique for their use of bright primary colours and thickly applied paint.
William Butler Yeats – a colossal name in Irish poetry
The poetry and works of W.B. Yeats continue to be analysed in schools all over Ireland as one of the best Irish poets of all time. Love, pride for Ireland, mythology, age, and death star as common themes in his poems.
Like his sisters, W.B. Yeats attended the Metropolitan School of Art. As a 17-year-old, he began writing his first works, taking inspiration from Oscar Wilde, Irish mythology, and folklore.
During his lifetime, Yeats helped to found the Abbey Theatre and won the Nobel Prize for literature in 1923. Find out where he ranks on our list of the best Irish poets of all time.
Yeats and spiritualism – a dark fascination
Interestingly, W. B. Yeats demonstrated a life-long interest in the occult. In 1911, he became a member of the paranormal research organisation named 'The Ghost Club'.
Fascinated by mysticism and spiritualism, Yeats focused a lot of his later poetry on the subject.
From 1912 onwards, Yeats attended several séances and even allegedly encountered a spirit that claimed to be his demon.
Yeats and Maud Gonne – a story of unrequited love
One of the most intriguing aspects of the Yeats family history would be the relationship between W. B. Yeats and his muse, Maud Gonne.
In 1889, Yeats came across the English heiress Maud Gonne who had admired his poem 'The Island of Statues' and wished to meet him. However, Yeats became obsessed.
He was enthralled by Maud Gonne, who inevitably had a lasting effect on his life and poetry. Yeats proposed to Maud Gonne four times, and each time he was rejected.
His love was unrequited due to a conflict in politics. In his memoirs, Yeats wrote:
"I had never thought to see in a living woman so great beauty. It belonged to famous pictures, to poetry, to some legendary past."
The fascinating history of the Yeats family – where to find their work and history
You can admire the work of Jack B. Yeats at the National Gallery of Ireland in Dublin, but to learn more about the history of the Yeats family, we suggest you visit the Yeats Society Sligo.
This group operates from the Yeats Building in Sligo town centre. The building hosts an annual literary summer school, a Yeats exhibition, and more exhibitions from upcoming artists.
Now's your chance to experience Sligo, where four talented siblings left their mark, and the history of the Yeats family was revealed.