Combine Irish humour with a love for drinking, and what do you get? Some hilarious Irish drinking toasts.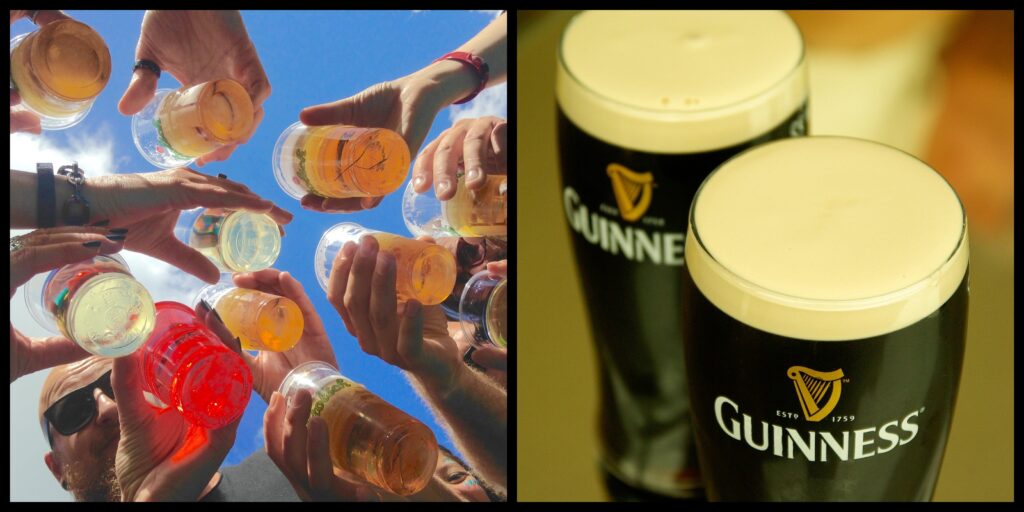 If there are two things the Irish are known for, it's drinking and wit, so it's no surprise that we have some funny Irish drinking toasts.
Considering how often the Irish drink, whether it's to celebrate or drown their sorrows, there is, of course, an endless amount of drinking toasts that exist.
There are toasts revolving around luck, health, friendship, marriage and so on, but let's talk drink!
The Irish have a very unique sense of humour, and they love to share it with the world, so it's no wonder that many of these hilarious drinking toasts have spread across the globe like wildfire.
Irish toasts are moments of cheer, good luck, laughter, and wise words to be shared either down at the local pub, at an event, or even in the family home amongst loved ones.
They often rhyme and have a funny or serious side to them, but we certainly love a good laugh, so we are taking a look at some funny Irish drinking toasts that are always guaranteed a laugh from the crowd.
MII's interesting facts about Irish drinking toasts
In Irish folklore, it is believed that making eye contact during a toast brings good luck and shows sincerity in the gesture.
In some regions, it is customary to take a sip of the drink before making the toast and then drink again afterwards to seal the sentiment.
The Irish are known for their convivial toasting sessions, and it is considered polite to participate and respond with enthusiasm to others' toasts during gatherings.
To honour departed loved ones, the Irish may raise their glasses and say, "May we be in heaven half an hour before the devil knows we're dead."
10. Let's drink – friends and alcohol
My friends are the best friends: loyal, willing, and able.
Now let's get to drinking all glasses off the table!
Related: 10 hilarious things that always happen on an Irish night out.
9. Small foolish head – a good Irish insult
Here's to you.
When God measures you, may he put the tape around your big and generous heart and not around your small and foolish head.
8. Drink with me – play on words
Here's to cheating, stealing, fighting, and drinking.
If you cheat, may you cheat death.
If you steal, may you steal a woman's heart.
And if you fight, may you fight for a brother.
And if you drink, may you drink with me.
Read also: Top 10 best Irish drinking songs.
7. A full bottle – three important things
Here's to a sweetheart, a bottle, and a friend. The first beautiful, the second full, the last ever faithful.
6. Sláinte – well wishes
Health and long life to you.
The wife of your choice to you.
A child every year to you.
Land without rent to you.
And may you be half an hour in heaven before the devil knows you're dead.
Sláinte!
Check out: Top 10 forgotten Irish proverbs that we should start using again.
5. Five reasons to drink – Ireland's favourite pastime
In all this world, why I do think there are five reasons why we drink:
Good friends,
good wine,
lest we be dry,
and any other reason why!
4. One for the road – maybe not the best advice
A bird never flew on one wing.
(To encourage that second drink)
3. Drink her share – "have a drink for me"
Here's to women of the Irish shore;
I love but one, I love not more.
But since she's not here to drink her part,
I'll drink her share with all my heart.
2. A cold beer – and another one
Here's to a long life and a merry one.
A quick death and an easy one.
A pretty girl and an honest one.
A cold beer and another one!
1. Get drunk and go to heaven – the fast route
When we fall asleep, we commit no sin.
When we commit no sin, we go to heaven.
So, let's all get drunk and go to heaven!
And the list goes on!
There are so many Irish toasts for all occasions, a little like limericks actually shared during weddings, funerals, Christmas, Paddy's Day, family reunions, and much more.
If you're heading out to an event or meeting up with some friends, it's worth having a few of these Irish drinking toasts under your belt to keep the old Irish tradition alive.
The Irish love to live for the moment, and that's exactly what the traditional Irish drinking toasts allow us to do, to stop, enjoy the moment, and throw a few words out to the crowd to celebrate the moment and of course, impress your mates.
It's worth noting that you should throw in a good old 'Sláinte' (pronounced Slawn-Cha) for good measure, the Irish word for cheers, because even if no one in the group has a clue what your toast was all about, at least they'll know what Sláinte is.
Irish toasts are so popular you'll even spot them written on many blackboards outside bars around the country, which always grab your attention and give you a laugh, so get these lot memorised and grab the attention of the next group of drinkers you join; they'll only love it!
Related: What are Irish people like: 10 common traits.
Your questions answered about funny Irish drinking toasts
What is the old Gaelic toast?
The direct translation of Slàinte mhath is "good health", a traditional toast across the globe to wish someone a long and happy life.
What is the famous Irish drinking toast?
"May your troubles be less, and your blessings be more. And nothing but happiness come through your door."
Are Irish drinking toasts always accompanied by alcoholic drinks?
While toasts in Ireland are commonly associated with alcoholic drinks like whiskey or beer, they can also be made during non-alcoholic gatherings, and people might raise their glasses with non-alcoholic beverages or even water.