There are many ways to describe an Irish person, so here are ten common traits that show what Irish people are like.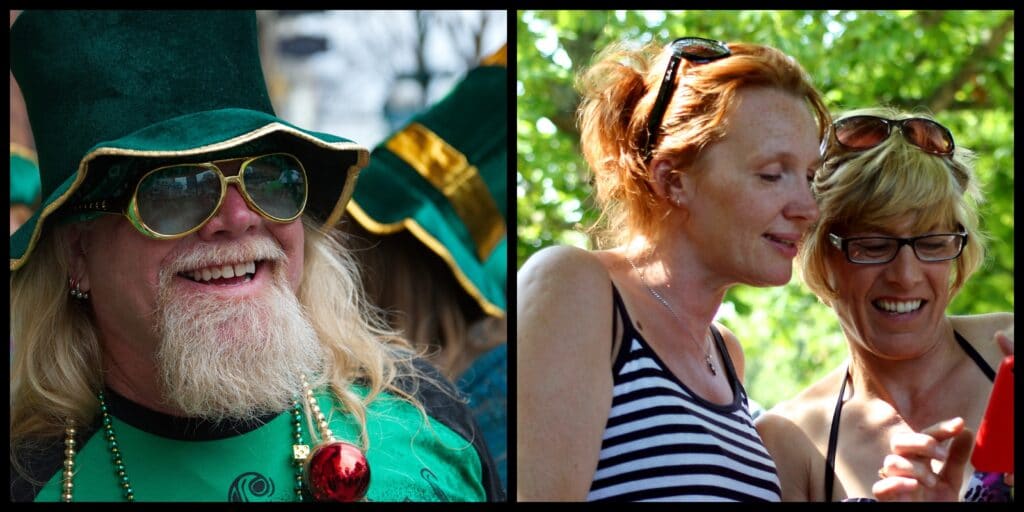 Irish people are a very unique bunch, in the best possible way.
There are traits among the nation that make us so proud and so nostalgic when we are abroad, especially somewhere that may be quite different from home.
For centuries, Irish people have brought their culture to other parts of the world and kept the heritage alive, which is what makes the world so welcoming of Irish people these days.
We certainly have a lot to say for ourselves, that's for sure, but we have plenty more traits in common besides this.
So, what are Irish people like? Here are ten common traits you'll have to agree with.
Meanwhile in Irelands fun facts about Irish people's common traits
Irish people are known for their warm hospitality and friendliness.
Irish people have a strong affinity for music and are famous for their traditional Irish music.
The concept of lucky charms, such as four-leaf clovers, horseshoes, and lucky pennies, is deeply ingrained in Irish culture.
While the pub culture is beloved in Ireland, people may still complain about the price of drinks or the difficulty in finding a seat during busy times.
10. We love complaining – sure, it keeps us busy
This might sound like a negative trait, but actually, complaints bring us together as a society.
It doesn't have to be a huge complaint, but even moaning about something small like that bloody time when the electricity went off during your favourite show, which you had waited all week to see.
Sure, isn't this only a great way to start a conversation with someone, they've got to be annoyed about this too, right?
Related: 10 signs you are definitely dealing with a Karen.
9. Busybodies – this also keeps us busy
Whether we like to admit it or not, one of our most common traits is that we love a good nosy.
We are masters of peeking out the curtains, overhearing the latest news in the supermarket queue, or prying when we know something juicy is about to unravel. It's all just so exciting to us, and of course, it keeps us social too.
8. Love talking about the weather – the biggest topic among a nation
Have you ever travelled abroad to a gorgeous place and the first thing your family and friends ask you is how the weather is and not where are you? Or what's the culture like?
All they really want to know is if you are lapping up the sun or suffering in a storm. They would secretly like the storm though, to keep from being green with envy.
Read also: 10 things that annoy Irish people.
7. Stubborn – could it BE any more true?
The Irish temperament is world-famous. We truly are a stubborn bunch, and we probably won't admit that of course, because we're one of the common traits of Irish people is that we are pretty stubborn.
6. Up for the craic – the craic is nothing but mighty with us
There's nothing the Irish love more than the craic. The craic is mighty in Ireland and anything that involves a good time, we are up for.
We're known as a very laid back nation, and maybe that's why, because we are always after the next fun experience, whether it be an unexpected lock-in at the local pub or a spontaneous open mic night.
"Sure it'll be good craic" is a phrase to get any Irish person up and about.
5. Funny – it's in our genes
The best thing about this trait is that we sometimes don't even realise we are being funny, and that's what makes it so amusing.
It's all in the Irish charm and wit, something you just cannot teach.
It's all about spontaneity and not overthinking things, which makes our humour so unique. It is what makes us so popular in crowds. So, if you're wondering what Irish people are like, just know we always get the crowd going.
4. Welcoming – treated like royalty
There's nothing more welcoming than a welcome of the Irish kind, which is nothing short of a red carpet being laid out before you.
We are masters of being welcoming, but not so much of saying goodbye. Again, this is something passed down through generations, when visitors were always fussed over.
Does anyone recall their parents saying, "Don't touch those biscuits, they're for the visitors"?
3. Social – we're all social butterflies
One of the most common traits of many Irish people is our social abilities. When you think about it, how many of the previous traits involve being social? Almost all of them!
That's because we absolutely love being social. We love telling stories, sharing food, and singing songs, again it's engrained in our society.
2. We don't like goodbyes – the Irish goodbye
Ever heard of the Irish goodbye? We hate goodbyes so much that we purposely avoid them, hence the Irish goodbye – the act of vanishing before a goodbye is due, something we often do without even noticing.
Read more: Top 5 occasions where an Irish goodbye is the only option.
1. Gift of the gab – you'll never shut us up
But of course, this has to be on the list, because no one loves to talk as much as the Irish, hence the phrase, 'he could talk for Ireland'.
What are Irish people like? Well, we love a good natter about absolutely anything, but more than likely the weather!
Your questions answered about Irish people's common traits
What are the essential elements of the Irish character?
Most Irish people will say: an ability and love of music; the closeness of family; a sense of justice; ambition; a fondness for a party; and a love of words and learning.
What do Irish people value?
Family History. Irish families value one another, and they respect their family members and value communication.
What are Irish genetic traits?
The MC1R gene has been identified by researchers as the gene responsible for red hair as well as the accompanying fair skin and tendency towards freckles. According to genetic research, genes for red hair first appeared in human beings about 40,000 to 50,000 years ago.