We tasked our very own Derry Girls TV Critic to assemble the ultimate critique of one of the greatest Irish shows ever produced. We have ranked every episode from best to worst in our Derry Girls Episode Guide.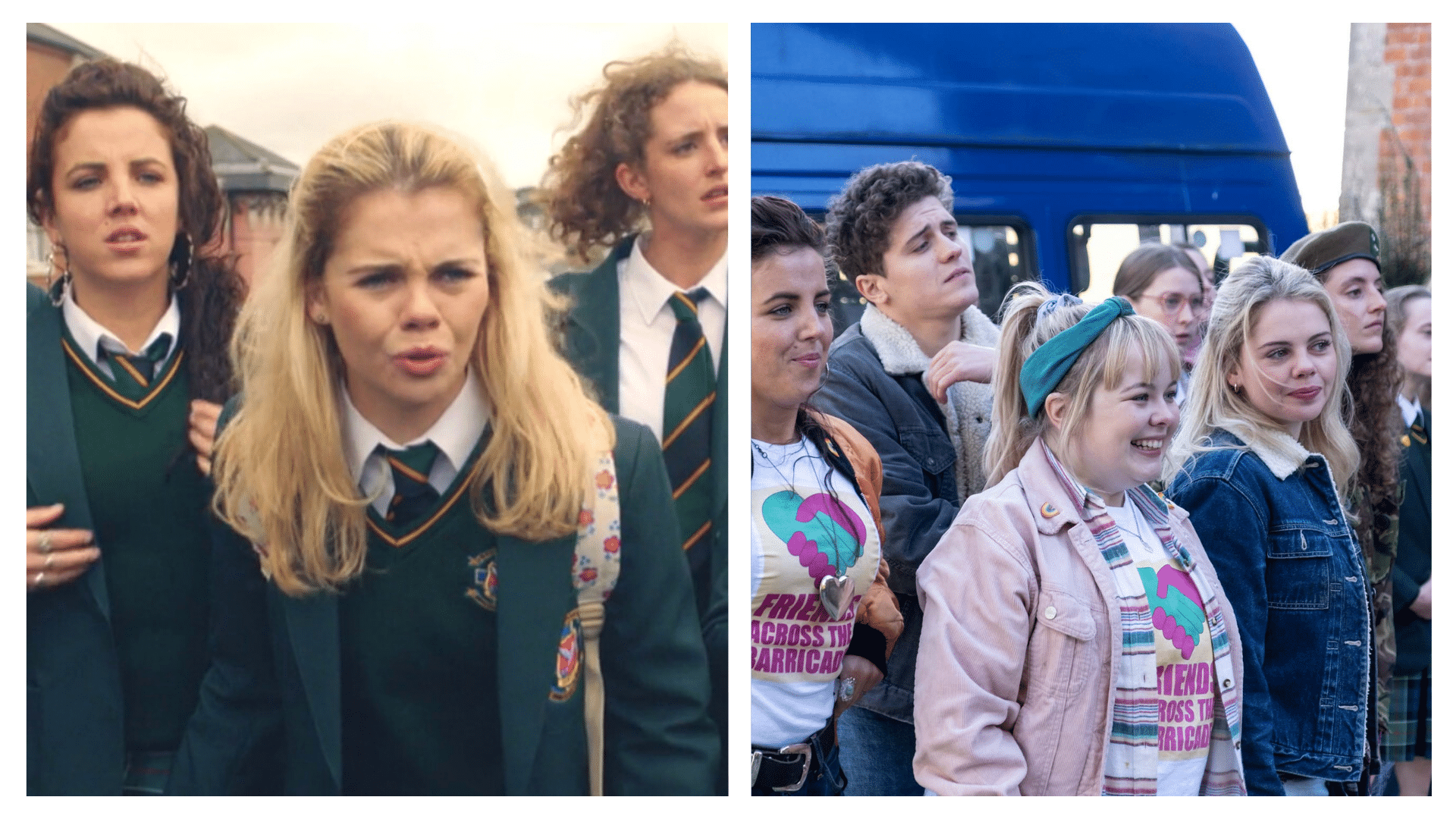 Following the lives of four Derry teens, Erin, Clare, Michelle, Orla, and, of course, the wee English fella, James, growing up at the tale end of the Troubles in the early 1990s, Derry Girls stole the hearts of nations around the world.
As such, in an attempt to give the show the recognition and attention it deserved after it departed our screens in 2022, we began a global search for a Derry Girls TV Critic who could watch, rank, and bring our readers the ultimate guide.
With hundreds of applicants from Derry Girls enthusiasts on the home turf to the four corners of the globe, this was no easy task.
So, without further ado, behold the Ultimate Derry Girls Guide – the fruits of a labour of love. Enjoy!
The Ultimate Derry Girls Guide – every episode ranked best to worst
| | | | |
| --- | --- | --- | --- |
| Rating | Season | Episode | Episode Name |
| 10/10 | 3 | 7 | 'The Agreement' |
| 9.7/10 | 2 | 6 | 'The President' |
| 9.6/10 | 1 | 6 | 'Episode 6' |
| 9.3/10 | 2 | 4 | 'The Curse' |
| 9.2/10 | 1 | 2 | 'Episode 2' |
| 9/10 | 1 | 1 | 'Episode 1' |
| 8.8/10 | 1 | 5 | 'Episode 5' |
| 8.7/10 | 2 | 5 | 'The Prom' |
| 8.6/10 | 2 | 1 | 'Across the Barricade' |
| 8.5/10 | 3 | 6 | 'Halloween' |
| 8.4/10 | 3 | 2 | 'The Affair' |
| 8.3/10 | 2 | 3 | 'The Concert' |
| 8.1/10 | 3 | 4 | 'The Haunting' |
| 8/10 | 3 | 1 | 'The Night Before' |
| 7.9/10 | 1 | 3 | 'Episode 3' |
| 7.5/10 | 3 | 3 | 'Stranger on a Train' |
| 7.2/10 | 3 | 5 | 'The Reunion' |
| 7.1/10 | 2 | 2 | 'Ms De Brún and the Child of Prague' |
| 7/10 | 1 | 4 | 'Episode 4' |
1. 'The Agreement' − Series 3, Episode 7
SCORE: 10/10
Summary: Erin and Orla's 18th birthday party is quickly approaching. However, Jenny Joyce's own lavish do threatens to overshadow theirs, as does another monumental day; the Good Friday Referendum. Erin struggles to reconcile her feelings about the Troubles with the reality of the Good Friday Agreement, causing rifts in her friendships. Meanwhile, Eammon is overstaying his welcome at the Quinns, and Sister Michael ponders another big decision.
Plot Line: 10/10
A beautifully touching end to an incredible series, Lisa McGee once again expertly weaves the silly with the serious as the girls navigate birthday party drama and bigger decisions that will affect their futures.
Laugh-O-Meter: 10/10
While largely a serious episode, Orla's jaunt around Derry brings much-needed comic relief, as does the sight of Gerry, Colm and Eamonn breaking out the moves on the dancefloor.
One-Liners/Favourite Quotes: 10/10
For once, Granda Joe becomes the voice of reason:
ERIN: "What if we vote yes and it doesn't even work?"
JOE: "And what if it does? What if no one else has to die? What if all this becomes a…a ghost story you'll tell your wains one day? Hmm? A ghost story they'll hardly believe?"
2. 'The President' – Series 2, Episode 6
SCORE: 9.7/10
Summary: It's Christmas 1995, and President Bill Clinton is about to make a historic visit to the city of Derry. The gang are also excited to make history by bringing the First Daughter, Chelsea, to the local swimming pool – if she'd ever reply to their letters, that is. While the teenagers anxiously await a response, the adults are taking matters into their own hands, with Joe leading efforts to hack into CIA frequencies to try and intercept the president. If a state leader's visit wasn't enough to shake things up, another visitor lands in Derry and threatens to change the gang's lives forever.
Plot Line: 9.3/10
A solid episode to end season two, filled with both hilarity and heartbreak. However, it's Gerry being swept into the madness that is Joe, Colm and Jim's investigative work that is the jewel on the crown of this episode.
Laugh-O-Meter: 9.7/10
The gang's childlike innocence in awaiting a reply from Chelsea Clinton is comical, even more so when you see it echoed in Joe's determination to one-up his brother and meet the president himself.
One-Liners/Favourite Quotes: 10/10
MICHELLE: "You're a Derry Girl now, James".
Possibly one of the most heart-warming quotes from the series, it's almost jarring to see Michelle's sudden kindness towards her "ball-ache" cousin.
3. 'Episode 6' – Series 1, Episode 6
SCORE: 9.6/10
Summary: Mary can't face putting on just a half-load, Gerry can't get the family photos printed, and Orla can't stop doing step aerobics – things aren't looking too great for the Quinn-McCool family. Luckily, at least one of them is thriving as Erin reaches new heights in her writing career as the newly appointed editor of the school magazine (even if she did have to step on a few toes to get there). When her editorial prowess proves to be flimsier than anticipated, she turns to the school's 'Searching For Myself' writing competition to snag a few ideas and unearths a secret about a student that she's not afraid to splash on the front page.
Plot Line: 9.6/10
One of the greats, this episode is Derry Girls in its purest form. While we begin on a lighter note with Mary's hunt for a dark wash and the infamous wee red docket, the writers move on to confront issues such as coming out as queer and the juxtaposition of innocence with the Troubles. Hearing Dolores O'Riordan and The Cranberries sing 'Dreams' behind the final scene will never not give us goosebumps.
Laugh-O-Meter: 9.1/10
This episode has so many hilarious moments. Standouts include the introduction of Ciaran, a welcome addition to our cast of quirky characters, and Erin's staggering self-importance, both while taking on the role of editor and placing herself right in the centre of Clare's coming out.
One-Liners/Favourite Quotes: 9.6/10
SARAH: "Do you not think there's an awful lot of lesbians about nowadays? You can't move for lesbians. It's wall-to-wall lesbians out there".
GERRY: "Really?"
JOE: "It's true. Brigitte Gallagher – she's a lesbian".
MARY: "Brigitte Gallagher, who works in the post office?"
JOE: "I believe so".
SARAH: "Is she not a vegetarian, Da?"
JOE: "Sorry, you're right. Vegetarian, Brigitte is".
4. 'The Curse' – Series 2, Episode 4
SCORE: 9.3/10
Summary: Sarah's walking down the aisle and looks ravishing in white – although, of course, it's not her wedding, and she's completely upstaged the bride. Once the mortification starts to cool off, Mary manages to get into an argument with her Aunt Bridie, who suddenly drops dead, seemingly cursed by her niece. A wedding turns into a funeral, and Michelle is eager to spice up the wake by dabbling with drugs, although the rest of the gang isn't so keen. Gerry comes into his own preparing sandwiches in the kitchen, and sure enough, Joe has a thing or two to say about it.
Plot Line: 9.6/10
Bouncing from the joyous to the macabre, this episode exhibits the greatest types of social gatherings in an Irish Catholic's calendar – weddings and funerals. Combined with Mary's curse and Michelle's determination to get high, this episode is a stellar one.
Laugh-O-Meter: 9/10
Ardal O'Hanlon as cousin Eammon, the little mammy's boy, is just as comical as it is cringey. A bunch of 16-year-olds pushed him over in 'Rock the Boat'. Of course our hearts bleed for him.
One-Liners/Favourite Quotes: 9.4/10
Joe's crusade to belittle his son-in-law continues:
GERRY: "How's the wicked witch of the northwest?"
JOE: "Who put 50p in the eejit?"
5. 'Episode 2' – Series 1, Episode 2
SCORE: 9.2/10
Summary: The gang are back, and this time they're off to Paris – that's, of course, if Ma Mary would give them access to their trust funds. Upon finding out that there is no cash squirrelled away in the bank and that they're all actually a lot poorer than anticipated, the five set out to get part-time jobs to pay off the school trip. Wanting to nip competition in the bud, Michelle robs the job noticeboard of the local chippy. However, once chippy owner Fionnula finds out, it's Au revoir to Paris and Bonjour to cleaning the chip shop as an apology. Meanwhile, we meet the infamously monotonous Uncle Colm, who manages to take the harrowing tale of being held up by masked robbers and turn it into a sort of torture method for those unlucky enough to be listening.
Plot Line: 9.5/10
This episode flip-flops from a potential trip abroad to a day spent smearing mayonnaise on windows. Recycling Uncle Colm's robbery experience and using it to try and fool Fionnula is another stroke of genius, especially when you see it doesn't pay off.
Laugh-O-Meter: 9.4/10
This is another bellyaching episode, in particular, the scene where Gerry is in charge of the chippy order. Five bags of chips is probably not enough; you slack southern shite.
One-Liners/Favourite Quotes: 8.9/10
One of our favourite moments in the entire show, the gang realise that their talents aren't quite suited to the cleaning of a chip shop.
ERIN: "It's…still sticky. How is it still sticky? Is it worse than when we started?"
CLARE: "I think it might be, yeah".
ERIN: "Great".
JAMES: "Oh, I see. Yeah, this isn't Windolene. This is… [sniffs] This is mayonnaise".
6. 'Episode 1' – Series 1, Episode 1
SCORE: 9/10
Summary: Welcome to nineties Derry, where the all-consuming narrative is about the Troubles – or is it? We delve into the lives of self-important Erin Quinn, her ditzy cousin Orla McCool, goody-two-shoes Clare Devlin, feisty Michelle Mallon and the wee English fella, James Maguire. While a bomb scare causes more exasperation than fear to the family, the gang make it to their first day of term, where they land themselves in the headmistress Sister Michael's office after (unsuccessfully) intimidating a first year. With other pressing matters on their minds, the teenagers try to get their own way in detention, which doesn't work out quite in their favour.
Plot Line: 9.2/10
A terrific plotline that exposes the story for exactly what it is: a funny teenage drama that just so happens to be set during the Troubles. In such a short space of time, the impeccable scriptwriting does a great job of showcasing just who these characters are.
Laugh-O-Meter: 9.5/10
An excellent first episode all round; there are so many memorable lines, and even after several rewatches, it still has us laughing out loud. Special mention to the introduction of Grandpa Joe and Jenny Joyce for making tears stream down our faces.
One-Liners/Favourite Quotes: 8.3/10
Nothing grabs you at the start of an episode quite like the prudishness of Ma Mary's Irish Mammy shtick, which is complemented to perfection by Da Gerry's sheepish silence.
ERIN: "What's next, we'll catch her trying on my knickers?"
MARY: "Don't say knickers in front of your father, he can't cope."
An honourable mention of Clare's defiance of solo individuality with: "Well, I'm not being an individual on my own." Comedic genius.
7. 'Episode 5' – Series 1, Episode 5
SCORE: 8.9/10
Summary: The sun is out, and the Orange Order parades are in full swing. While Orla is enjoying the music and is considering becoming an Orangeman herself, the rest of the family is eager to escape the city. After getting caught up in a march, they find a potential criminal, Emmett, hiding in their boot, which leads the family to make a decision on whether to smuggle him across the border. While Joe and Gerry butt heads, Michelle has her tarot read by Sarah, and it seems Emmett, despite his flaws, may be the one for her.
Plot Line: 9.5/10
From admiring neighbour Jim's double-glazed windows to potentially smuggling a fugitive, this episode combines the monotonous every day with the Troubles in Derry Girls' typical hilarious style.
Laugh-O-Meter: 8.2/10
The back-and-forth between Gerry and Joe comes to a head in this episode. If you enjoy watching looks of utter bewilderment flit over Tommy Tiernan's face, then this episode will be sure to make you chuckle.
One-Liners/Favourite Quotes: 9/10
Aunt Sarah is back delivering another infinitely quotable moment:
ERIN: "You're not psychic, Aunt Sarah".
SARAH: "I am psychic, Erin. I did a course. I got a certificate".
8. 'The Prom' – Series 2, Episode 5
SCORE: 8.8/10
Summary: The formal has been cancelled, but don't worry, Jenny Joyce has organised a fifties prom in its place, and it's all anyone can think about. The gang are eager to befriend new student, Mae Cheung, in order to diversify their group, and Mae seems happy to go along with it in order to claim a token gay friend. With Erin head over heels for John Paul and James gearing up to go to his creep – sorry, Doctor Who – convention, the rest of the gang are debating who to take to the prom. Lucky for Orla, she's got someone very special up her sleeve.
Plot Line: 9.5/10
A classic for any high school drama, this episode combines the fun of gearing up towards a big night with the irreverent Derry Girls humour we all know and love. Throw in a few pop culture references, and you have some pretty stellar viewing.
Laugh-O-Meter: 8/10
Jenny Joyce and her barbershop quartet are enough to make anyone's ears bleed on a Monday morning – but make for a hilarious start to a Derry Girls episode.
One-Liners/Favourite Quotes: 8.9/10
It seems Joe is, in fact, capable of not bringing down Gerry with every breath:
GERRY: "You're looking well, Joe".
JOE: "It's not all shite you talk, Gerry".
9. 'The Concert' – Series 2, Episode 3
SCORE: 8.7/10
Summary: Take That are coming to Belfast, and the gang can hardly wait to get on the road to see them. Unfortunately for them, an escaped polar bear foils their plan, with their families now insisting that it's too dangerous to make the trip to the capital. Determined to see Robbie and Gary in the flesh, the five set out on their own, meeting an eclectic cast of characters and bumping into a fuzzy friend along the way.
Plot Line: 8.4/10
The gang embarks on what feels like a fairytale quest – dodging frightening headmistresses, getting in strangers' vans and going back to rescue one of their own; this episode feels like a fast-paced pantomime (even complete with a chase scene).
Laugh-O-Meter: 8.3/10
In this episode, the threat of an escaped polar bear trumps any fears of sectarian violence. If Mary's over-mammying doesn't make you chuckle, I don't know what will.
One-Liners/Favourite Quotes: 9.5/10
Mary tries to reassure her father that the kids will be safe with Gerry in Belfast. To nobody's surprise, Joe does not agree.
MARY: "Gerry will be with them, Da".
JOE: "Sure that's worse. They hate his kind there".
GERRY: "My kind?"
JOE: "Pricks".
10. 'Across the Barricade' – Series 2, Episode 1
SCORE: 8.6/10
Summary: It's time for building bridges and a bit of adventure as the girls set off on an outside pursuit weekend with a Protestant boys' school. While Michelle puts peace on the back burner and focuses on making more than just friends, James turns on some masculine charm in order to buddy up with some of the lads. When communication breaks down over the similarities between Catholics and Protestants, the girls wonder if there's anything that brings the two communities together.
Plot Line: 8.3/10
There's no better way to start season two than a hilarious exploration of Northern Irish stereotypes. This episode is excellent. However, it only falls short by not telling us why Deidre Mallon doesn't want her big bowl back. It's a perfectly good bowl!
Laugh-O-Meter: 9.5/10
Father Peter mediating a group of Catholic and Protestant teenagers who can't find a single common attribute is TV gold. Some of the best differences scrawled onto the now infamous blackboard include "Protestants keep toasters in cupboards" and "Catholics have more freckles".
One-Liners/Favourite Quotes: 8/10
Erin's woeful flirting skills are questioned when Dee, the Protestant student she has her eye on, realises what she's up to.
DEE: "Are you coming onto me? Is that what this is? I thought you were having some sort of breakdown."
11. 'Halloween' – Series 3, Episode 6
SCORE: 8.5/10
Summary: Halloween is fast approaching and is set to be the biggest night of the year because Fatboy Slim is playing in Derry. Eager to go, the girls will do anything to get tickets, even if it means pitting James in a fight against a much older, scarier man. While Sarah deals with her unexpected impending nuptials to Ciaran, the girls are forced to deal with something that will change the course of their lives forever.
Plot Line: 9/10
One of the most poignant episodes of the season, we bounce from light-hearted fun as the girls try to get Fatboy Slim tickets to the sombre realities of life.
Laugh-O-Meter: 8/10
Despite being the most heart-breaking episode of the show, moments like Sarah and Ciaran's engagement debacle and James' fight help to lighten the mood.
One-Liners/Favourite Quotes: 8.6/10
There's no privacy with your post where there's an Irish mammy involved:
GERRY: "This one's for Erin".
MARY: "Private and confidential".
SARAH: "Will I stick the kettle on and we steam it open, Mary?"
12. 'The Affair' – Series 3, Episode 2
SCORE: 8.4/10
Summary: The boiler's broken, Erin's lost her fountain pen, there are no Pop-Tarts for Orla, and Mary's had just about enough. Vowing to put her own needs first, she's charmed by the new plumber Gabriel who shares her interest in literature, all to Gerry's dismay and Joe's delight, of course. Meanwhile, Our Lady Immaculate is raising money for Children in Need by hosting a talent show, the winner of which will end up on TV. The gang are determined to win, but Erin gets side-tracked when she notices something's afoot with her ma.
Plot Line: 8/10
This episode gives us another opportunity to wince at Jenny Joyce's singing, which is as good a plot device as any.
Laugh-O-Meter: 8/10
The family's collective fascination with Gabriel is comical, especially as Sarah is in one of her voucher-scamming disguises when trying to chat him up.
One-Liners/Favourite Quotes: 9.2/10
Sarah takes over the roast chicken dinner, but it doesn't look like she'll be in the job for much longer:
MICHELLE: "I think mine might be a wee bit frozen."
SARAH: "It's called al dente, Michelle."
13. 'The Haunting' – Series 3, Episode 4
SCORE: 8.1/10
Summary: Something spooky's in the air – Mary and Sarah want their mother to give a sign from beyond the grave, and Sister Michael has entrusted the gang with clearing out her dead aunt's house. Motivated by Michelle's promise of meeting hot Donegal farmers, the friends set off in the school van. However, with warnings from a local woman about the devil lurking nearby, the night quickly turns from party house to haunted house. Meanwhile, Mary and Sarah seek the help of a psychic to communicate once more with their mammy.
Plot Line: 6.9/10
Parts of this episode feel a bit forced – while a fan of free labour, Erin and the gang are probably the last people Sister Michael would trust to drive to Donegal for her. However, seeing the adults visiting Carlos Santini, the 'psychic', makes for a worthwhile watch.
Laugh-O-Meter: 8.6/10
Clare's innate sense of panic is really brought out in this episode, giving us some excellent moments of sheer absurdity.
One-Liners/Favourite Quotes: 8.8/10
The gang are panicking that tonight might be their last:
JAMES: "Great, I'm gonna die a virgin".
MICHELLE: "That was always on the cards, to be fair".
14. 'The Night Before' – Series 3, Episode 1
SCORE: 8/10
Summary: It's the night before the GCSE results, and Clare is panicking. Not about hers, of course, but the rest of the gang's – if they don't pass, they'll have to move schools, and she'll have to make new friends. Not ideal. Desperate to see the results ASAP, the girls accidentally assist in a school robbery and spend the night in a police station. In other criminal affairs, Gerry and Joe are charged with burying a dead body.
Plot Line: 7/10
Sometimes you have to question whether the gang really are that innocent to be duped into assisting in a robbery. However, their interactions with Liam Neeson at the police station make you glad that they aren't as sharp as they should be.
Laugh-O-Meter: 9/10
Uncle Colm is called up to help the girls dodge criminal charges. His anecdote about the allegedly half-Spanish child Diego, who was actually just an Irish wain reeking of fake tan, is pure hilarity.
One-Liners/Favourite Quotes: 8/10
Erin switches roles with Liam Neeson and challenges him on the number of Catholics employed by the police force: 
CHIEF CONSTABLE BYERS: "Well if you count the Jewish fella from, uh, Ballymena, three…lovely fella by the way".
15. 'Episode 3' – Series 1, Episode 3
SCORE: 7.9/10
Summary: It's exam time, but Erin is too heartbroken over the death of the family dog, Toto, to concentrate on studying. However, miracles are afoot as while on their way to school, the gang encounter what looks suspiciously like the dead Toto. Eager to get to the bottom of this potential resurrection, they follow the dog to a nearby church. There, Clare, Orla and Michelle claim to see the Virgin Mary statue smirk and start to weep. Still keen to get out of the exam, Erin is reluctant to tell them that they aren't the chosen ones – the tears are, in fact, coming from the mysterious dog doing his business upstairs. Before she can come clean, they meet a young, handsome priest in the form of Father Peter, who promises to guide them through their newfound connection to God.
Plot Line: 6.7/10
The jig never seems to be up, as the girls' weeping statue claims veer towards getting them an audience in Rome. While the writers would have been silly to shy away from this kind of 'Children of Fatima' episode, Mary staging a family pet's death to give him to Maureen Malarkey, her father's nemesis, seems wildly inconvenient given her generally harried nature as an Irish mammy.
Laugh-O-Meter: 7.7/10
The total admiration of the gang towards Father Peter is so funny it deserves a full episode in itself. In particular, James' desire to emulate his new idol is enough to make even someone with even just one-tenth of Michelle's cynicism absolutely boke.
One-Liners/Favourite Quotes: 9.2/10
Nothing is funnier than the total distaste Sister Michael has for elements of the Catholic Church. Despite being siblings in Christ, Father Peter does not avoid her scorn.
MARY: "Is he alright?"
SISTER MICHAEL: "I wouldn't say so, no. He's a priest, like".
16. 'Stranger on a Train' – Series 3, Episode 3
SCORE: 7.5/10
Summary: The family are off on a day trip to the seaside, and Mary has packed enough sandwiches to feed the entirety of Portrush. With a surfboard, Guess Who, and several cooler bags in tow, they've only forgotten one thing – Clare. Left to endure an agonising wait with Sister Michael in the station, the adults encounter their own kind of agony when confronted with a face from their past they can't quite put their finger on. Meanwhile, the rest of the gang mourn leaving their friend behind but are quickly distracted when James' bag gets mixed up with the one of a questionable passenger.
Plot Line: 6.8/10
Clare being left in the station feels like a missed opportunity in this episode. However, the adult's storyline figuring out the identity of the stranger on the train more than makes up for it.
Laugh-O-Meter: 7.7/10
With great guest appearances from Amy Huberman, the ticket worker going through relationship troubles, and Michael Fry, the trolley worker with a KitKat god complex, this episode has many amusing moments.
One-Liners/Favourite Quotes: 8/10
When met with a stranger from their past that they just can't recognise, Joe opts for the best evasion tactic:
STRANGER: "How's life been treating you?"
JOE: "Ah, not great, I'm afraid. I caught dementia".
STRANGER: "Dementia?"
JOE: "Riddled with it, so I am".
17. 'The Reunion' – Series 3, Episode 5
SCORE: 7.2/10
Summary: Our Lady Immaculate is holding the class of '77 reunion. Mary and Sarah are adamant to drop a dress size before the evening begins – even if that does mean that the whole family can only eat satsumas. Mary's anxious to meet Janette Joyce, formerly O'Shea, their friend who no longer speaks to them. At the same time, a flashback to 1977 shows us what really happened on that fateful leaver's night twenty years ago.
Plot Line: 6.5/10
While it's fun going back in time to see Mary, Sarah and the gang echo the same traits as their daughters, the girls themselves are missed in this episode. The build-up to what happened on leaver's night is immense, but the ultimate payoff is weak.
Laugh-O-Meter: 7.2/10
Joe, Ciaran and Sean matching in the Dunnes sale suits is hilarious, as is Sarah trying to impress Janette with her newfound Russian history knowledge.
One-Liners/Favourite Quotes: 8/10
Joe is fascinated by a revelation from Deidre's Canadian cousin Rob:
JOE: "He's a gay!"
SEAN: "Seriously? Our daughter's a gay".
18. 'Ms De Brún and the Child of Prague' – Series 2, Episode 2
SCORE: 7.1
Summary: Sister Michael has a prized possession and won't let anyone get their hands on it; a statue of the Child of Prague, another Catholic oddity James can't seem to get his head around. In an exciting turn of events for Our Lady Immaculate College, a dynamic new English teacher, Ms De Brún, arrives and challenges the gangs' view on art and poetry. Mary is also being challenged artistically – the challenge being she never saw the end of The Usual Suspects and won't stop until she figures out the ending.
Plot Line: 6.2/10
Ms De Brún's arrival and subsequent sudden departure make this episode feel a bit off. However, Mary's fervent determination to figure out who that Keyser Söze fella is more than makes up for it.
Laugh-O-Meter: 6.5/10
While not as laugh out loud as others, some funny moments pepper this episode of Derry Girls. Props to Clare for questioning a visit to a teacher's house at night and for perfectly embodying both being wine-drunk and wine-hungover.
One-Liners/Favourite Quotes: 8.7/10
Poor Gerry, his romantic evening with Mary is foiled when Sarah rocks up to the cinema with Ciaran, Joe and Colm in tow.
SARAH: "Mary said you were having a wee night to yourselves, so I thought you might like some company".
19. 'Episode 4' – Series 1, Episode 4
SCORE: 6.6/10
Summary: When a group of Ukrainian students travel to Derry following the aftermath of the Chernobyl nuclear disaster, Erin is excited to share the culture of her hometown with her pen pal, Katya. Unfortunately for Erin, Katya is not as enthused. At Jenny Joyce's lavish house party, Erin quickly descends into conspiracy, believing James and the other students are paying Katya for sex. Meanwhile, Sarah and Mary are coming to terms with the fact their father may be flirting with a woman at mass, and Clare questions the sectarian conflict, all while opting for a controversial outfit choice.
Plot Line: 6/10
While the crossover of young people from different troubled homelands is clever, Erin's theatrics in trying to get James not to have sex with Katya go a little too far, even for her.
Laugh-O-Meter: 6/10
Some funny moments light up this episode. Special shout out to Jenny Joyce dragging along Artem/Clive, who is bound to her by toddler wrist reins. Comedy gold.
One-Liners/Favourite Quotes: 8/10
In one of the most memorable interactions of the season, Sarah speaks the mind of everyone who's ever been to mass and been caught out by not having coins.
GERRY: "What are you doing?"
SARAH: "Taking my change".
GERRY: "Sarah, you don't get change".
SARAH: "Aye dead on Gerry, I'm going to give them a whole fiver? That's definitely happening".
Notable mentions
Actors: Derry Girls stars Saoirse-Monica Jackson as Erin, Jamie-Lee O'Donnell as Michelle, Louisa Harland as Orla, Nicola Coughlan as Clare, and Dylan Llewellyn as James. Ma Mary is played by Tara Lynn O'Neill, Aunt Sarah is played by Kathy Kiera Clarke, Gerry is played by Tommy Tiernan, Grandpa Joe is played by Ian McElhinney, and Sister Michael is played by Siobhan McSweeney.
Locations: Fans of the show can take a Derry Girls tour of the filming locations used in the show, including Dennis's wee shop in the heart of the Bogisde, Pump Street, the Derry Girls Mural in the Walled City, Free Derry Corner, Long Tower Church, and so many more spots.
Your questions answered about the Ultimate Derry Girls Guide
What is the message of Derry Girls?
Set against the backdrop of the Troubles, Derry Girls wishes to show the world that while Northern Ireland was in the midst of violence and segregation during this painful and tumultuous time, real people lived normal lives behind the violence, cemented friendships, and grew up despite it all.
What is the Orange Order in Derry Girls?
The Orange Order is a Unionist Protestant organisation based in Northern Ireland. The organisation is named after King William of Orange, informally referred to as King Billy.
What does Derry mean in Irish?
The English word Derry comes from the Irish 'Doire', meaning 'oak grove'.
If you enjoyed our Ultimate Derry Girls Guide, check out our Father Ted Episode guide here.