If you've ever been to Ireland, you will know the joys of a simple pack of Tayto crisps. If not, you're missing out!
Those of you who have never heard of Tayto are in for a treat because we are telling the story of this great Irish crisp maker that has made a huge impact on the world.
Whether you're a fan of a plain and simple pack of Cheese and Onion, or maybe you'd rather opt for a uniquely-flavoured pack of Banshee Bones. Whatever your choice, it has to be Tayto.
It is a truly epic story, so here is the fascinating story behind Tayto, the legendary Irish brand.
Tayto – the crisps we all know and love
Today, Tayto can be found in all parts of the world, generally for a high price considering they are imported and are classed as a luxury food item.
In Ireland, on the other hand, they can be found absolutely anywhere and everywhere from pubs to rural corner shops. These crisps have been with us for generations now.
They have always played a major part in our lives, whether it was buying a packet with your pocket money, being given a packet to stay quiet in public, or having them inside your lunchbox as a surprise treat at school.
We all grew up around Tayto crisps and adored their flavours, including the classic Cheese and Onion, Salt and Vinegar, and eventually Prawn Cocktail, Smokey Bacon, and more.
Believe it or not, these crisps are ideal to be sandwiched inside to fluffy buttered slices of Brennan's bread. It is almost like they were made for each other.
But there is more to Tayto than meets the eye; there is, in fact, a fascinating story behind Tayto you need to know.
Making history – how Tayto changed the world
We love these crisps so much, but do we really know the fascinating story behind Tayto?
How many people in the world know that this Irish crisp brand actually invented flavoured crisps? Well, it's true, and it certainly gives us Irish bragging rights when the topic arises.
Crisps, also known as chips in other countries, can be found worldwide. They come in many variations such as crinkled, hand cooked, baked, and thin. They also come in a range of flavours, which is where the fascinating story behind Tayto comes in.
Crisps were invented in England before Tayto, but these were without seasoning. An Irishman by the name of Joe 'Spud' Murphy came up with the idea of the seasoned or flavoured crisp.
After much trial and error, he established the first Tayto flavour: Cheese and Onion. This flavour is still widely available today and is, in fact, one of the main foods Irish ex-pats abroad miss the most.
Murphy opened the first Tayto factory on Moore Street in Dublin in 1954. Here, he began producing more flavours, including Salt and Vinegar and the legendary Smokey Bacon.
He pioneered the flavoured crisp, and by the age of 31, he was on his way to making a global impact.
Of course, many were envious that they didn't come up with this idea first and hurried to buy the rights from him. However, the brand took off immensely throughout the country and his business grew rapidly.
Tayto and more – more to the fascinating story behind Tayto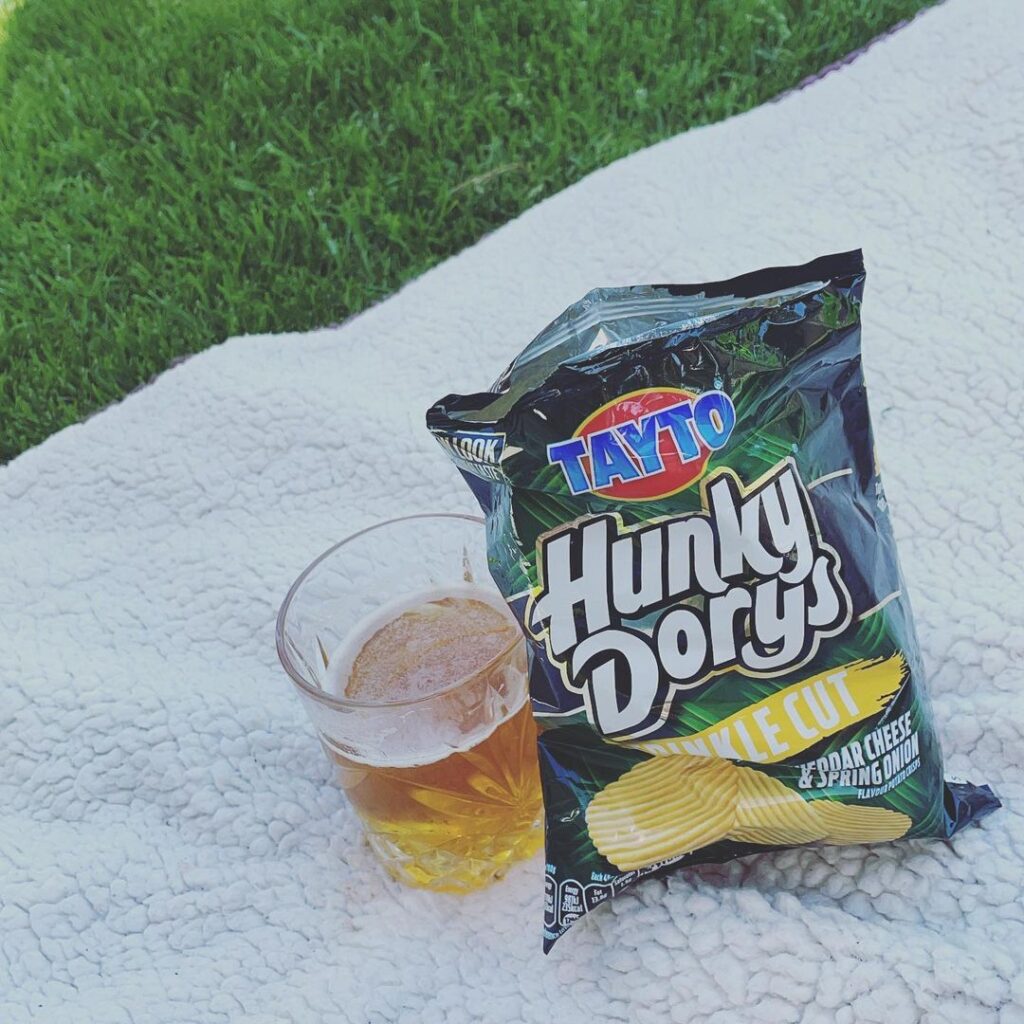 Tayto is behind the Perri brand, which they established in 1986, and the Hunky Dorys, which was the crinkle cut, chunky crisp pioneered in 1993.
They are also the makers of our favourites such as King, Hula Hoops, KP Nuts, Rancheros, Skips, and Meanies.
We have his son to thank for the name Tayto. It is now known to many worldwide, even becoming the Irish slang for the word crisps of any kind. Joe Murphy used this word as this is how his small son pronounced the word potato.
Let us not forget the iconic Mr Tayto. He became so iconic as the symbol of Irish crisps. Now, he even has his own theme park dedicated to him and the brand.
Tayto Park – a theme park for crisp lovers
As if things couldn't be better for this remarkable and legendary brand, the fascinating story behind Tayto continues with a fantastic theme park in County Meath.
This amusement park offers over 100 attractions, a zoo, and many rides that kids and kids at heart love.
The Tayto brand has made a huge impact on the food world. Many other global crisp brands only wish they had the incredible story and reputation that Tayto has.
We can safely say that if it wasn't for Tayto, the snacking world would be very different than it is today.
Hurray for Tayto!